12 Months Warranty
And Unlimited Service Support
We believe in providing you with the best support available. Get up to 12 months of warranty and gain access to our reliable technical support for all of your EMOVE products. Read more about our warranty policy here.

Worldwide Shipping Available.
Free Delivery Within US.
Wherever you are located, we will try our best to find a way to get your scooter to you. If you are located within US, we will take care of the shipping fees for you. Read more about our shipping here.

Financing & Payment Plans
Available
We understand that it is a huge commitment and sometimes we just may not have the capacity. We work with Affirm to provide financing options to ease your burden. (Applicable within US Only)
The Portable & Powerful Electric Scooter
MEET THE NEW
EMOVE TOURING 2020
Introducing the new EMOVE Touring 2020, the only electric scooter you will ever need to travel around. The EMOVE Touring is arguably one of the best scooters around this lower price point, that is built for comfort and speed. Loaded with features of larger and more expensive models, the Touring is also built with portability and last mile travel in mind. It comes in 3 colors: Black, White and Orange.
Weighing at only about 39 lbs (17kg), the Touring is small and convenient to carry around, giving riders the amazing flexibility and portability of carrying it single-handedly up a flight of stairs or anywhere you like! Fold it under 3 seconds. Push handlebar forward, press down the lever, done! Easy storage - Keep in trains, buses or your car.
While the EMOVE Touring is lightweight, it can carry up to a maximum weight of 330 lbs which makes it suitable even for slightly heavier riders or if you have a heavy load to carry around.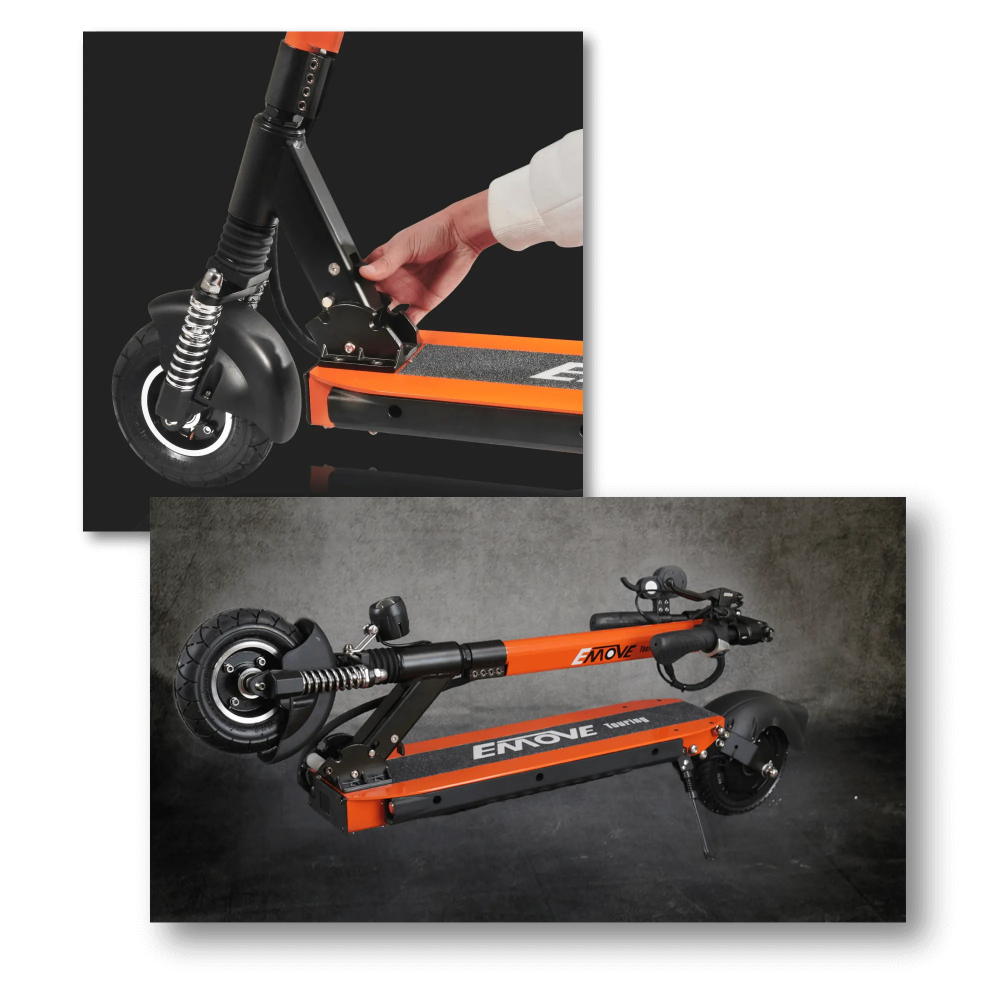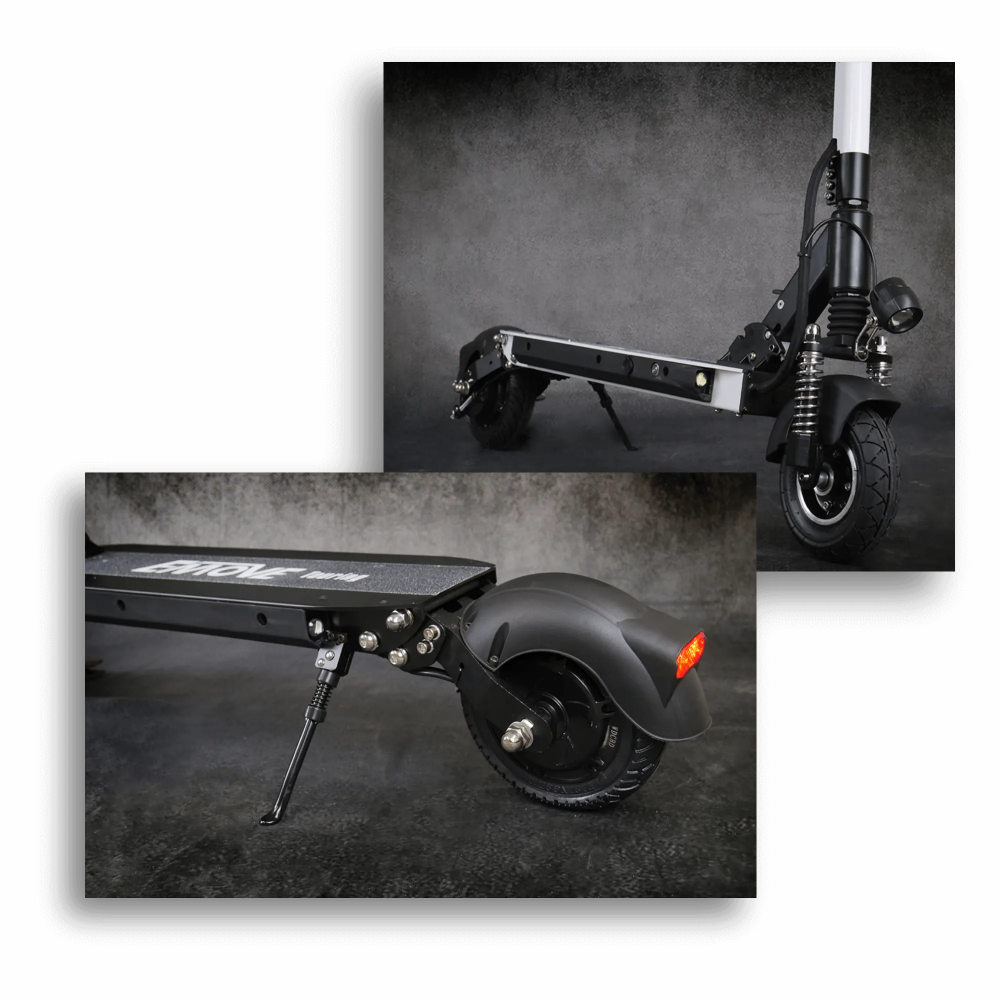 SPEED AND DISTANCE THAT FITS YOUR DAILY NEEDS
Although the EMOVE Touring is lightweight and more budget-friendly, it certainly does not compromise on speed and range. While most other scooters around the same price range does not offer much speed or range, the EMOVE Touring gives the ability of hitting a top speed of up to 25 mph* and also has a decent battery size that allows up to 25 miles in range.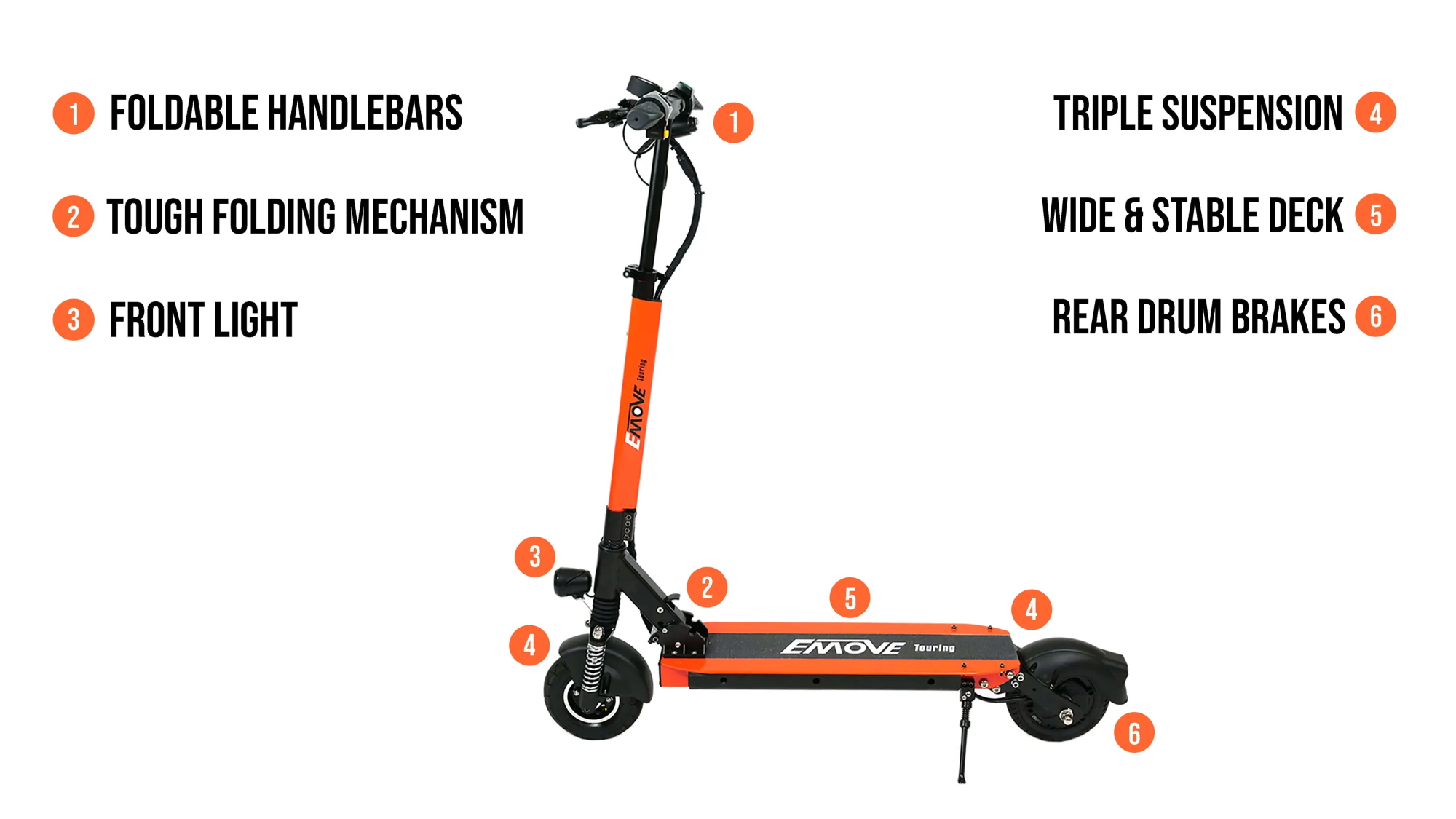 Equipped with a 48V 500W powerful rear brushless hub motor, the EMOVE Touring peaks at around 750w, giving it the power and agility of bigger rides. Built with the riders' comfort in mind, the EMOVE Touring has a wide deck of about 21.8-inches by 7-inches of standing space which gives you more than enough space to keep your feet planted onto the deck. Say goodbye to squeezing onto tiny deck spaces and fear of falling over!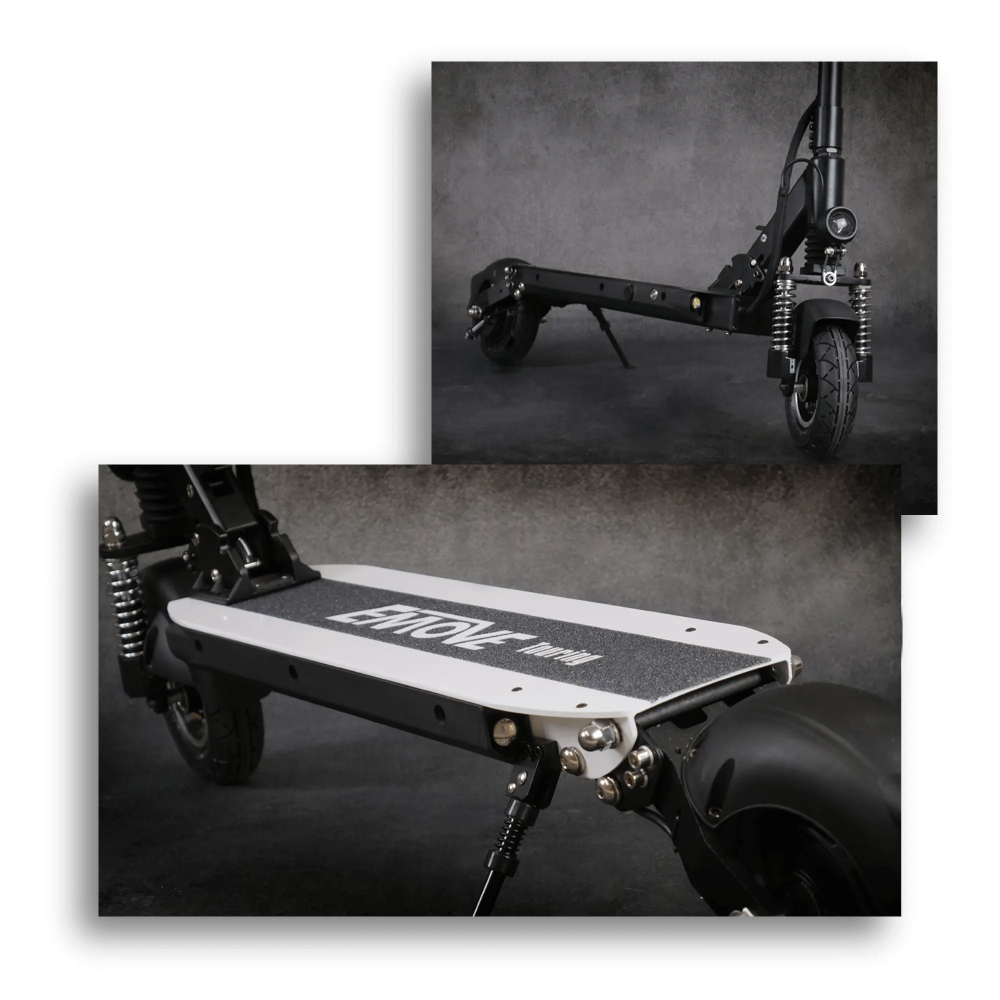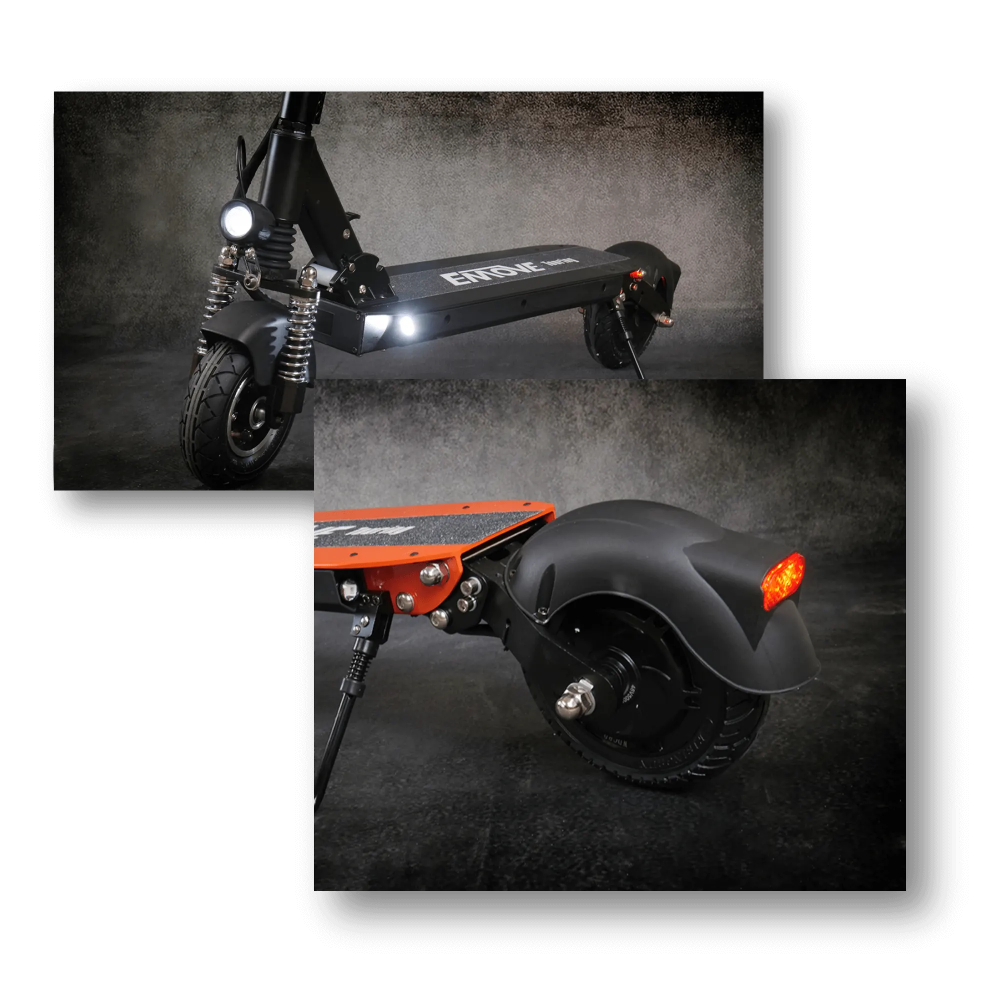 When it comes to safety, the EMOVE Touring gets the job done well. It comes with bright front and rear lights, feel safe when riding at night. Also, have better control over your rides with rear drum brakes and regenerative brake equipped in. The New EMOVE Touring also comes with a bell so that you can inform other road users that you are incoming!
YOUR COMPANION FOR QUALITY RIDES
While the Touring has a good water resistance rating of IP54, it also has a high elevated ground to deck height which prevent water splashes from puddles, and most importantly, prevent water damages to the deck where most important components are located.
With an adjustable stem, the Touring makes it suitable for riders of all heights, making each ride a quality experience. It also comes with 8-inch front pneumatic (air-filled) tire and rear solid tire, making the Touring suitable for most urban terrains. With front and rear spring suspension that allows it to respond quickly without bottoming out, get the best ride experience possible.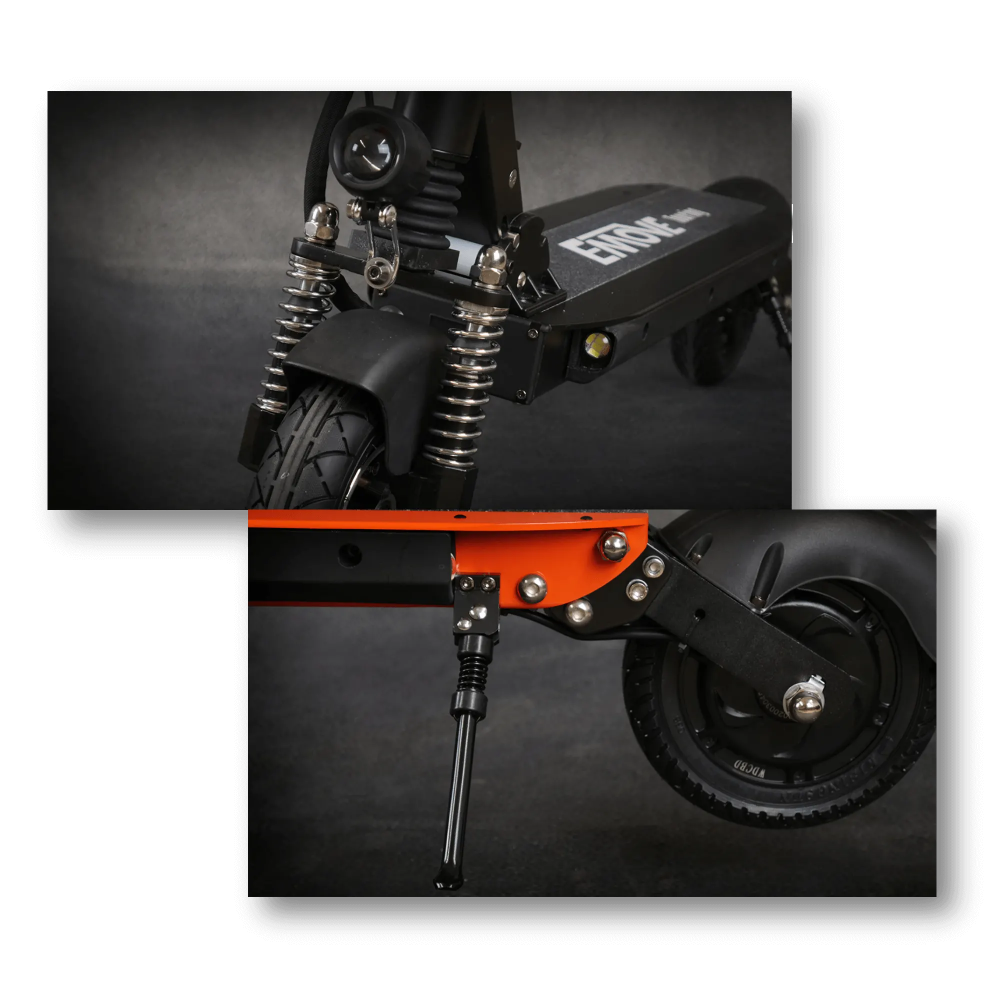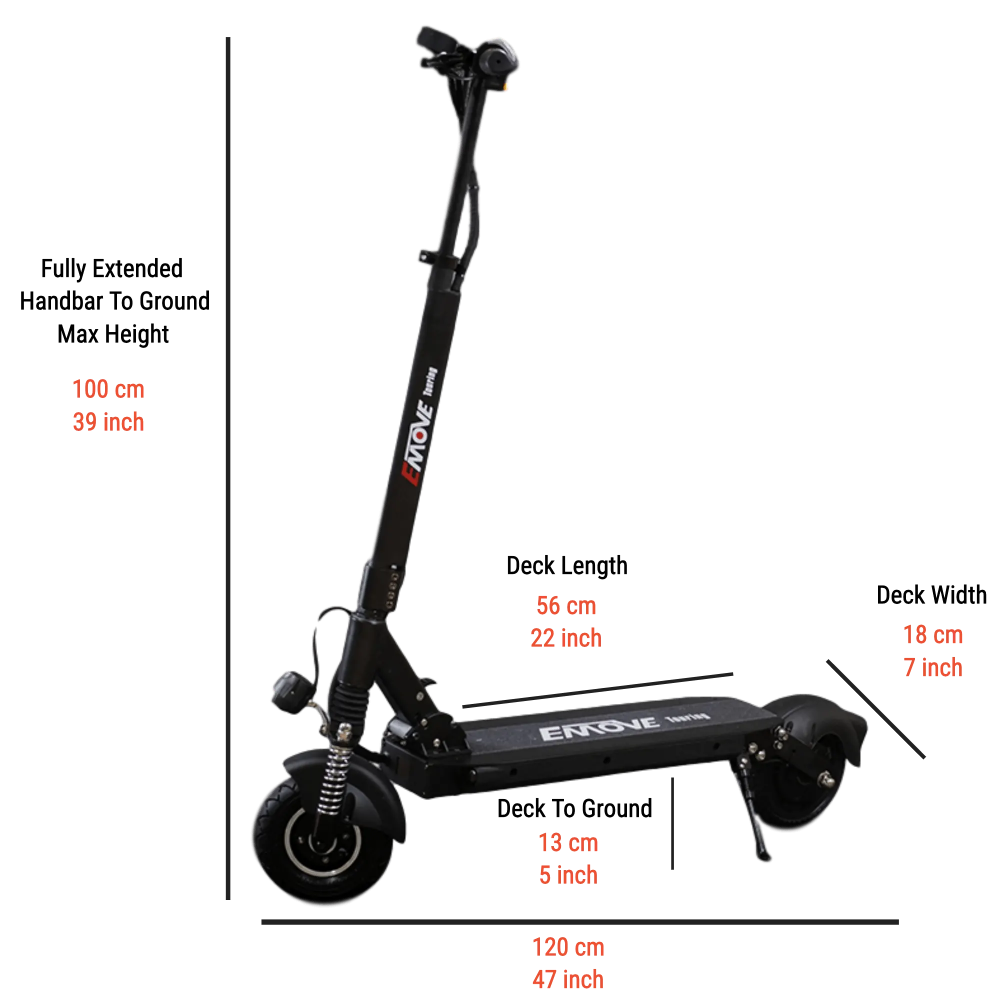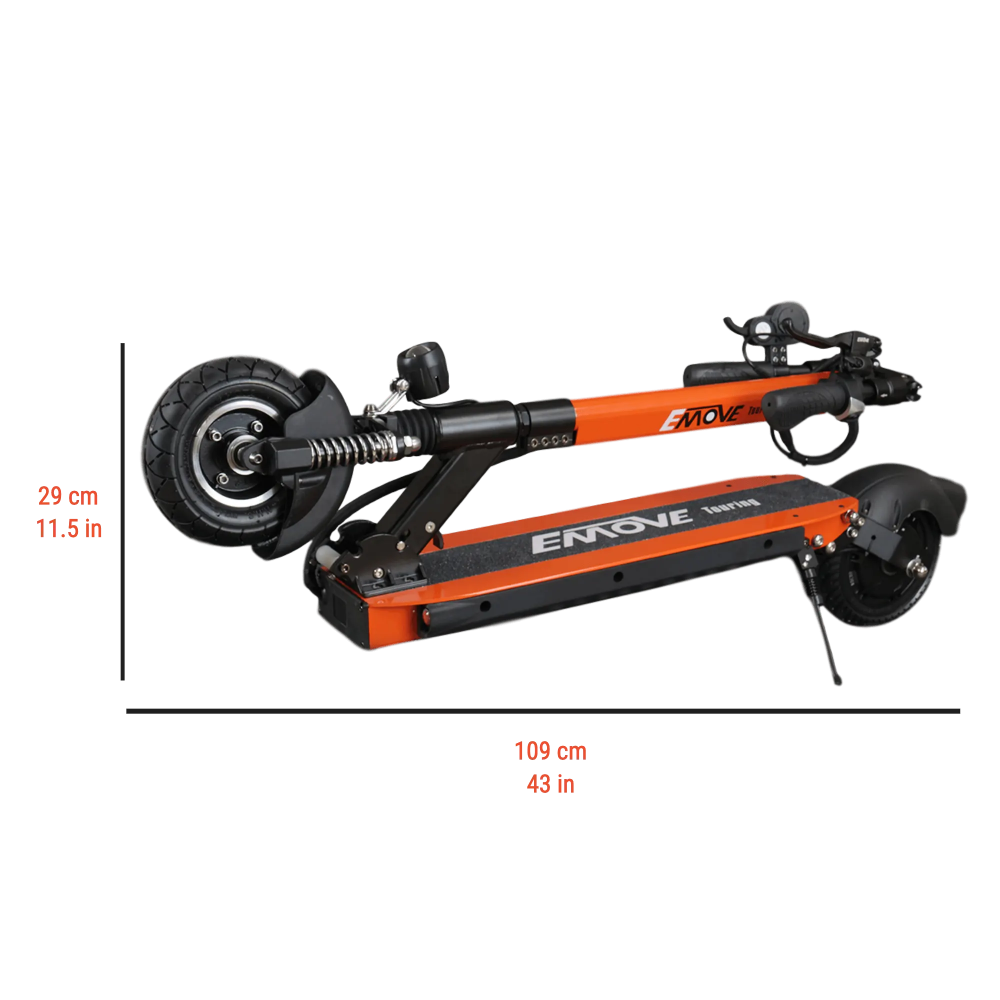 ---
Speed
Depending on rider's weight, riding conditions. Check out this video for EMOVE Touring tested speed: EMOVE Touring Review
---
Climbing Ability
15 degree - Based on 150-lbs rider
---
Water Resistance Rating
IP54 (Suitable for riding under light rain)
---
NETT weight
39-lbs (17-kg)
---
Maximum Load Capacity
308-lbs (140-kg)
---
Charging Time
3 to 4 hours
---
Folded Dimensions
43 x 8 x 11.5in / 109 x 20 x 29cm(LxWxH)
---
Unfolded Dimensions
39 x 22 x 47in /100x56x120cm (LxWxH)
---
What is in the package?
1x EMOVE Touring (Color of your choice)
1x US-Standard Charging Adaptor
1x User Manual
---
Motor
Brushless DC Motor
Nominal Watt: 500W
Peak Power Output: 750W
---
Battery Type
48V 13AH LG Battery with Battery Management System Protection
---
Tire Type
8'' Pneumatic Tubed Car Grade Tire (Front)
8" Solid Rubber Tire, With Motor (Rear)
---
Brake Type
Rear Drum Brake
Regenerative Brake
---
Suspension
Triple Front Suspension and Rear Dual Spring Suspension
---
Type Of Lights
Front head lamp (New Summer-2020 Version)
Front sidelights
Rear brake lights
---
Speed Limiter
By default, your EMOVE Touring does not has speed limiting wire. Feel free to set it via the P settings.
---
Cruiser Control
Available, from LCD Display.
---
---
---
---
Seat Option
Available as an optional upgrade.
You can get it here.
---
Warranty Coverage
Find out what is covered and what is not here.
---
HEAR WHAT OTHERS ARE RAVING ABOUT
The largest after-sales service content in the world.
Rest Assured. You Are Covered With Us.
(Emove touring) I see that the optional thumb throttle is only for the Cruiser. Will there be one for the touring, or is there one out there that you would suggest?

Dear customer,

The thumb throttle option is available on the Touring: https://www.voromotors.com/collections/emove-touring-accessories/products/thumb-throttle-accelerator-with-lcd-display-bundle-kit-for-emove-touring

Hope this helps.

(EMove Crusier) Is it better to let your battery totally discharge before charging or does it matter?

Dear customer, 

Based on the answers directly from the battery manufacturer, it should not matter. This is just a practice that people do to keep their batteries lifespan longer.

Hope this helps

(E Move Touring) Do you or another company have a charger that automatically stops charging once the battery is full or around 97%?

Dear customer,

We do not have that type of charger. However, this type of voltage cut off switch can be found on Amazon or any hardware stores.

Feel free to let me know if you require any further assistance.

Hi this scooter has rain proctection like ip64?

Dear customer,

 

This is not like the Cruiser. However, we have seen lots of riders survive in the rain with the EMOVE Touring - We do not encourage riders to ride electric scooters in the rain. 

When I view the scooter, it shows that there are additional options for a kickstand for $25 more, a drum brake for $35 more, and an inner tube for $18 more. If I don't select them, will my scooter not have a kickstand or brakes?

Dear customer,

Thank you for the question. The EMOVE Touring comes with kickstand, drum brake and the inner tube installed. These are just additional spare parts that most riders purchase to save on shipping fees and have a spare in hand in case they require.

Hope this helps.

Based on what I'm currently seeing, it appears that the scooter does not come with brakes or a kickstand standard, and they are instead add-ons. Kickstand is understandable, as the scooter folds for carry, but does the standard scooter not come with a braking system of any kind?

Hi Niko,

Sorry for the confusion. The EMOVE Touring does come with a kickstand and brakes by default.

Hope this clarifies.

Is the Touring waterproof rated like the Cruiser? I live in Chicago, I need something that can withstand sudden bursts of weather.

Dear customer, 

It is not as waterproof as the Cruiser. Usage under light rain is fine.

I will suggest avoid riding under snow and heavy rain.

Hope this helps.

difference between Etouring and mini 4 pro?

Hi Gareth,

Thank you for your question. I have list it out in numbered format for easier reference

1. SUSPENSIONS: Front double spring suspension and rear suspension, you cannot find that in the mini 4
2. Touring only comes in 48V 500W power option: More power, more torque. Suitable for American riders.
3. Deck height from ground is more elevated, this allows you to travel through puddles without being afraid that your deck might get water ingress problems.
4. Deck is straight and not slanted downwards, on the mini 4, the deck is pointing downwards towards the front. 

Hope this helps.

- What is the battery life cycle? - Does it come with the seat included?

Dear customer,

This is a difficult question, as there are no fixed battery life cycles. Manufacturers that provides such data are usually inaccurate data.

Calculating the life-cycle of a battery based only on its allowable charge rate and discharge rate is unrealistic. The life-cycle of a battery depends not only on its charge levels, but its chemistry, environmental factors (e.g. temperature, ageing, etc), whether the battery is over-charged or under-charged, and how it is loaded (e.g. are there regular high-current pulses or a steady load), designs, abuse of the battery, uncontrolled operating conditions and so on.

Seat is sold separately.

Hope this helps.

Does this scooter have cruise control?

Dear customer,

Yes it does.

1. If I order now do I get the new edition of emove touring with double front suspension? 2. How long is the shipping to brooklyn?

Dear customer, 

Answered your questions in numbered format.

1. Yes, we will only be shipping the new version of Touring from now. Our website is going through an update to get all the photos up!
2. Normally, shipping to NY is between 2-3 working days only.

Hope this helps.

Is there a way to change the display to mph instead of kilometers on the emove touring?

Hi Jeff, 

Yes, you can change in between kmh and mph

Simply go to P4 settings, change it to (1) to display mph. 

Here is the guide: https://www.voromotors.com/blogs/news/ever-wonder-what-does-p0-p9-stands-for

Hope this helps.

On this Etouring scooter how do I turn on the lights?

Dear Customer, 

For the front light, simply press the "power button" located right beside the charging port to switch on the front lights. 
Your charging port is covered by a black dust cap.

Hope this helps.