---
Watch The Comprehensive Review Here
The first electric scooter in the world that is built with triple suspension system that adds tons of comfort without looking complex. A mind-blowing motor that does more than you imagined.
From only $84/month with Affirm or Katapult financing option.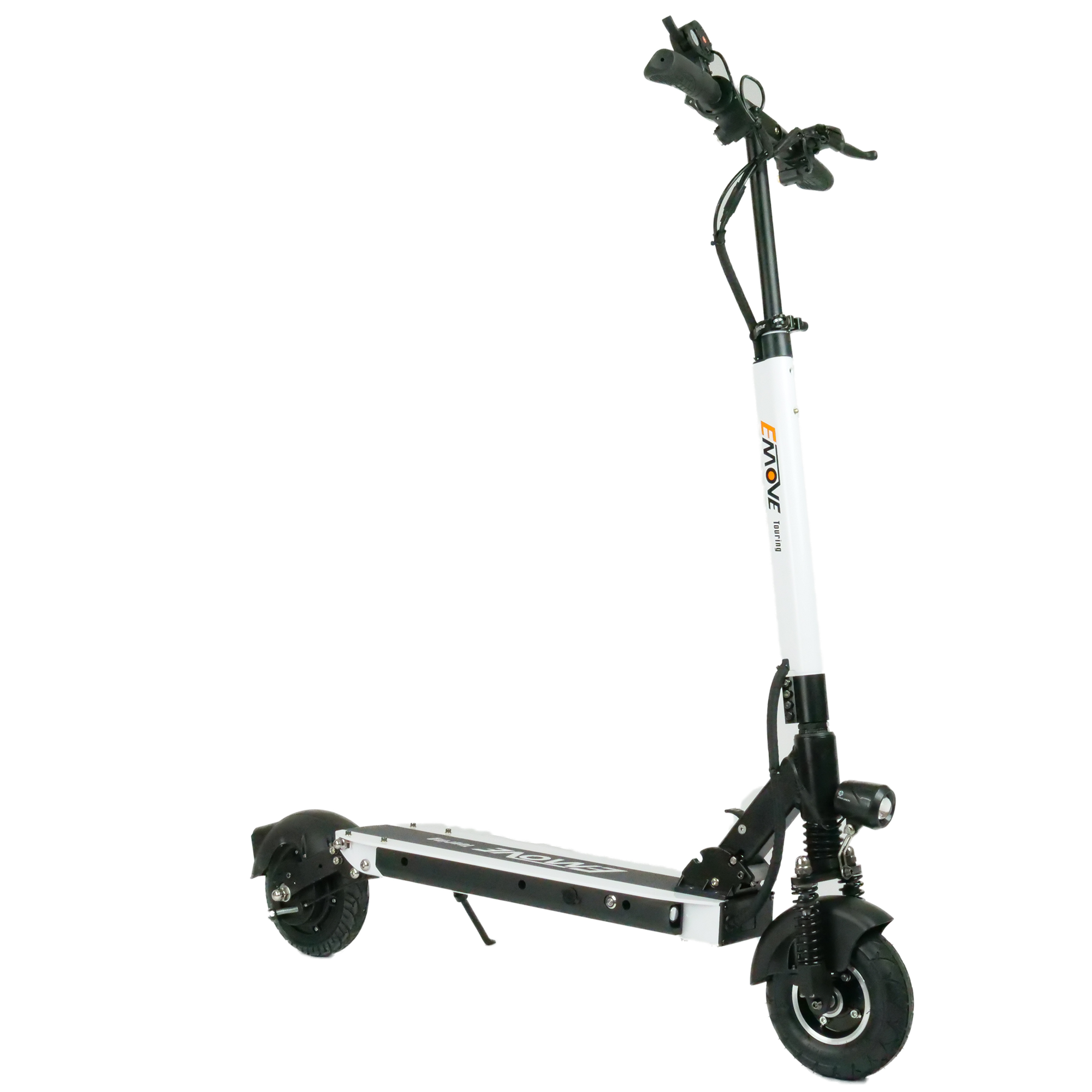 The only electric scooter you will ever need to travel around. The EMOVE Touring is arguably the best scooter in its class, that is built for comfort and speed.
With a peak power output of 750W:
20 degree hill climbing ability

Acceleration (0 to 15mph) in 4.5 seconds

Torque to tackle steep hills while maintaining speed
Loaded with features of larger and more expensive models, the Touring is also built with portability and last mile travel in mind.
The Touring has the most comfortable suspension in this price class.
Front stem suspension

Front dual spring suspension

Rear dual suspension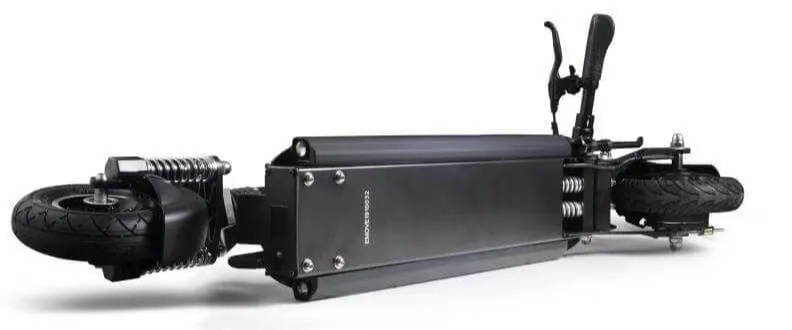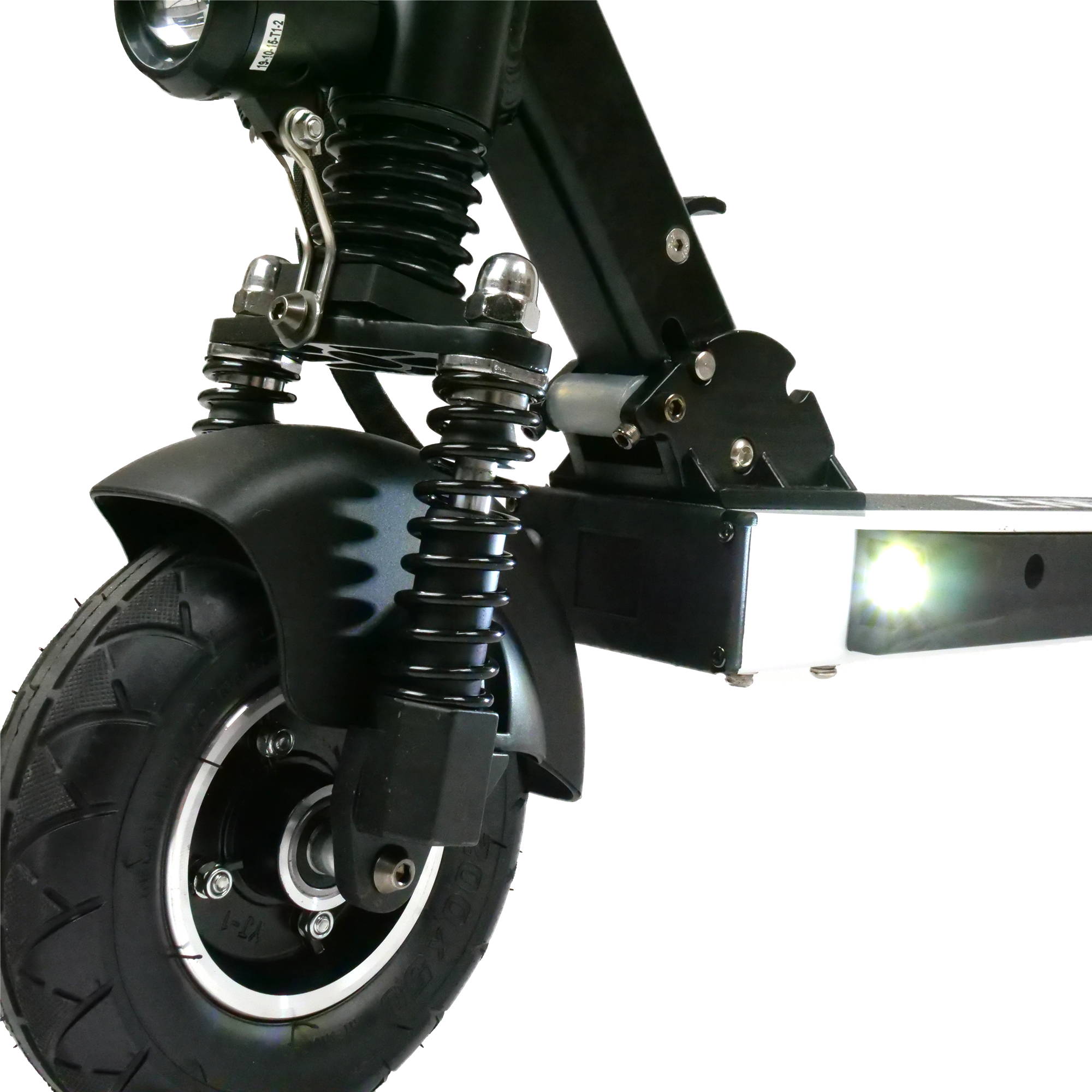 Packed with a 48V 13AH LG battery. The high voltage battery gives you a peace of mind that your scooter is powered by quality. Backed up by a reputable battery manufacturer; with state-of-the-art ISO Certified manufacturing facilities to ensure all battery packs are consistent and equal.
Why is this important?
You want to maximise the lifespan of your battery

Having a top shelf battery gives you some peace of mind that your battery is going to last.
Switch on all the lights and be seen from miles away.
Get ready when a stranger asks you where can I get that?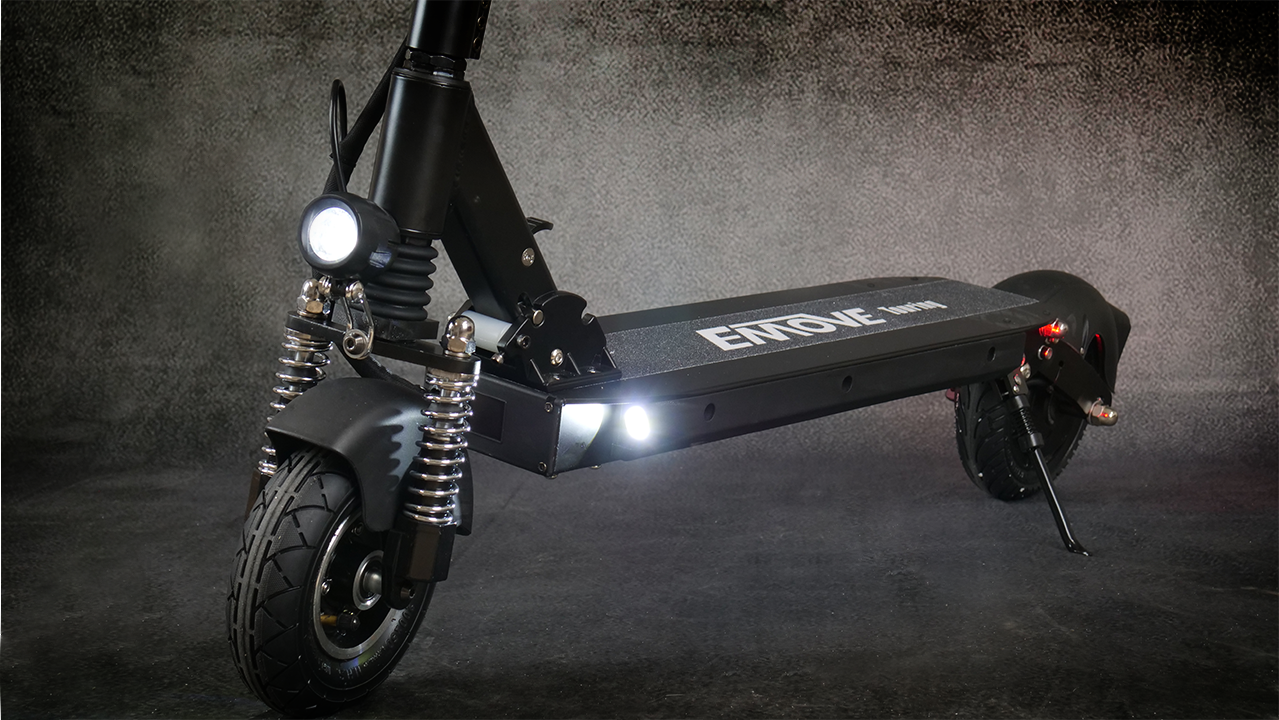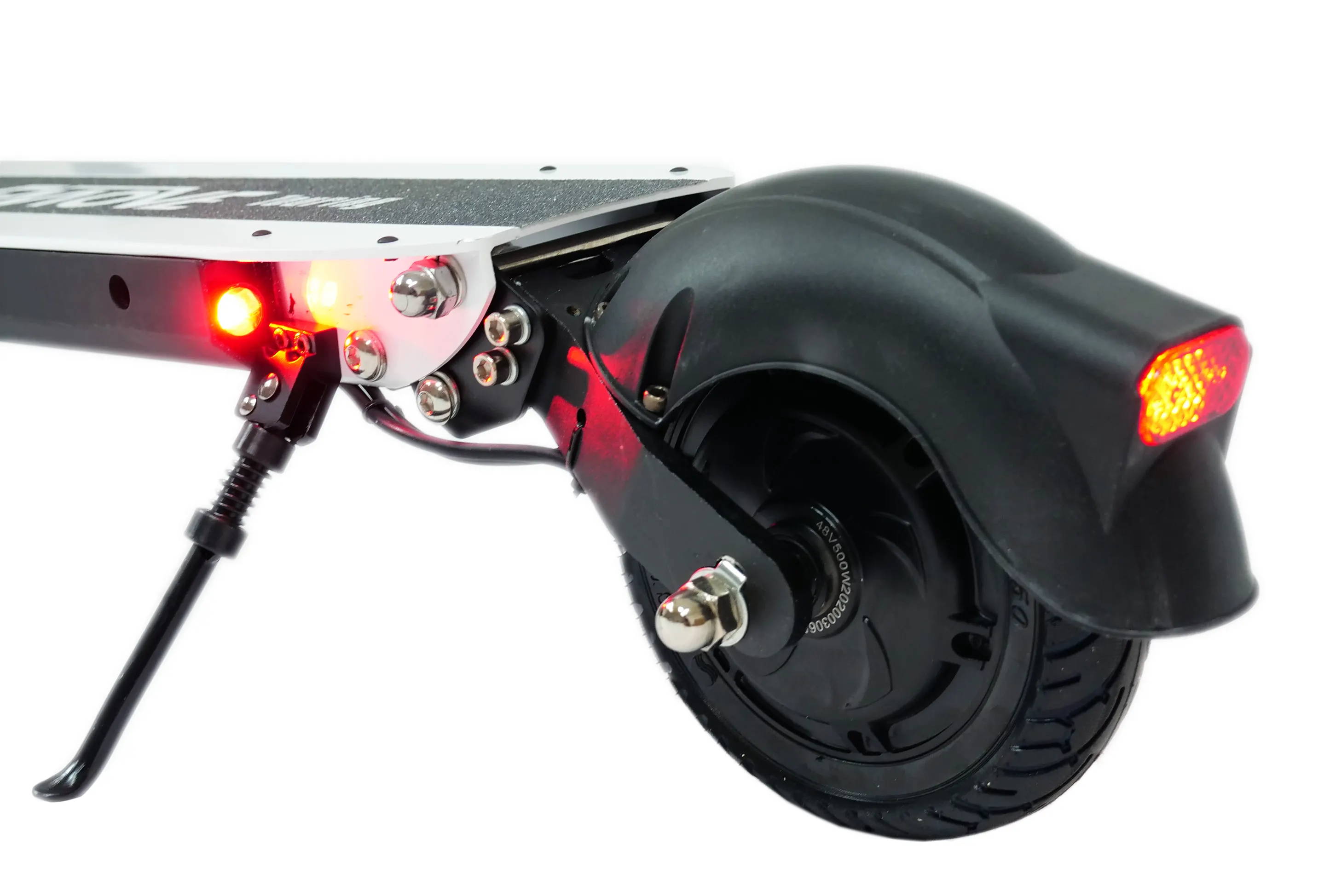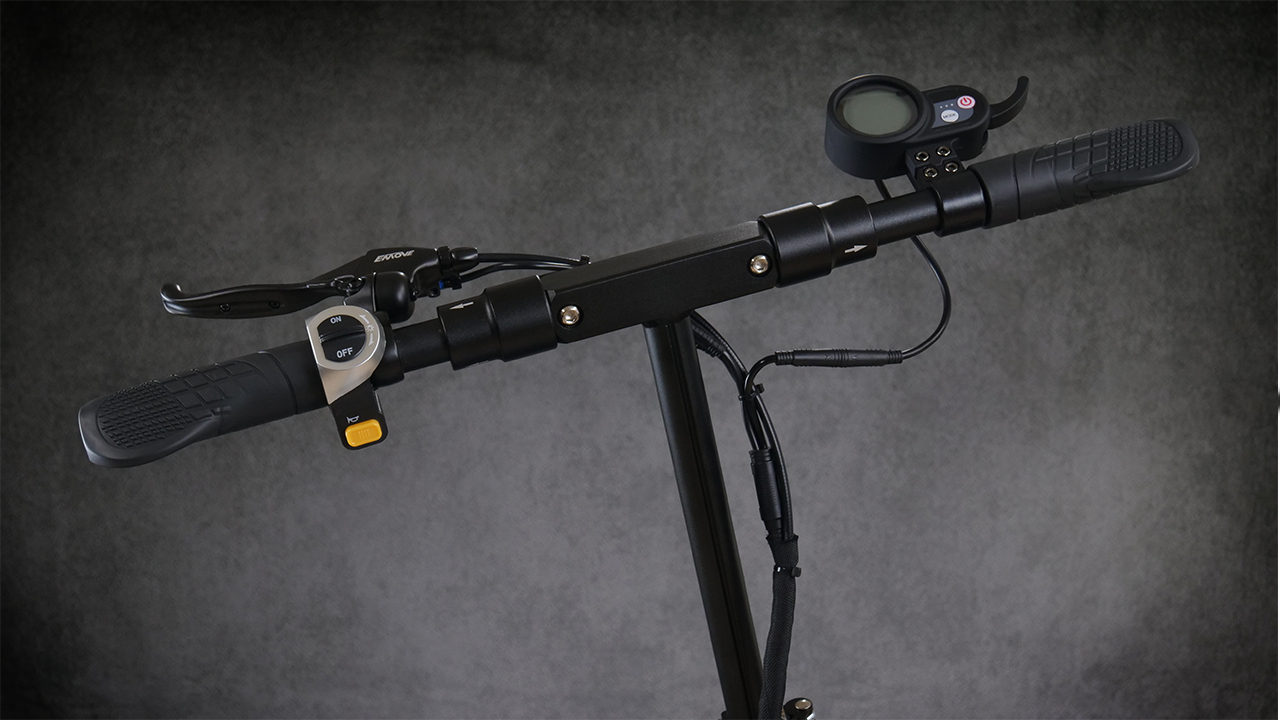 Drum + Regenerative Brakes
Drum brake requires minimal maintenance. Unlike mechanical or hydraulic brakes, you never need
to do anything to the brakes to tune it every once in a while.

When the Touring is moving, it generates a lot of kinetic energy. All that kinetic energy generated has to go somewhere when the brakes are applied. The regenerative braking converts the kinetic energy when decelerating back into stored energy in the LG battery.
The Touring also has a high elevated ground to deck height which prevent water splashes from puddles, and most importantly, prevent water damages to the deck where most important components are located.
Built with the riders' comfort in mind, the EMOVE Touring has a wide deck of about 21.8-inches by 7-inches of standing space which gives you more than enough space to keep your feet planted onto the deck. Say goodbye to squeezing onto tiny deck spaces and fear of falling over!
Front and rear spring suspension that allows it to respond quickly without bottoming out.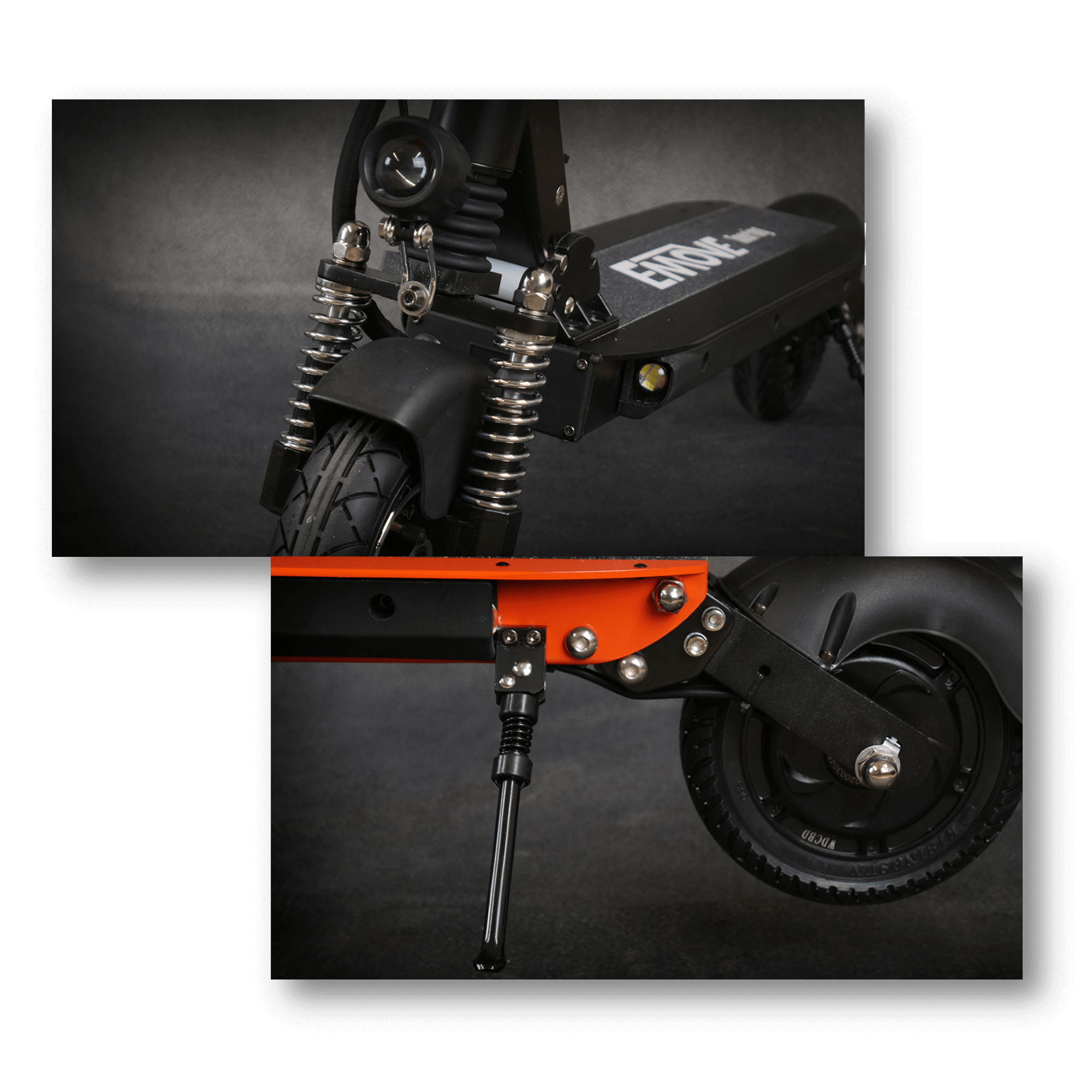 Swipe to view the gallery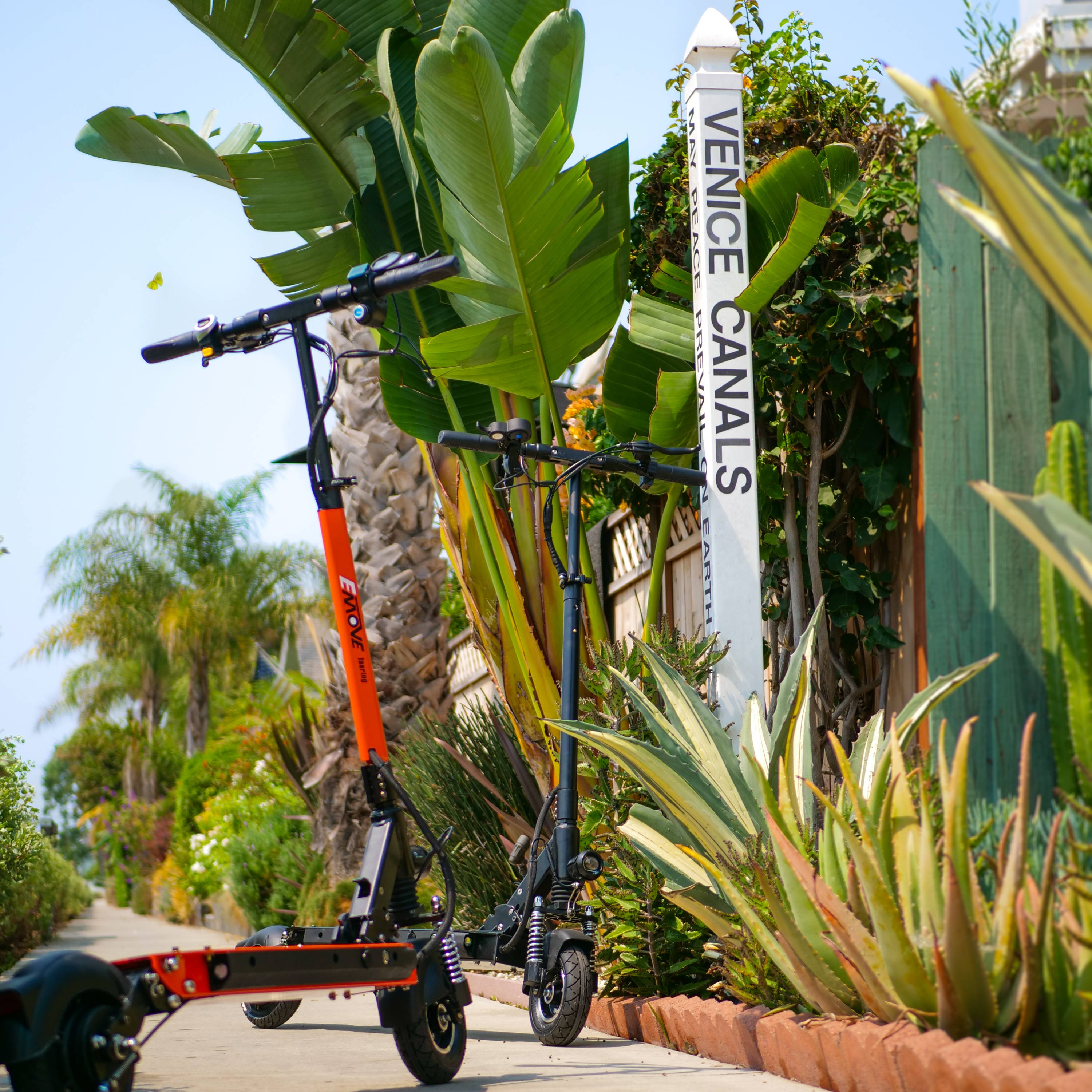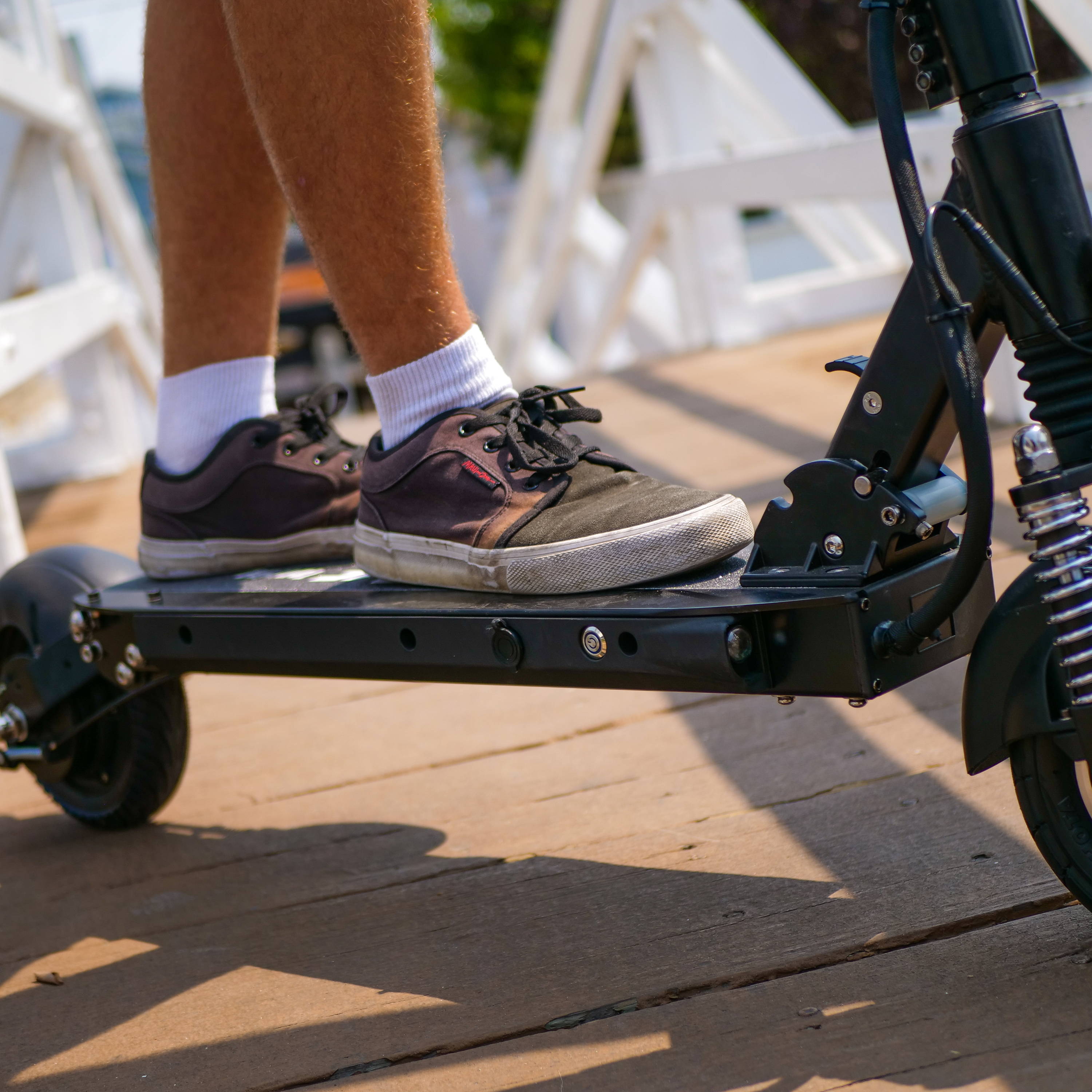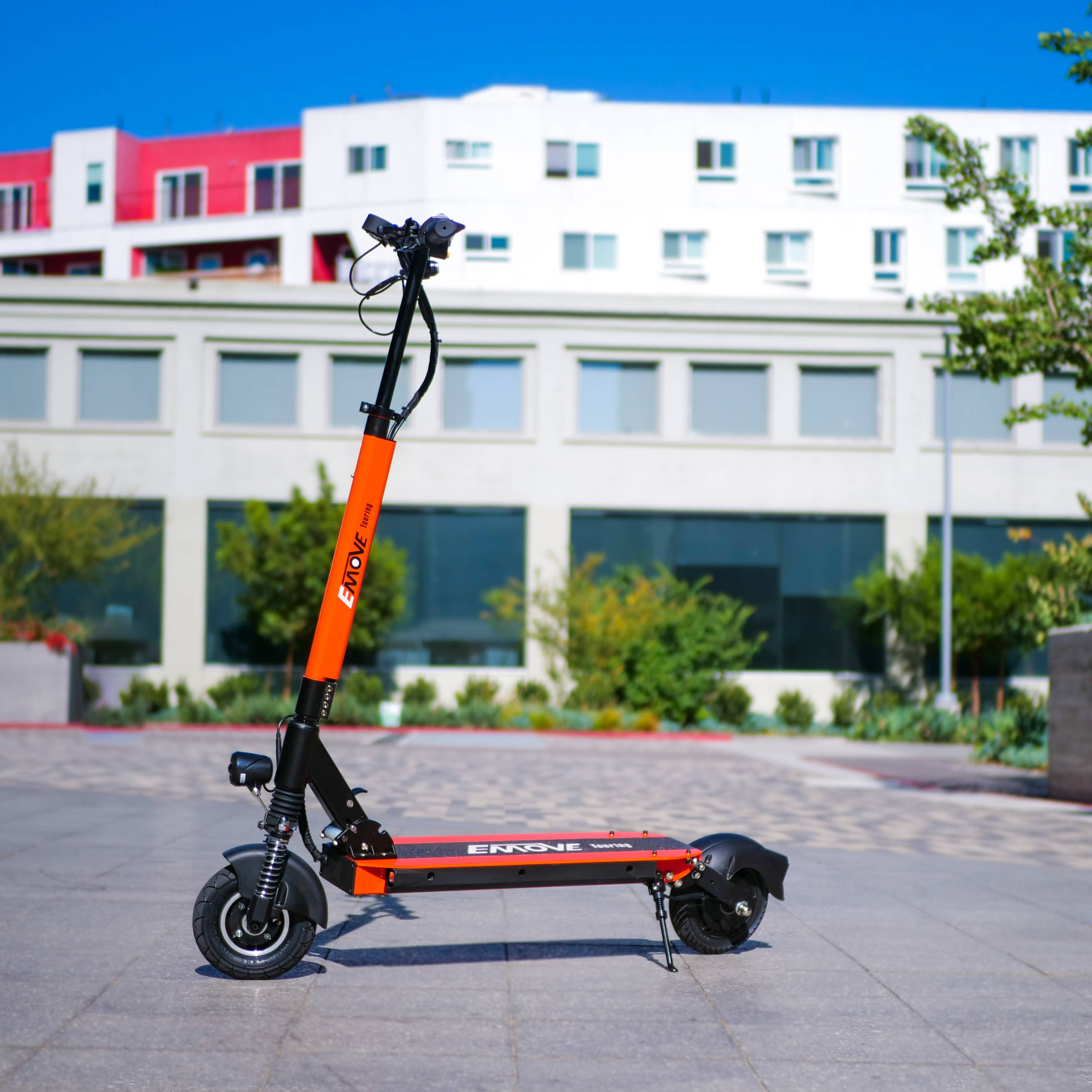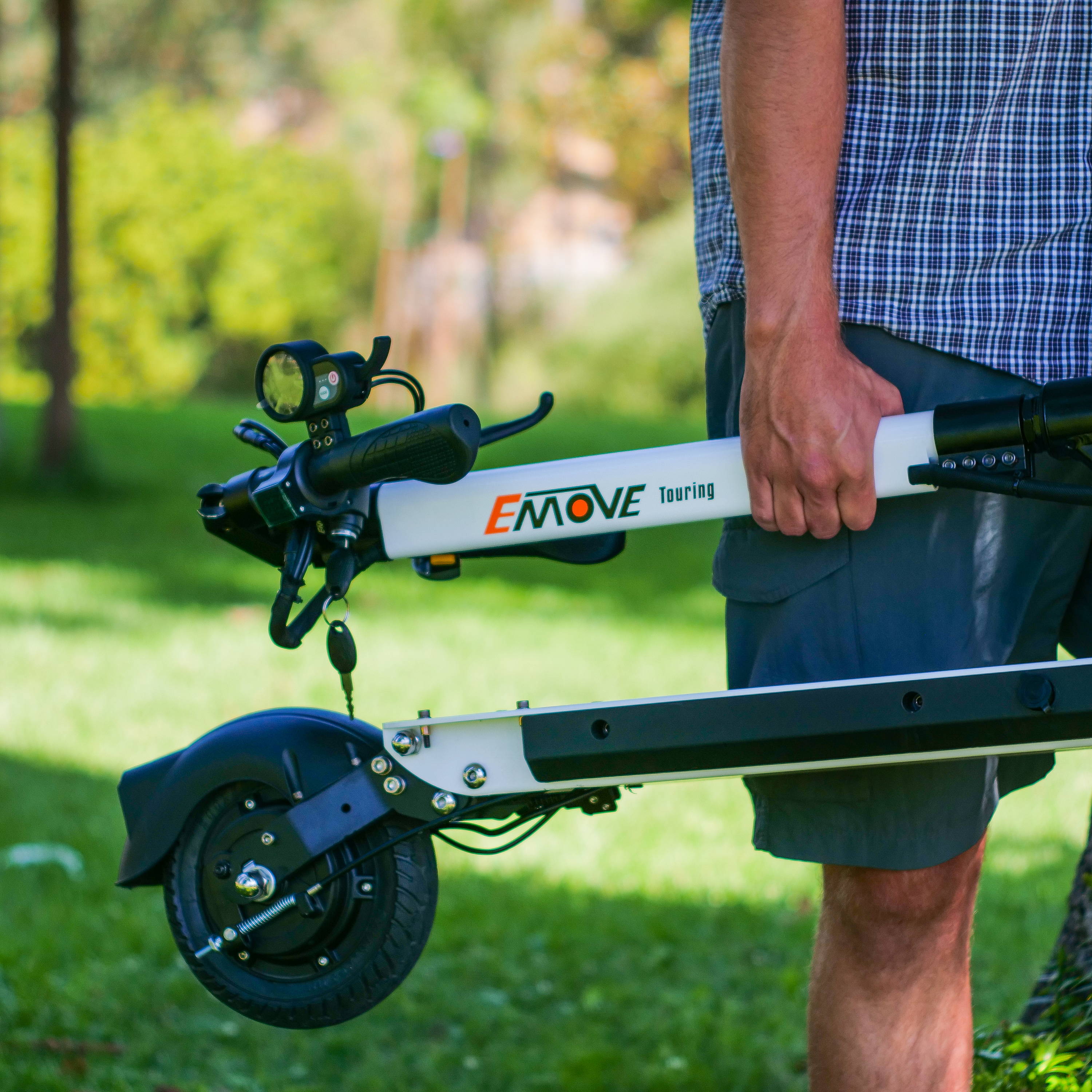 Weighing at only about 39 lbs (17kg), the Touring is small and convenient to carry around, giving riders the amazing flexibility and portability of carrying it single-handedly up a flight of stairs or anywhere you like! Fold it under 3 seconds. Push handlebar forward, press down the lever, done! Easy storage - Keep in trains, buses or your car.
While the EMOVE Touring is lightweight, it can carry up to a maximum weight of 330 lbs which makes it suitable even for slightly heavier riders or if you have a heavy load to carry around.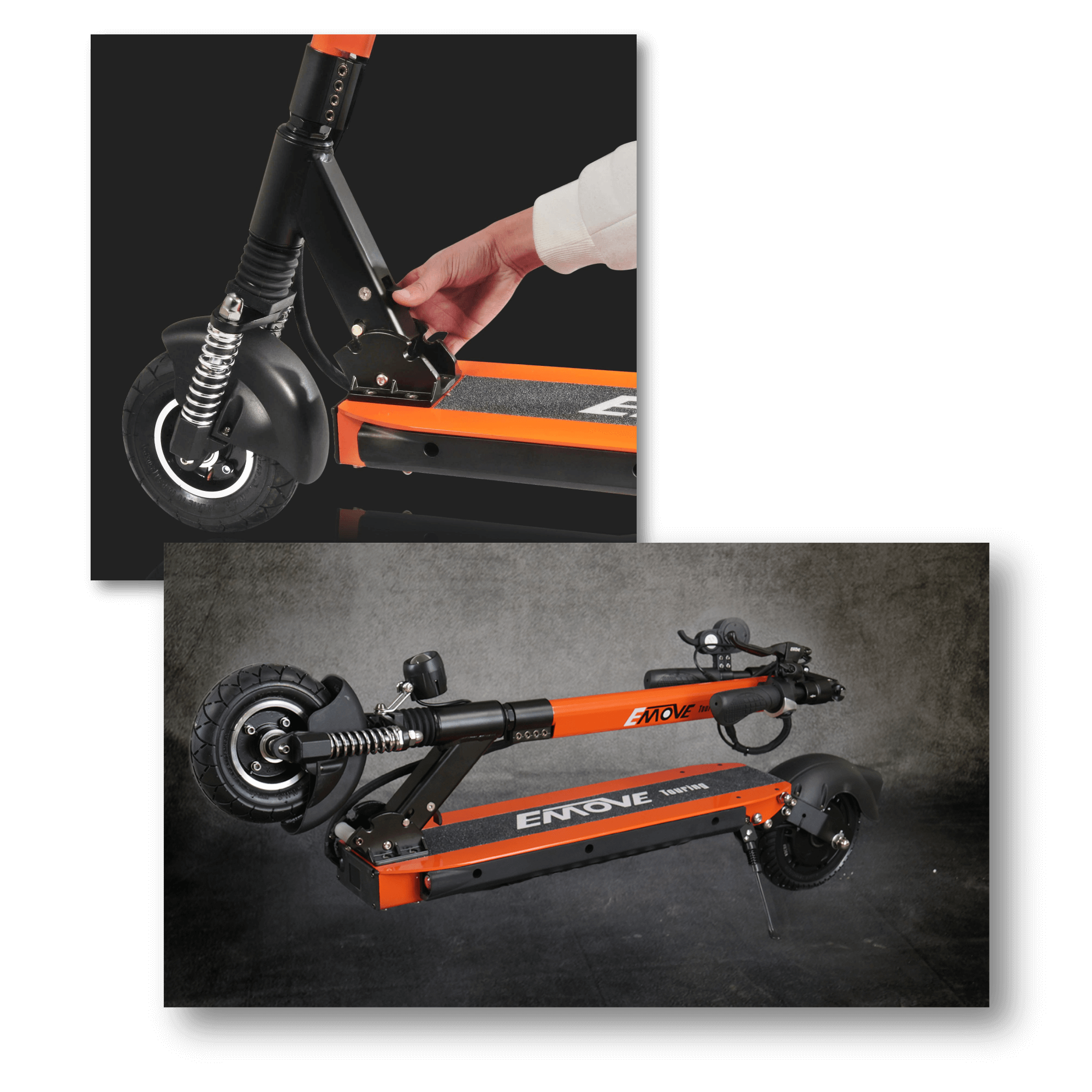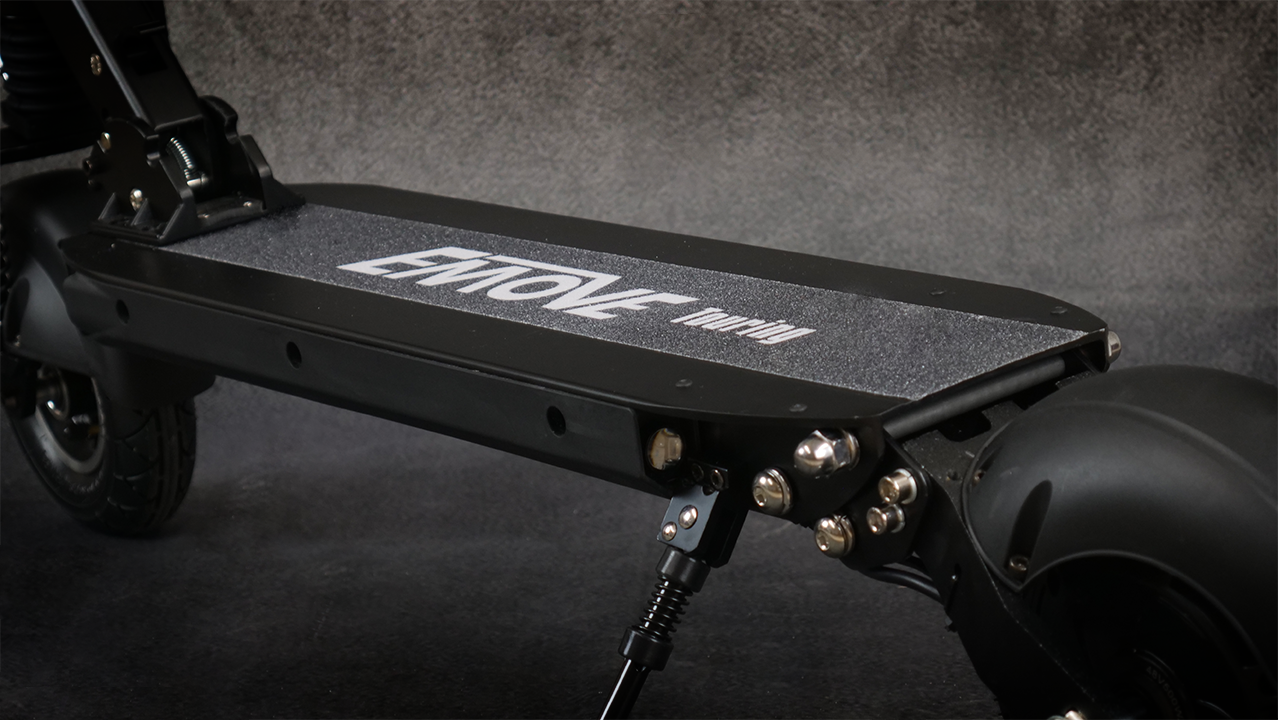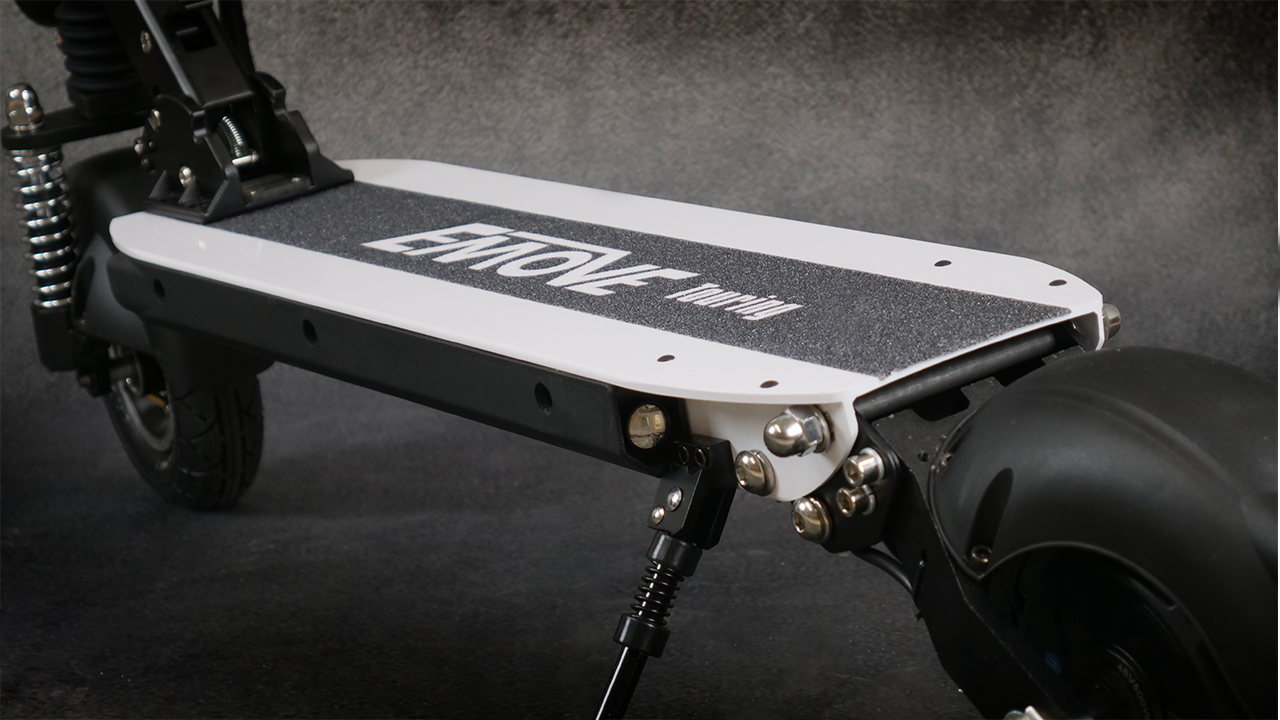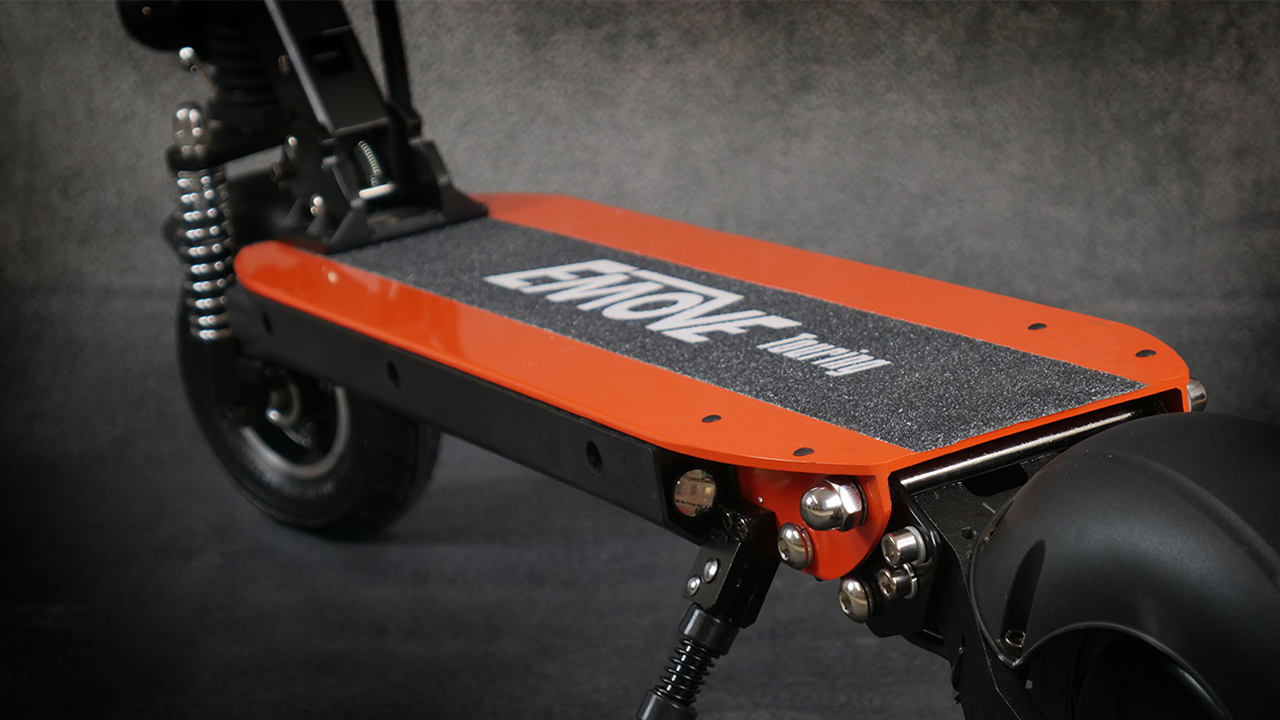 Well Balanced With Wide Deck
With most portable electric scooters, you always feel like you are balancing on a skateboard. Not with the EMOVE Touring. After multiple generations of updates, we found the perfect deck size and length that is the most suitable for our riders.
No one is improving as fast as we do. When you email us a feedback regarding the product, we take it seriously. The feedback goes directly into our production line. We come up with solutions, test, and retest.
Seat installation capability? We did it.
Longer deck? We did it.
Higher deck clearance? We did it
Waterproof cables? We did it.
The Touring ticks all the boxes a rider wants in a portable, lightweight commuting electric scooter.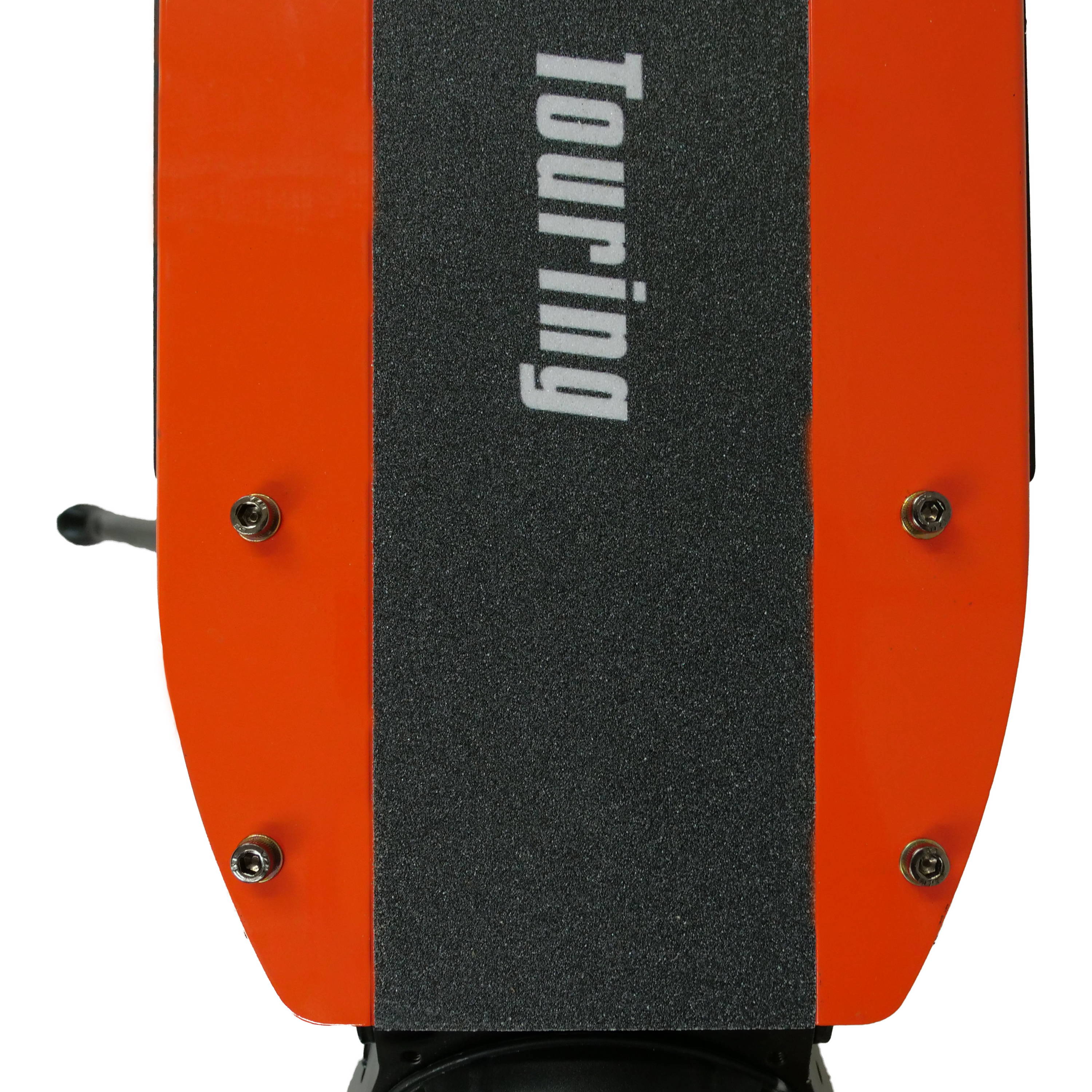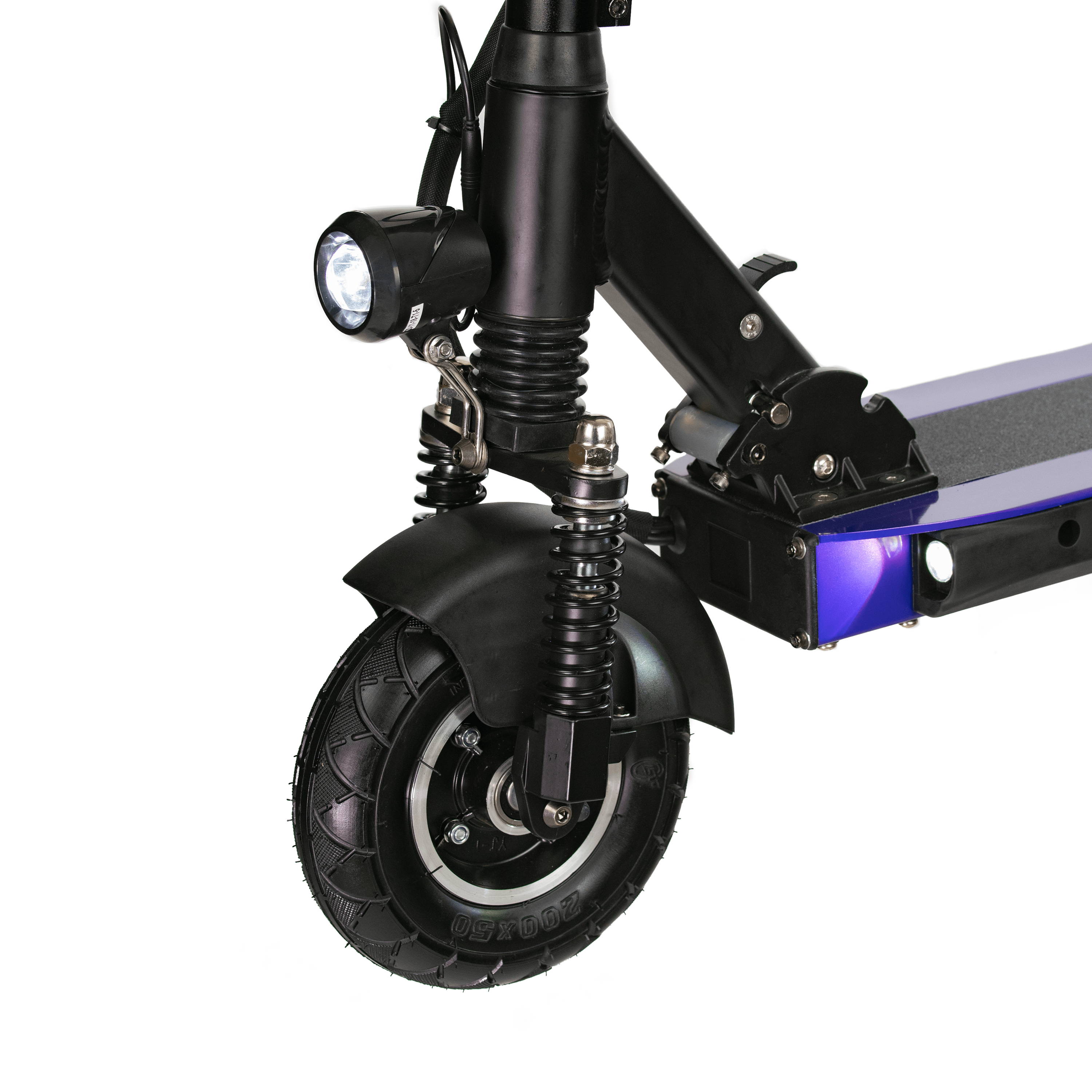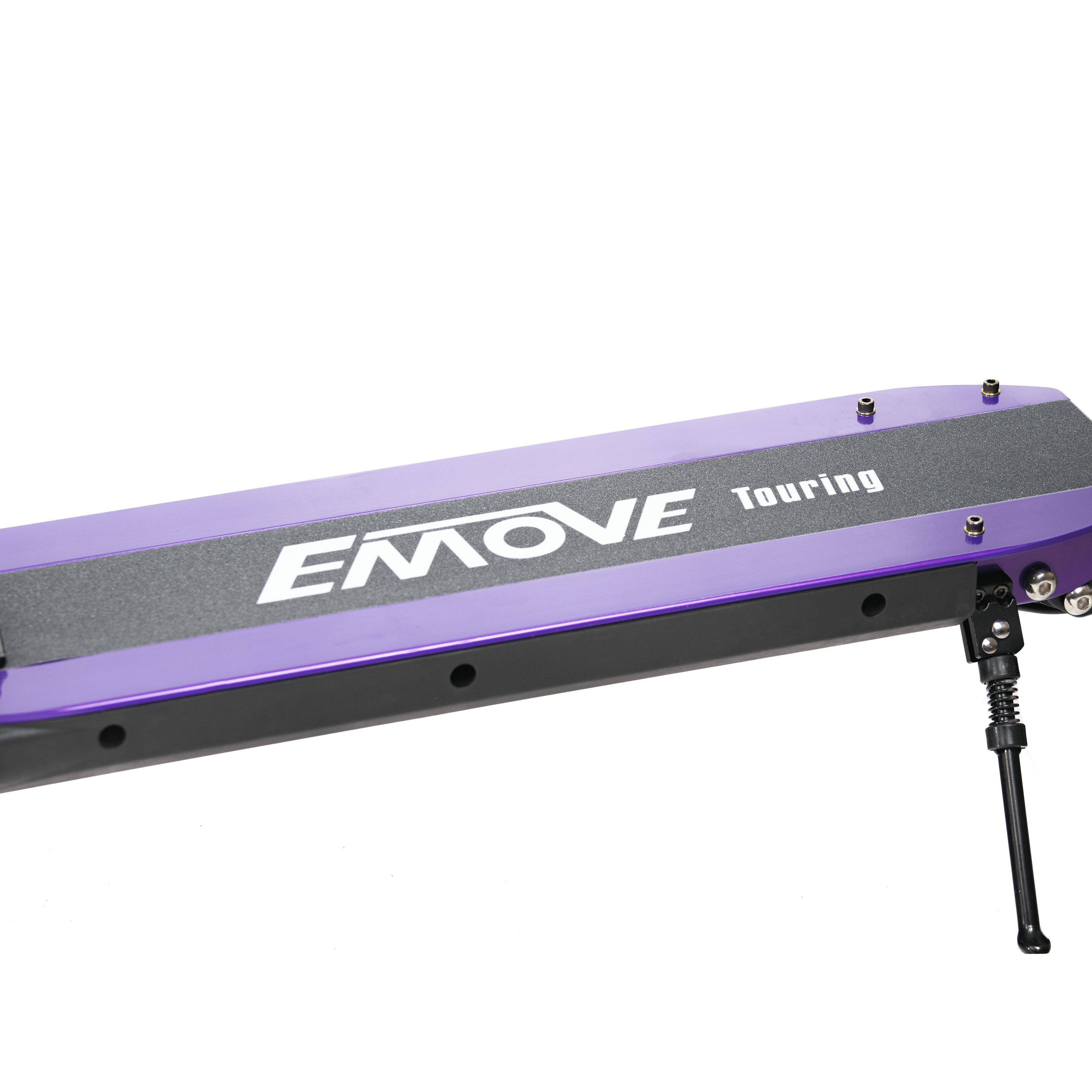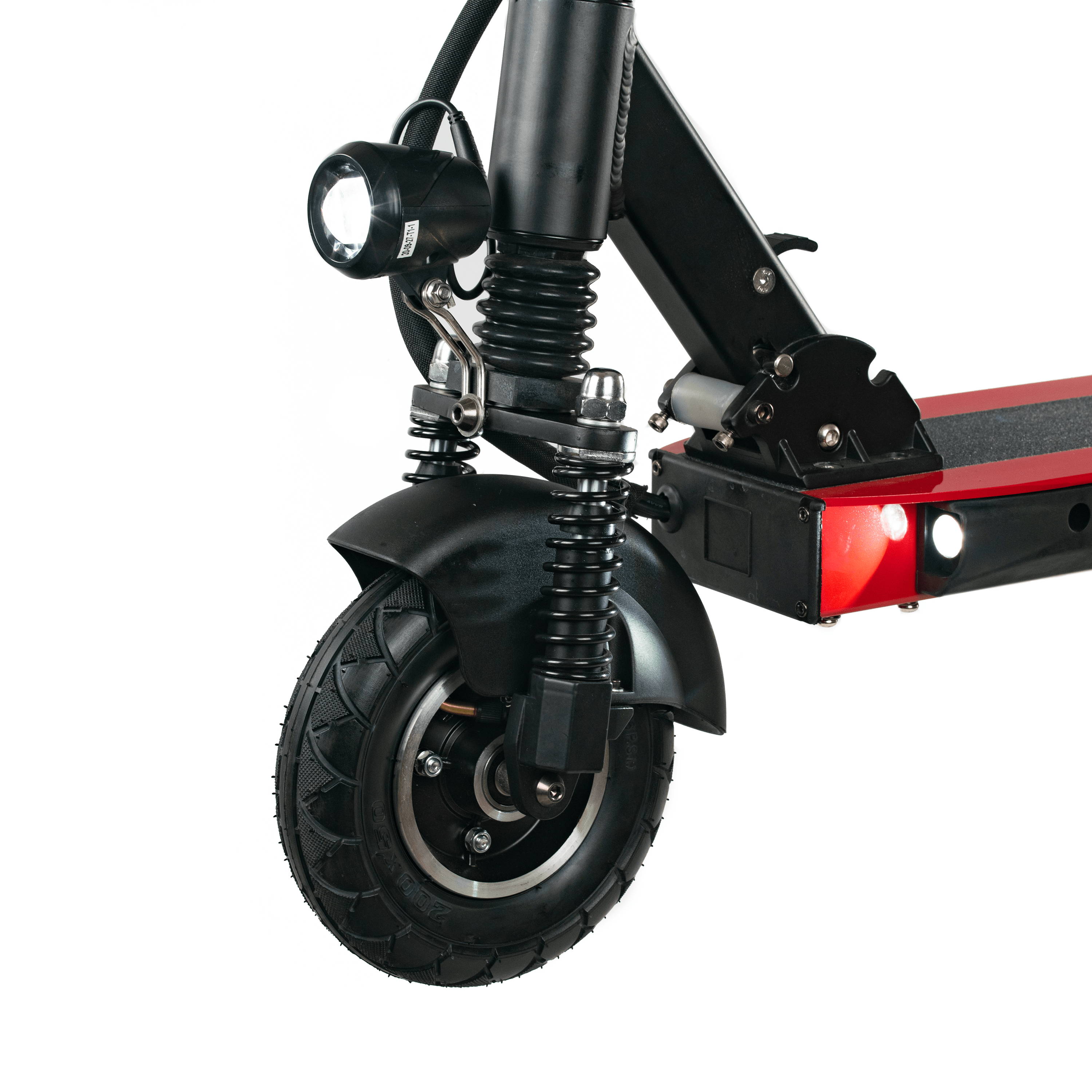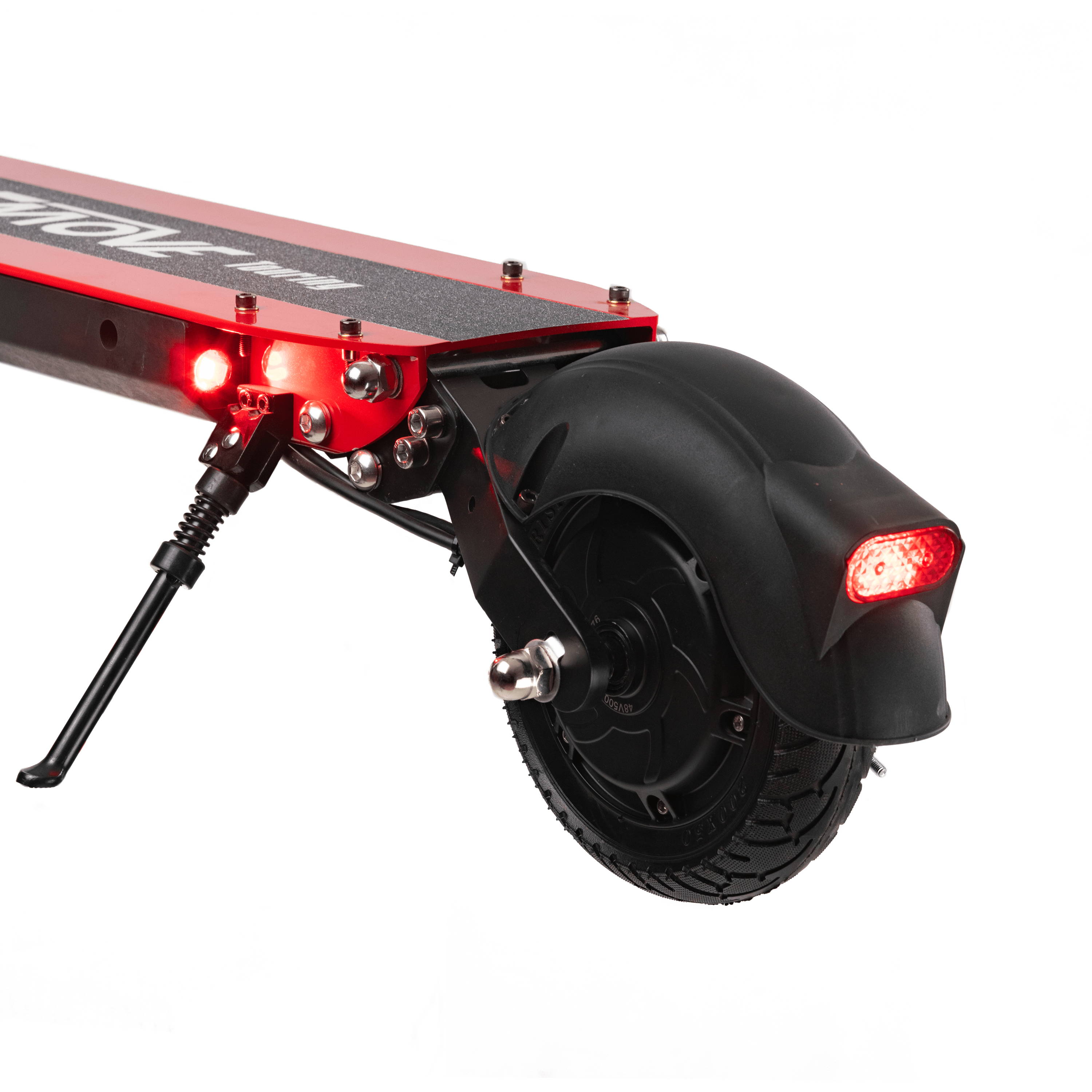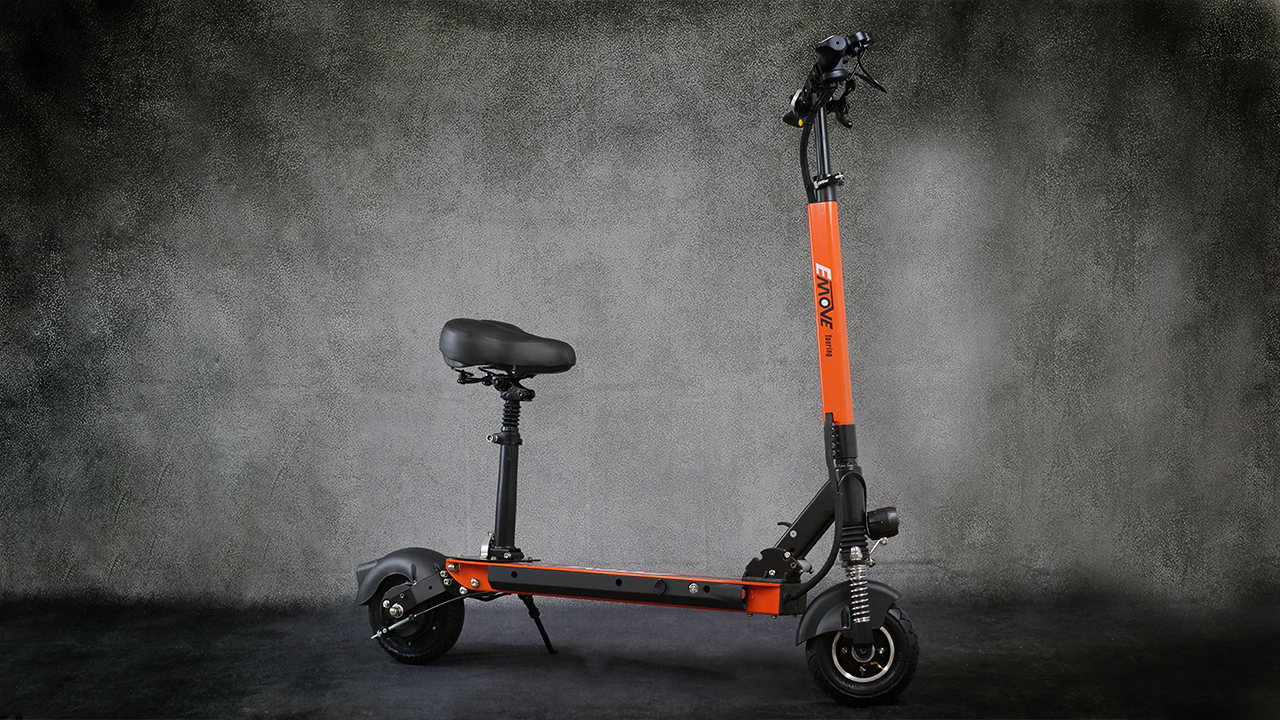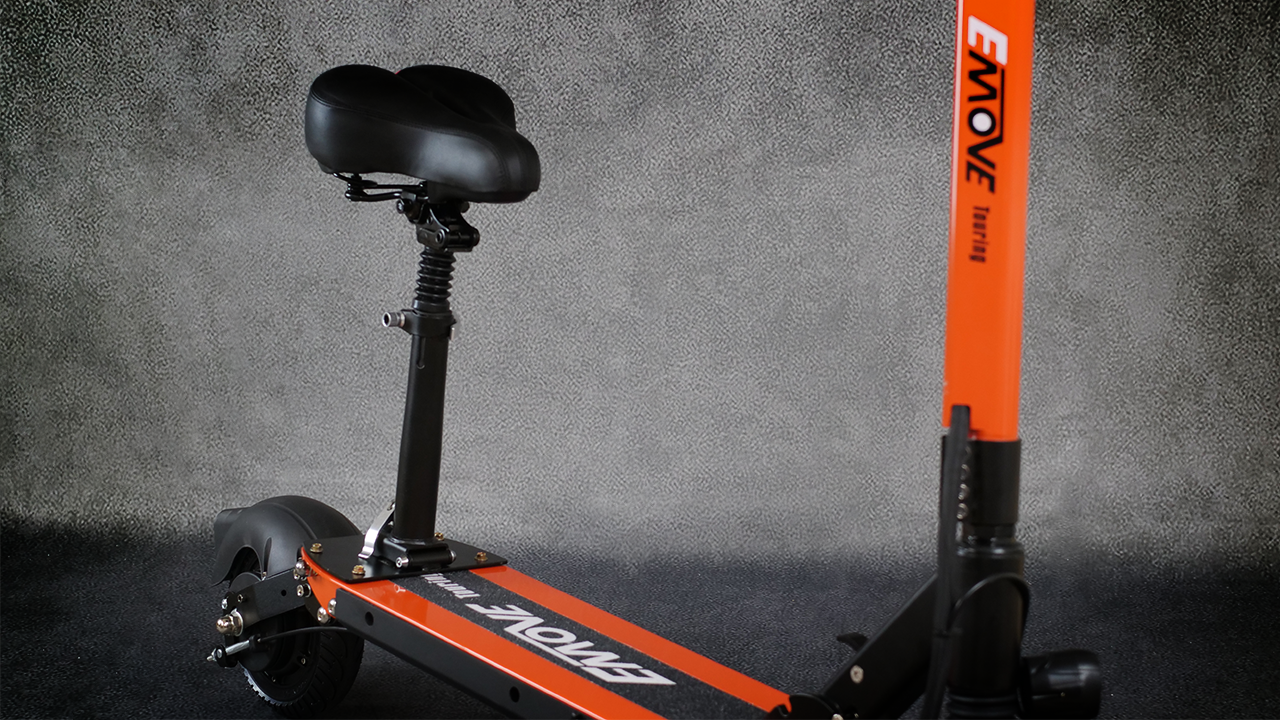 Add In a Seat, If You Prefer
Having that extra 4 sets of drilled down screws at the back of the EMOVE Touring opens up a whole new world of accessories option. Adding a seat has never been easier.
Turn on your front headlight, alert your surroundings and start turning heads with the Touring!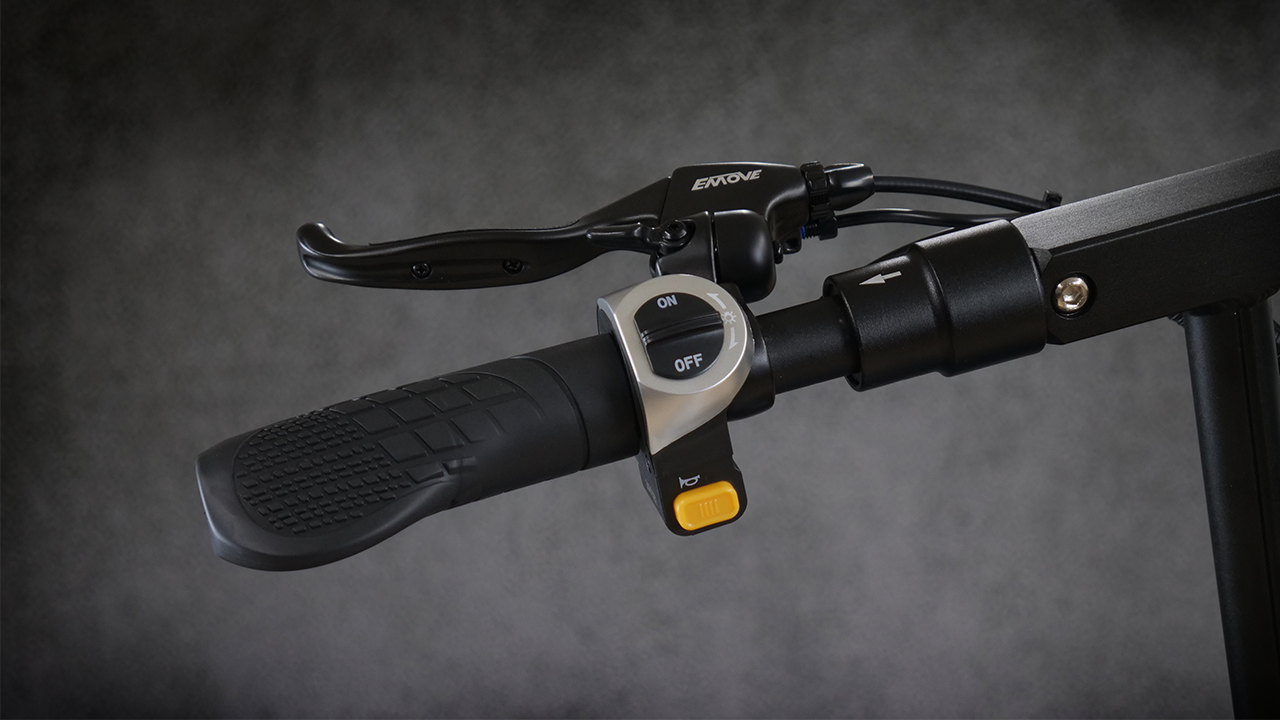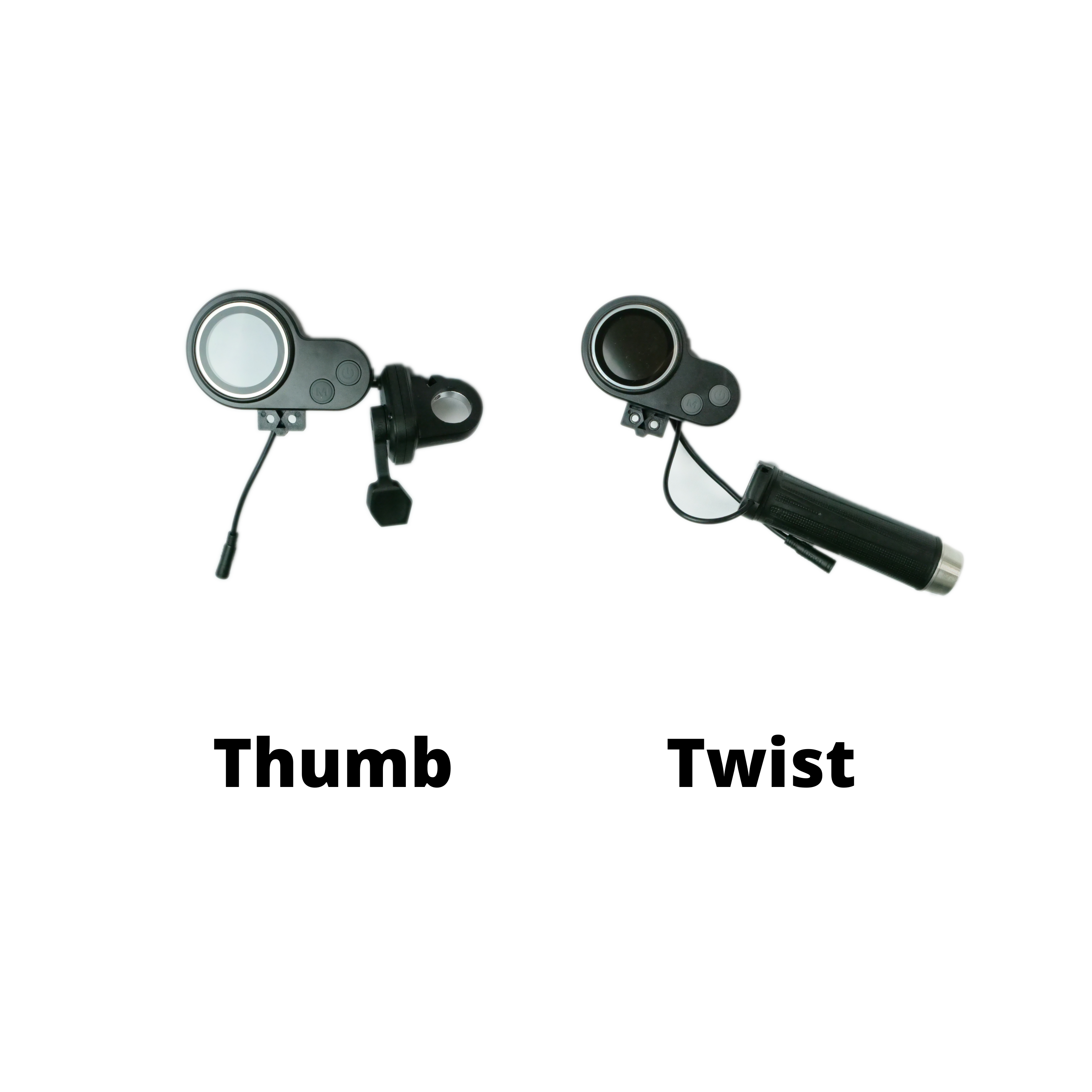 Accessories That Lets You Make The Touring
Your Own.
Having that option to change your throttle preferences, change it to thumb or twist style to have your perfect electric scooter.
Thumb throttle: Click here to view
Twist Throttle: Click here to view
These throttles are only compatible with the EMOVE line of scooters.
---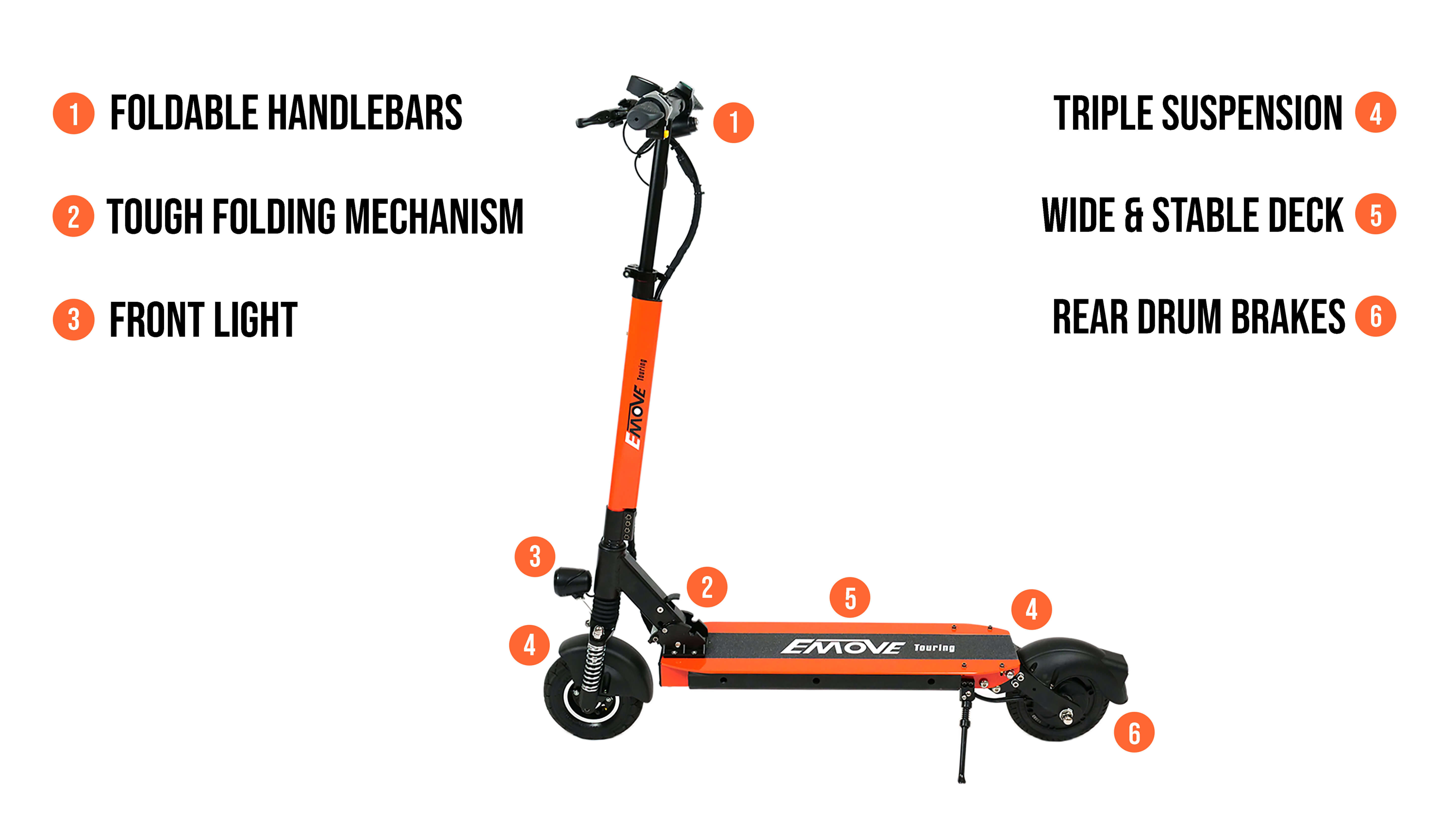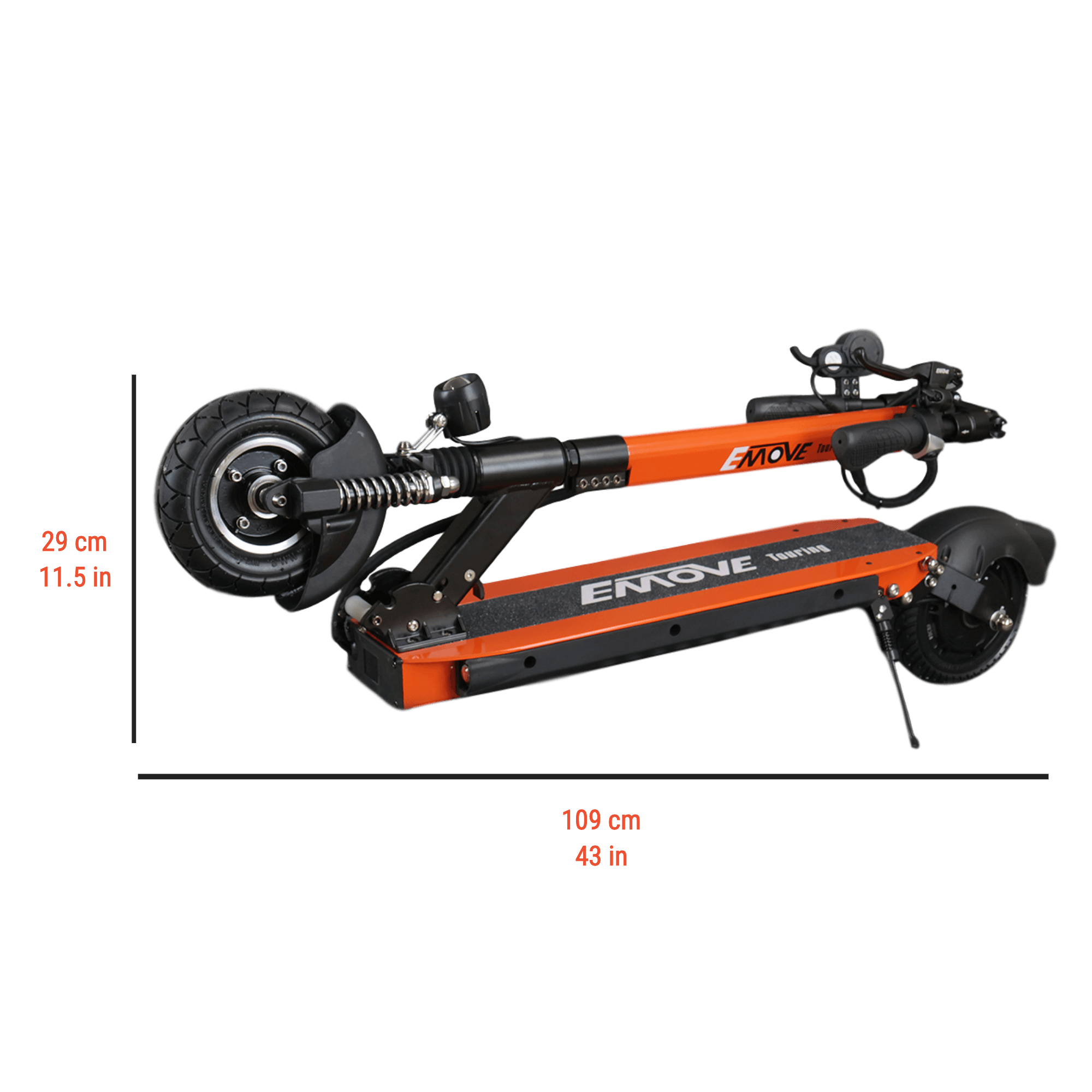 EMOVE Touring Product Specifications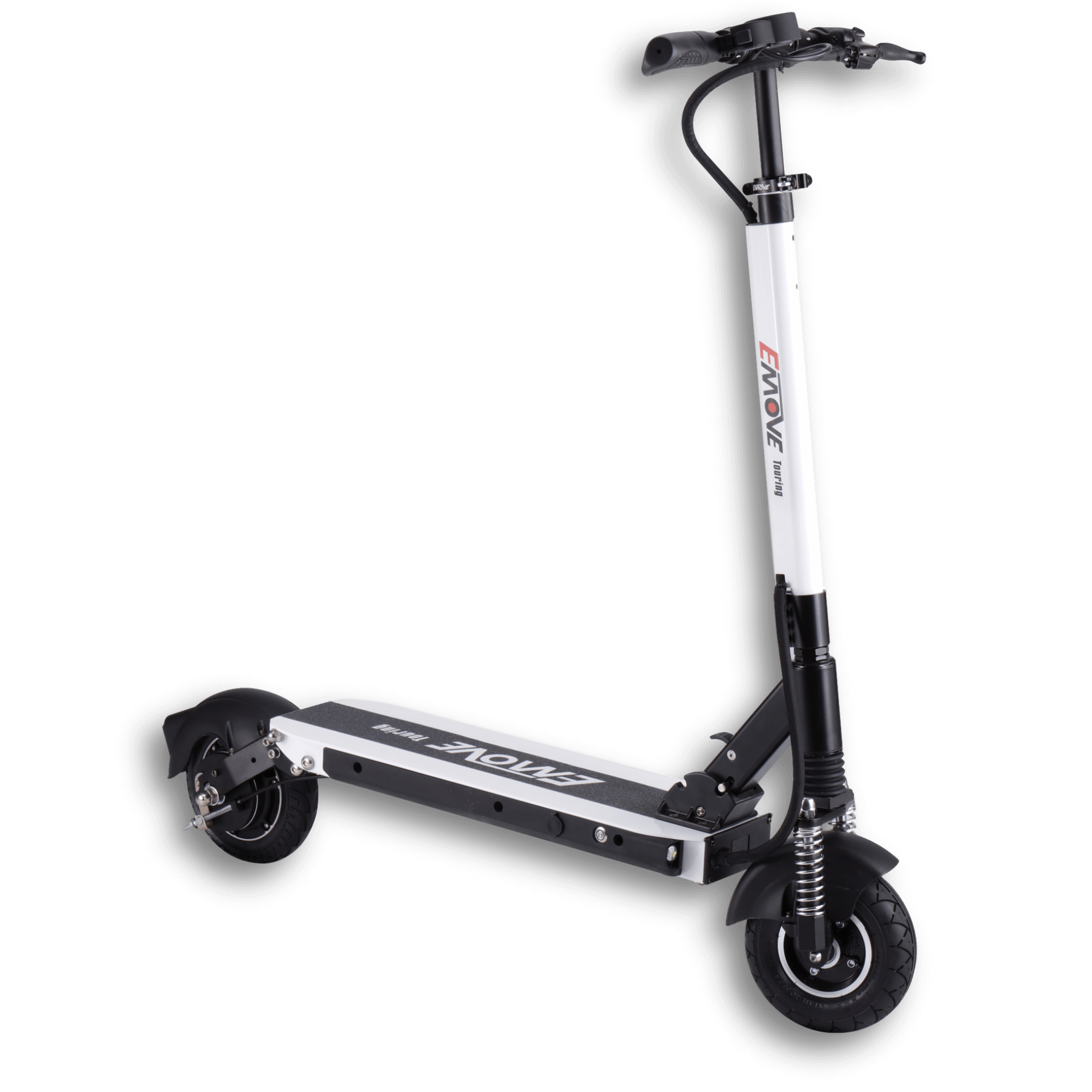 ---
Speed
Speed varies from rider's weight and riding conditions.

Here are a couple of links you might find useful regarding the speed:
---
Climbing Ability
15 degree - Based on 150-lbs rider
---
Ideal Lowest Temperature
1 Degree Celsius / 33.8 Fahrenheit
---
NETT weight
39-lbs (17-kg)
---
Maximum Load Capacity
330-lbs (150-kg)
---
Charging Time
3 to 4 hours
---
Folded Dimensions
43 x 8 x 11.5in / 109 x 20 x 29cm (LxWxH)
---
Unfolded Dimensions
39 x 22 x 47in /100x56x120cm (LxWxH)
---
Water Resistance Rating
IP54
---
What is in the package?
1x EMOVE Touring (Color of your choice)
1x US-Standard Charging Adaptor
1x User Manual
---
Motor
Brushless DC Motor
Nominal Watt: 48V 500W
Peak Power Output: 750W
---
Battery Type
48V 13AH LG Battery with Battery Management System Protection
---
Tire Type
8'' Pneumatic Tire (Front)
8'' Solid Rubber Tire, with Motor (Rear)

---
Brake Type
Rear Electronic & Drum Brakes
---
Suspension
Front Triple Suspension and Rear Dual Spring Suspension
---
Type Of Lights
Front headlight
Front sidelights
Rear brake lights
---
---
---
Seat Option
Available as an optional upgrade.
You can get it here.
---
Warranty Coverage
Find out what is covered and what is not here.
---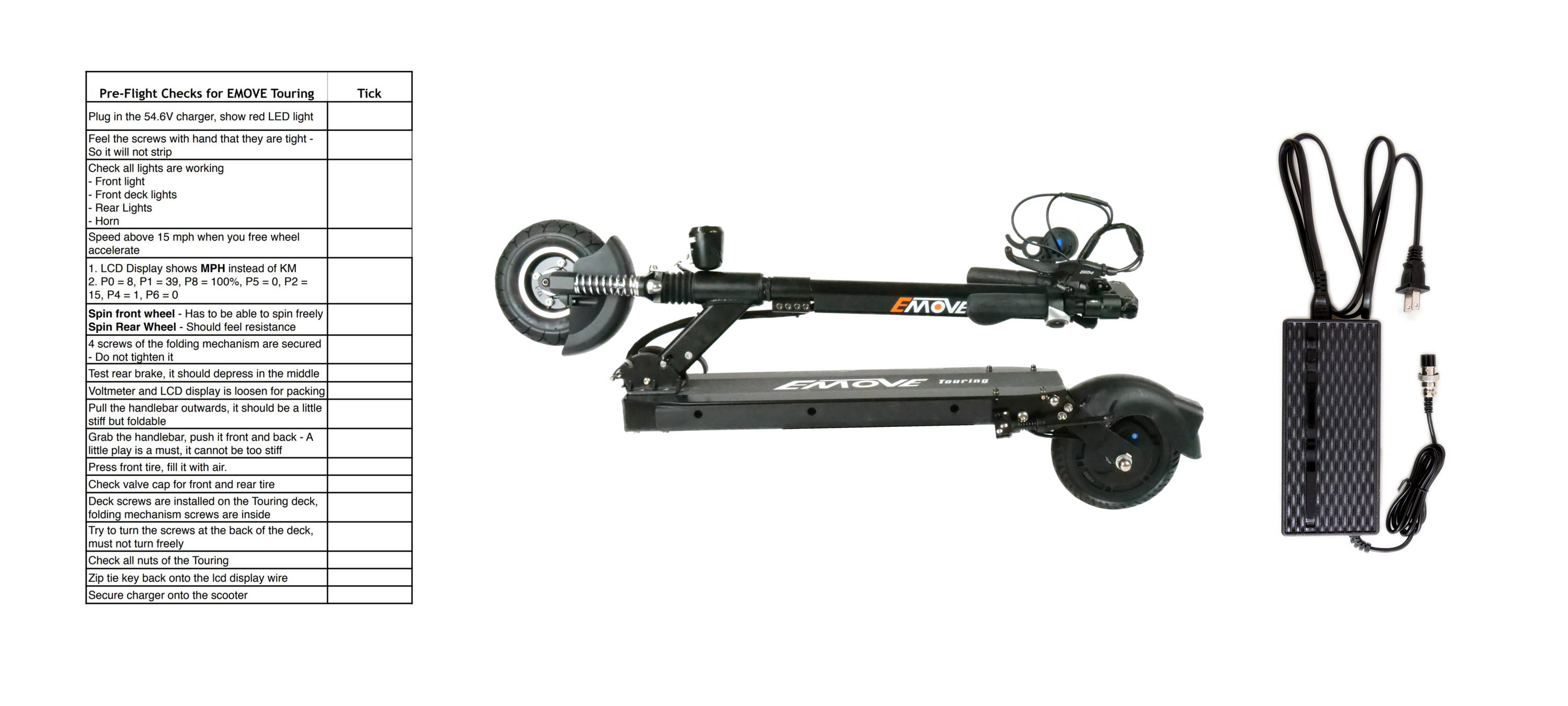 The Largest After-sales Service Content In The World.
Imagine this, you are located in Chicago and you experience a flat tire on a Sunday. There are no repair stores nearby. You just need instructions on how to replace it.
Rest assured, when you shop with us, you get access to our entire library of after-sales service tutorial at the convenience of your home.
Watch more videos on our youtube channel >

1-year warranty. Customer service that actually cares.
When you spend such a significant amount of money, you want the best support. Although we are not a big company, our team is extremely dedicated to every single rider. Send a message through our 24/7 live chat on the bottom right bubble of our website, someone will always be around to help you. Try it!

Call us at 323-709-7329, Monday to Friday 9am to 6pm PST. You are guaranteed that someone will pick up your phone. If not, someone will call you back.

Email us at support@voromotors.com
We have an entire team that works relentlessly behind the scenes to help you.

Ships from Los Angeles, California
With us, you never have to wait 4 to 6 weeks to get your scooter. We have all colors in stock. Shipping takes between 2 to 5 business days depending on UPS.

Shipping is free for orders within the United States.

We work with Affirm and Katapult to provide financing options to ease your burden. (Applicable within US Only)
Two financing providers for you to choose from, to help you with your purchase. As low as $84/mth for EMOVE Cruiser.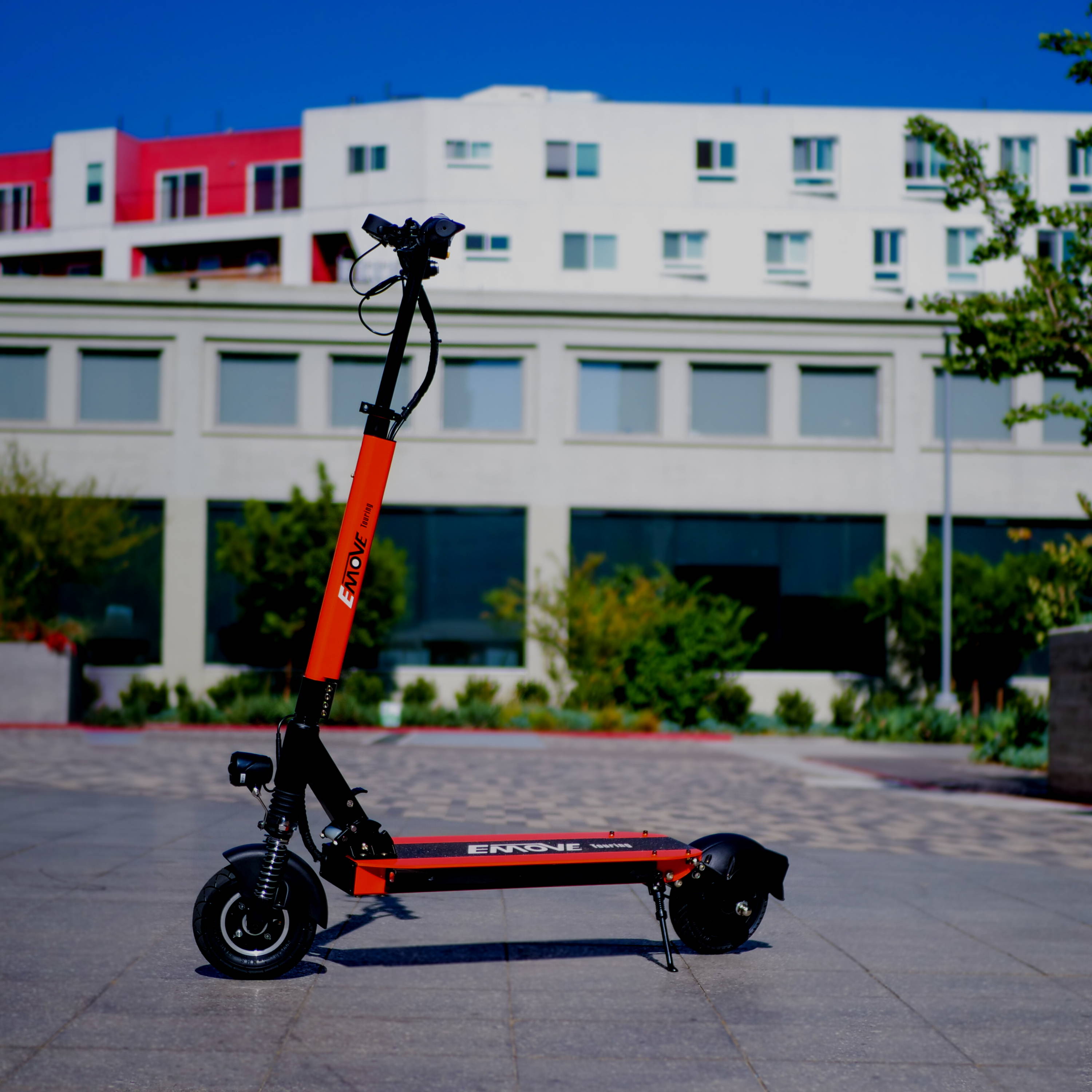 EMOVE For First Responders
Empower your commute even during Covid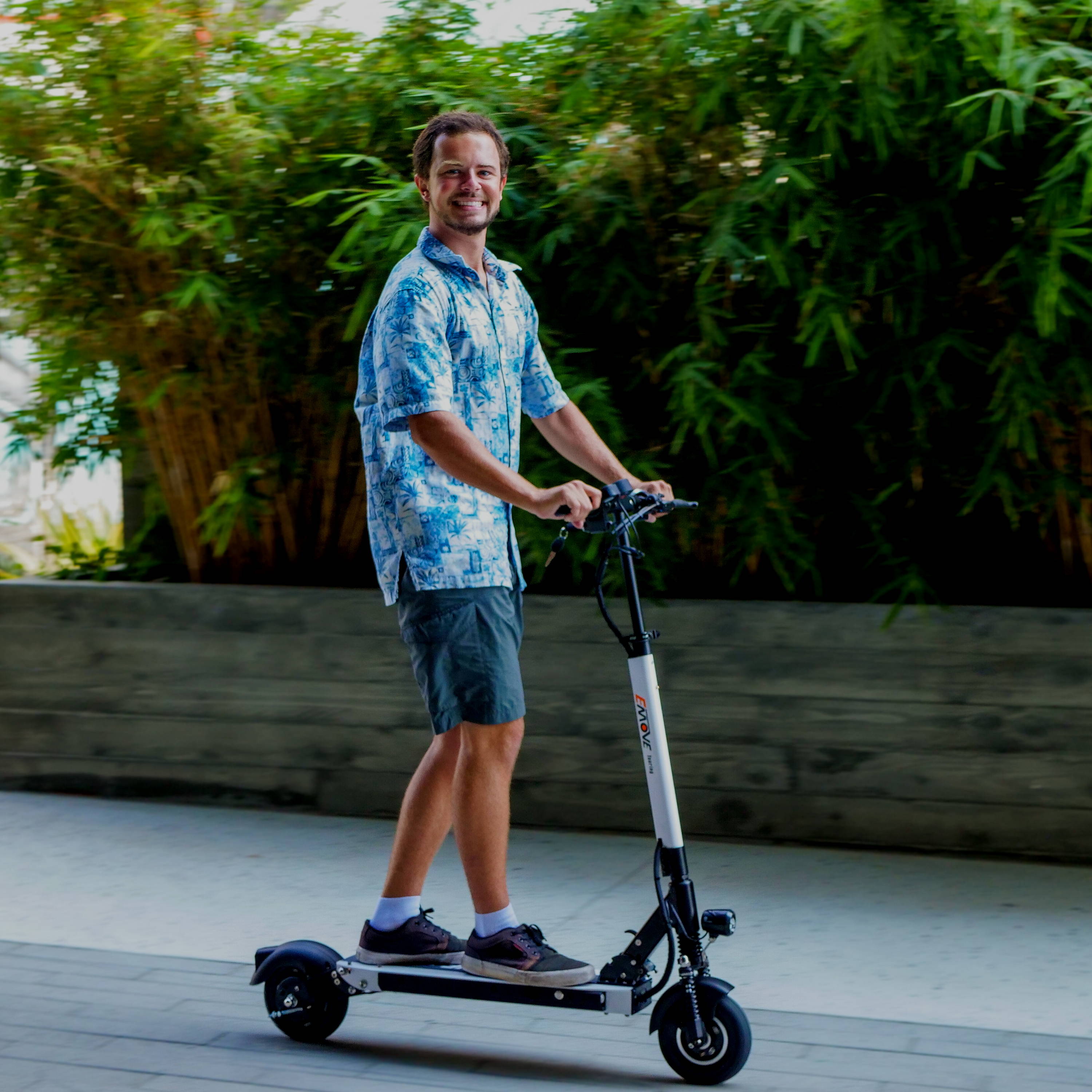 For students that are looking to save on that gas money.

EMOVE Touring Portable and Foldable Electric Scooter
has a rating of
4.9
stars based on
34
reviews.