All colors in stock. Black and Purple will start to ship from March 16th onwards.

Get up to 3 additional years of protection - Get EXTEND Warranty. Find Out More Here.
Got a question about delivery date? Click Here To Chat with us.
Watch The Comprehensive Reviews
The Most Complete Long Range Electric Scooter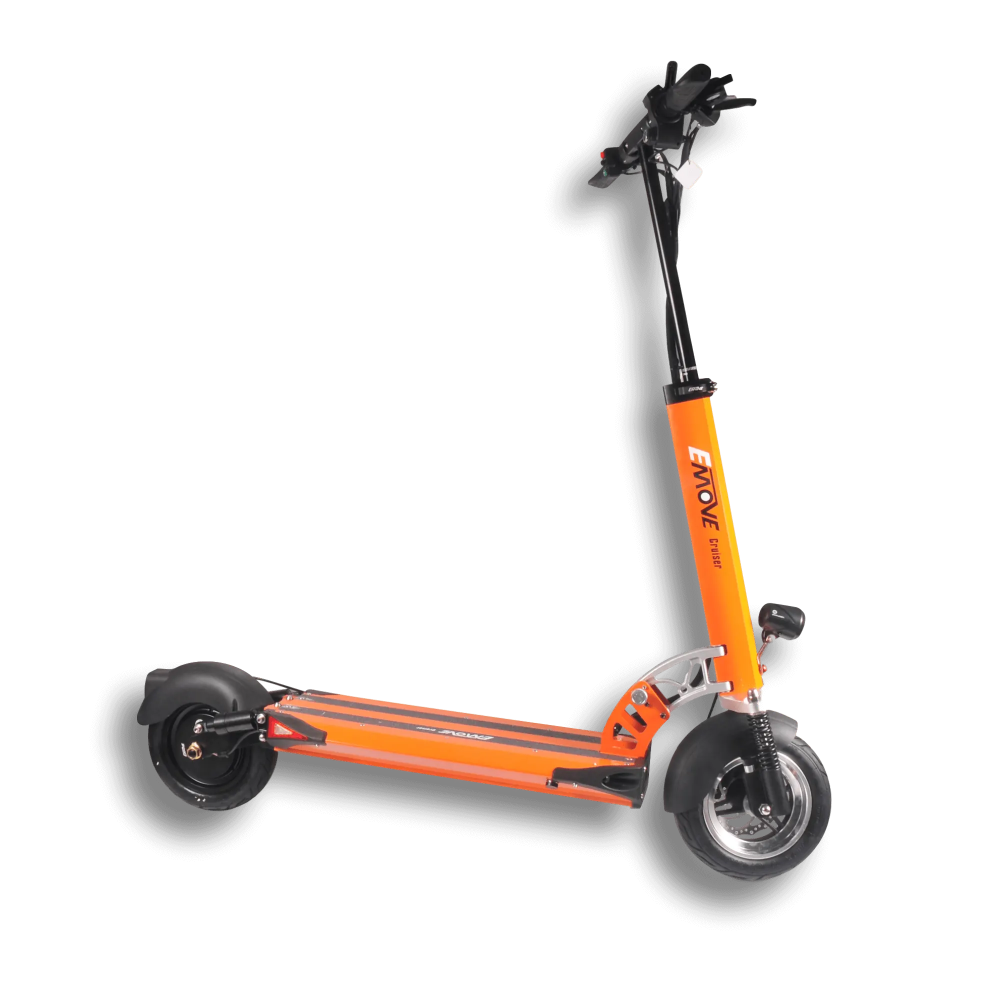 Just The Right Amount Of Everything.
The most complete electric scooter in the world. Everything that you need in a commuter gadget, packed into a single machine. There is a reason why this scooter is loved by many of our riders - The EMOVE Cruiser ticks all your boxes. This foldable adult high-speed kick scooter is available in 3 colours: Black, White, Orange
A Full Charge In 1 Night
Takes You Through 2 Weeks Of Commute
This scooter is built to last for long range, travel up to 62 miles on a single charge. You do not want to be stuck halfway through your commute because your battery is flat. Not going to happen with the EMOVE Cruiser.
The Cruiser is designed for riding, not for recharging. If your commute is 5 to 15 miles a day, and you rather not charge the scooter after every usage, this is the scooter for you. Still skeptical about the range? Check out this recent review here
It can also carry a max load capacity of about 160kg / 352lbs (2 grown-up adults). From the muscular shape of the motor to its aggressive stance, EMOVE Cruiser delivers the iconic look.
If you are comparing scooters in the same price range, there is no doubt the Cruiser crushed all competition. Look carefully at the specs, 30AH battery is 3x the size of all competitors' battery size at this price class.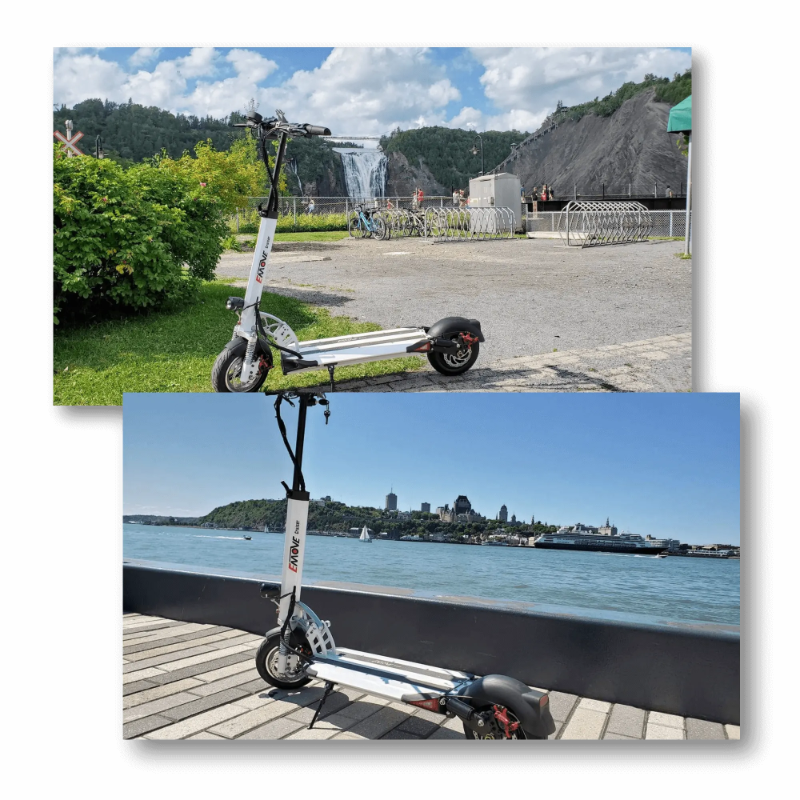 Tubeless Pneumatic Car-Grade Tires
True pneumatic car grade tires has no inner tubes. No more inner tube bursting in the middle of your ride, no more oily sealant all over your motor. Survive nasty potholes.
Real statistics: Out of the previous 3000 riders of our old version EMOVE Cruiser riders (the old EMOVE Cruiser has inner tubes), more than 50% came back in the first month buying inner tubes.
Out of the new 3000 riders of our new 2020 EMOVE Cruiser with tubeless tires, only 30 of them bought tires. Out of that 30, 20 of them only bought it for emergencies. Only 10 riders actually got a flat. That is 0.003% flat-tire rate.
Why compromise with tubed tires?
62 Miles On a Single Charge
Packed with a large 52V 30AH LG battery. The high voltage battery allow riders to travel up to 62 miles on a single charge. Backed up by a reputable battery manufacturer; with state-of-the-art ISO Certified manufacturing facilities to ensure all battery packs are consistent and equal.
Why is your range important?
You don't want to be charging your scooter after every trip.

Lesser charges increase the overall life span of your battery

Having a top shelf battery gives you some peace of mind that your battery is going to last.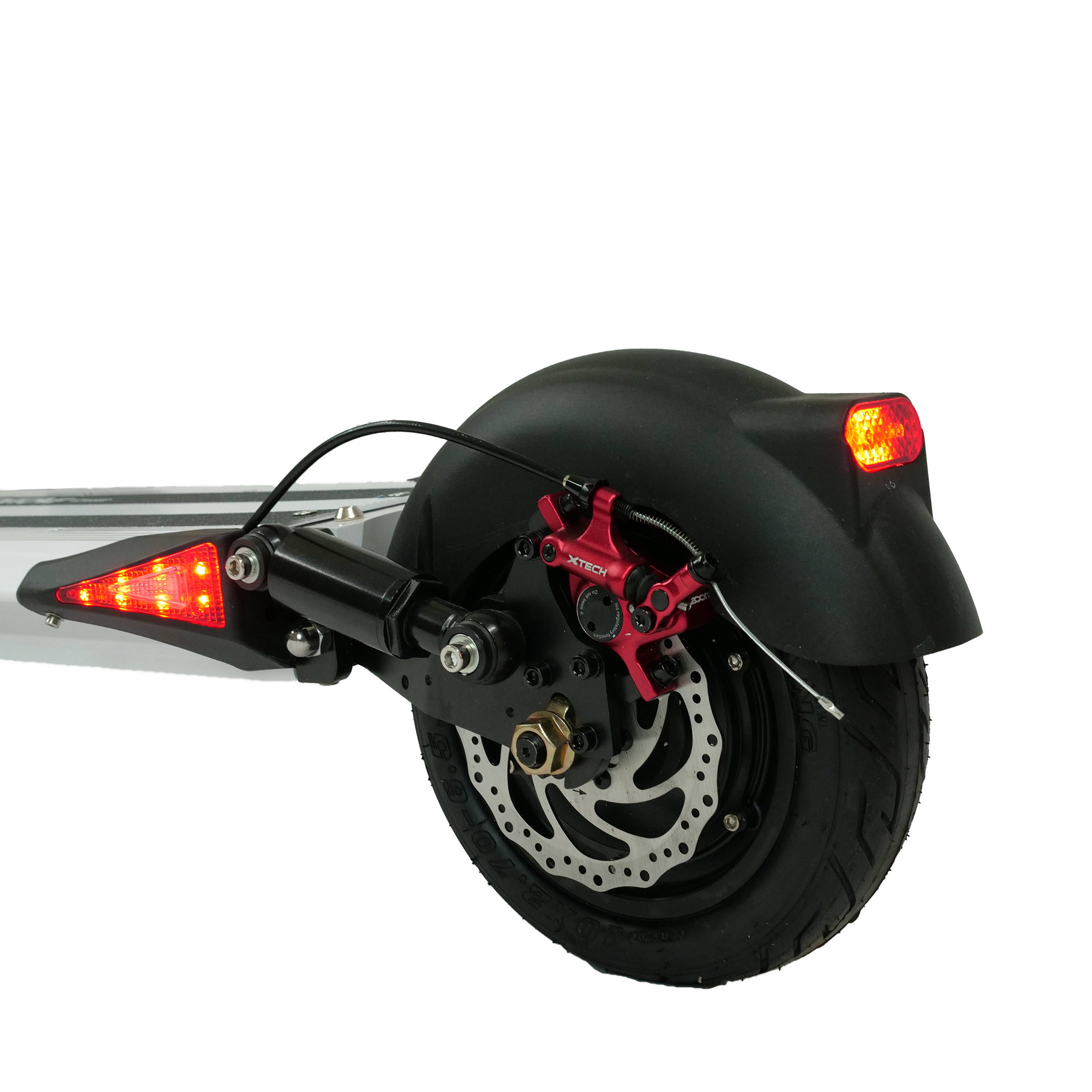 The peak power output of the Cruiser is 1,600W. The faster you accelerate, the more power output the Cruiser generates. If you look at the numbers, the Cruiser is much more powerful than most scooters. There is a reason why so many riders are saying the Cruiser is faster and stronger than advertised.
So, what can it do?
20 degree hill climbing ability

Maximum weight capacity of 352-lbs / 140-kg

Acceleration (0 to 15 mph) within 3.4 seconds
If you are wondering what kind of speed the Cruiser can achieve and what kind of hills it can overcome.
Every key is unique to every Cruiser.
Once you get your keys, the Cruiser only belongs to you in the entire world.
No one is able to gain access to it without your keys.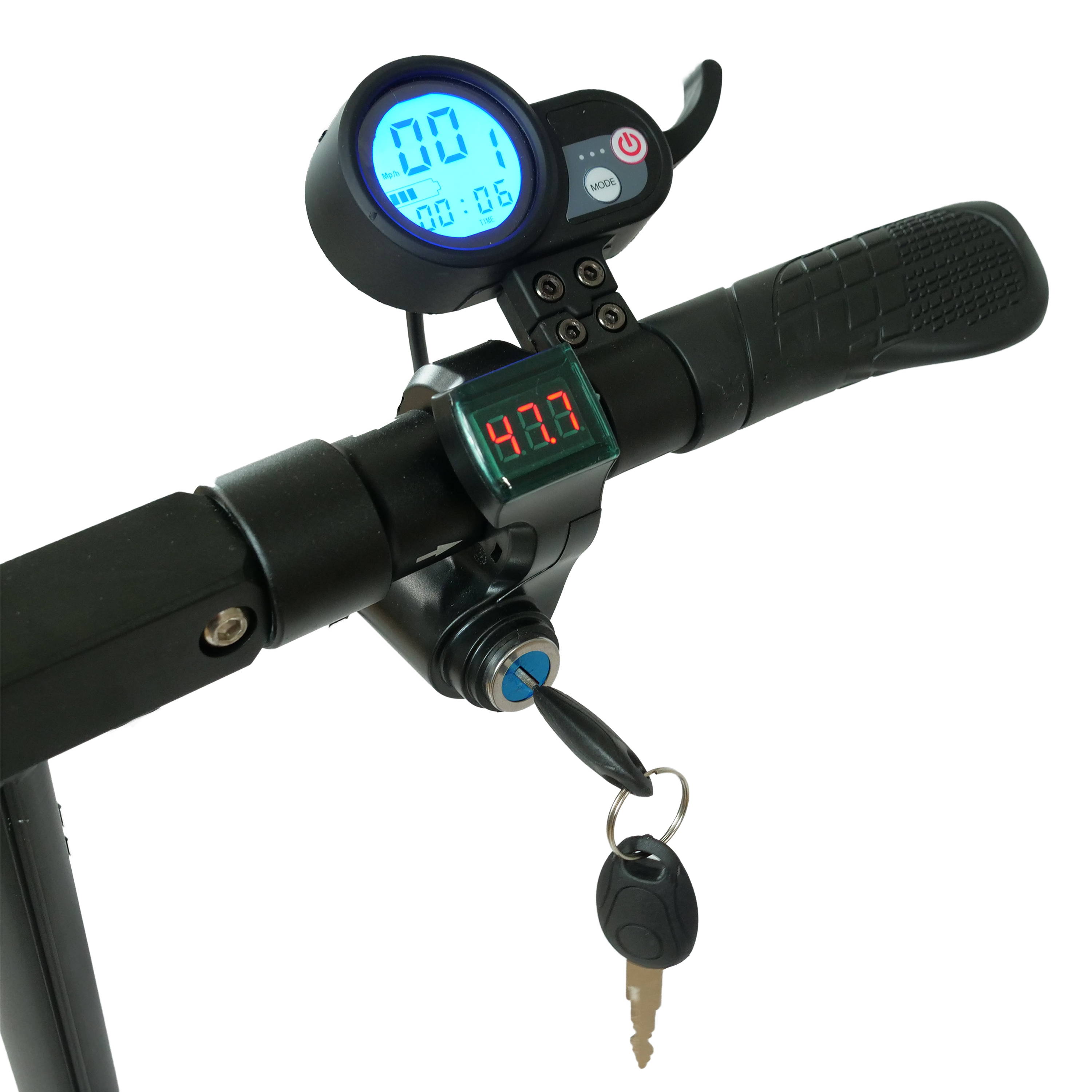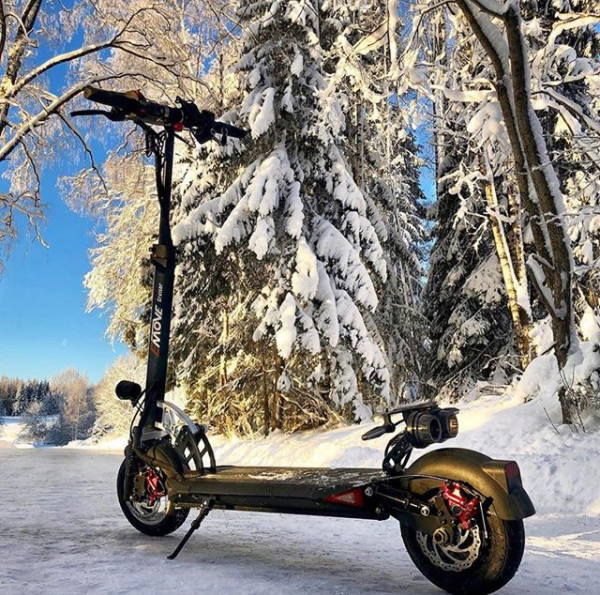 Built For Unforeseen Weather Conditions
IPX6 Water Resistant Rating: The highest water resistant rated electric scooter in the world. When you ride outdoors, there is a chance of getting caught under bad weather conditions. We understand that.
We have added multiple safety precautions, such as upgrading the Cruiser by using waterproof cables.

Click here to watch a rider using the Cruiser in unforeseen condition >
Store your Cruiser in your car, bus or train. Apartment-friendly.
Ability to fold your handlebars and fit it inside your car boot easily, carry up a quick flight of stairs. Tuck it under your table, keep it in your room. The portability of a high performance scooter empowers a different kind of freedom that is unheard of.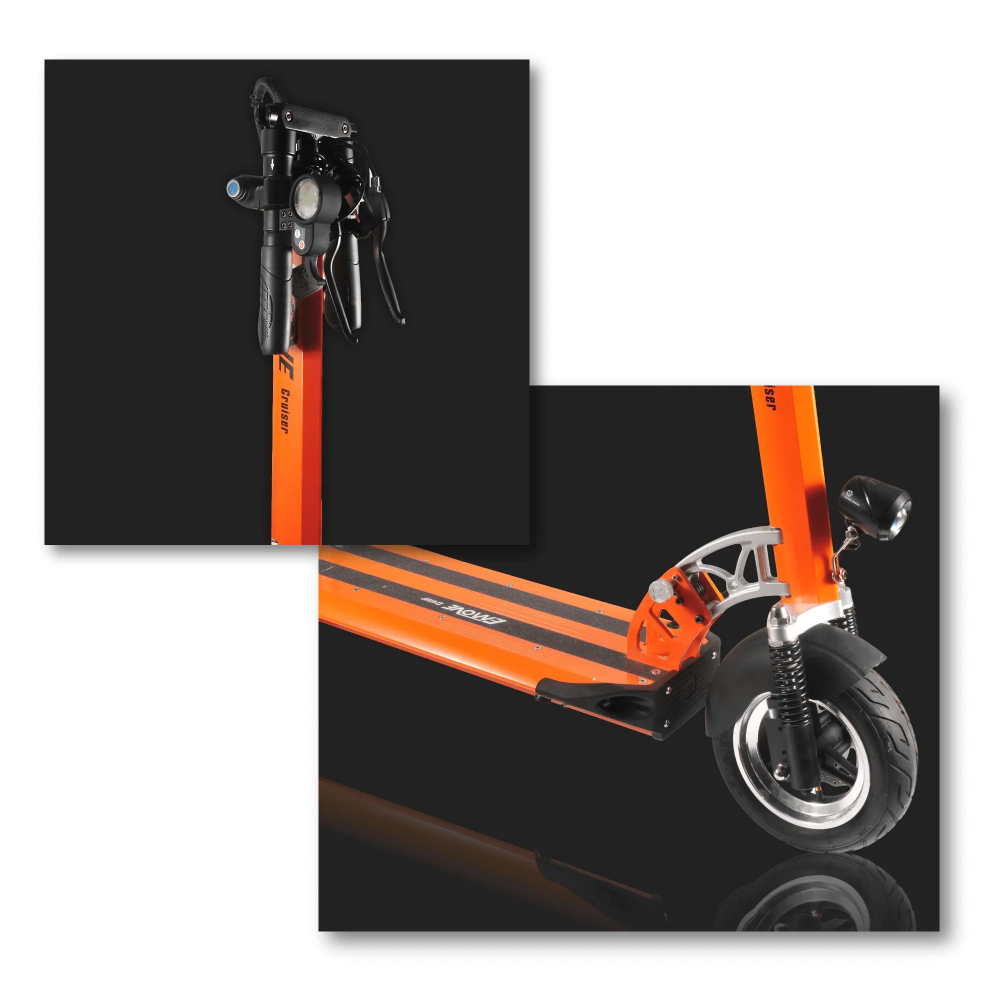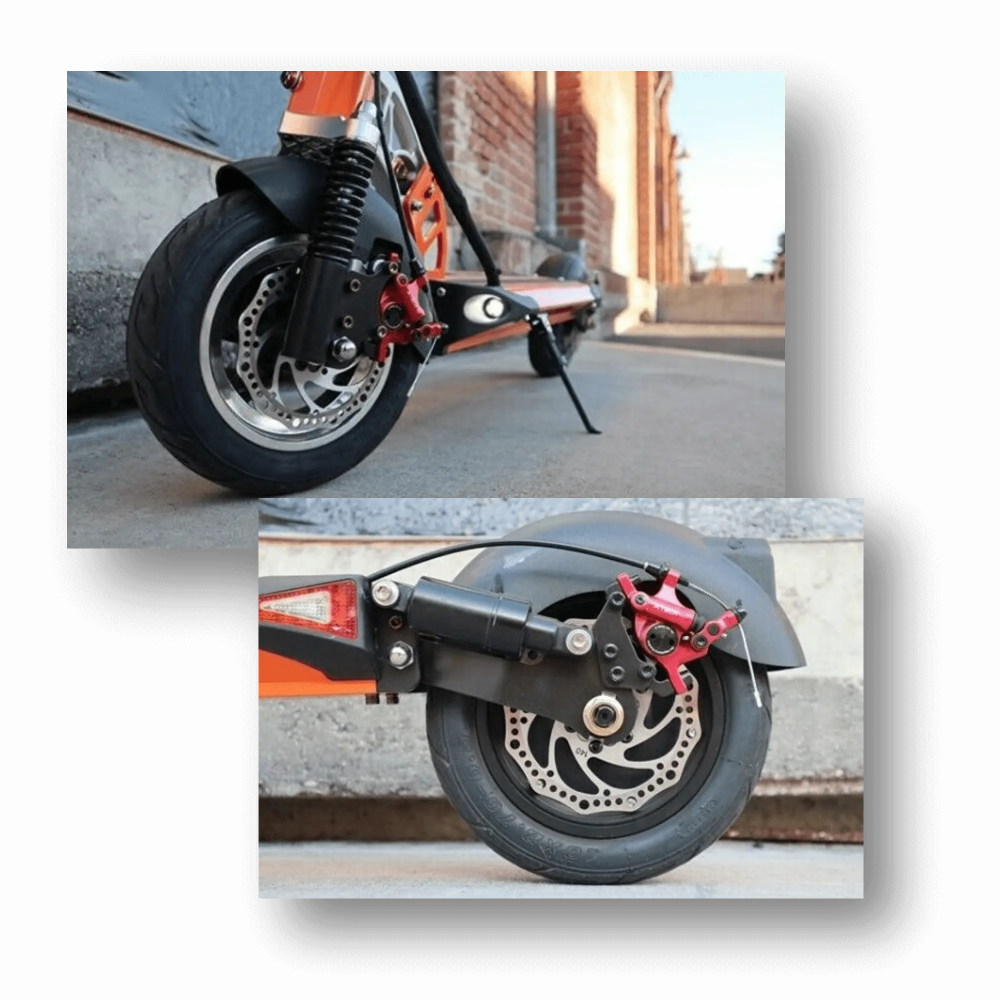 Battle Tested in Real Life Riding Conditions
Take control of your speed with the new front and rear hybrid hydraulic brakes for stronger braking power.
With the front and rear suspension, your ride will be smooth as butter. Tested through the potholes of New York and the streets of Los Angeles.
Accessories That Let You
Make The Cruiser Your Own.
Having that option to change your throttle preferences, change it to thumb or twist style to have your perfect electric scooter.
Thumb throttle: Click here to view
Twist Throttle: Click here to view
These throttles are only compatible with the EMOVE line of scooters.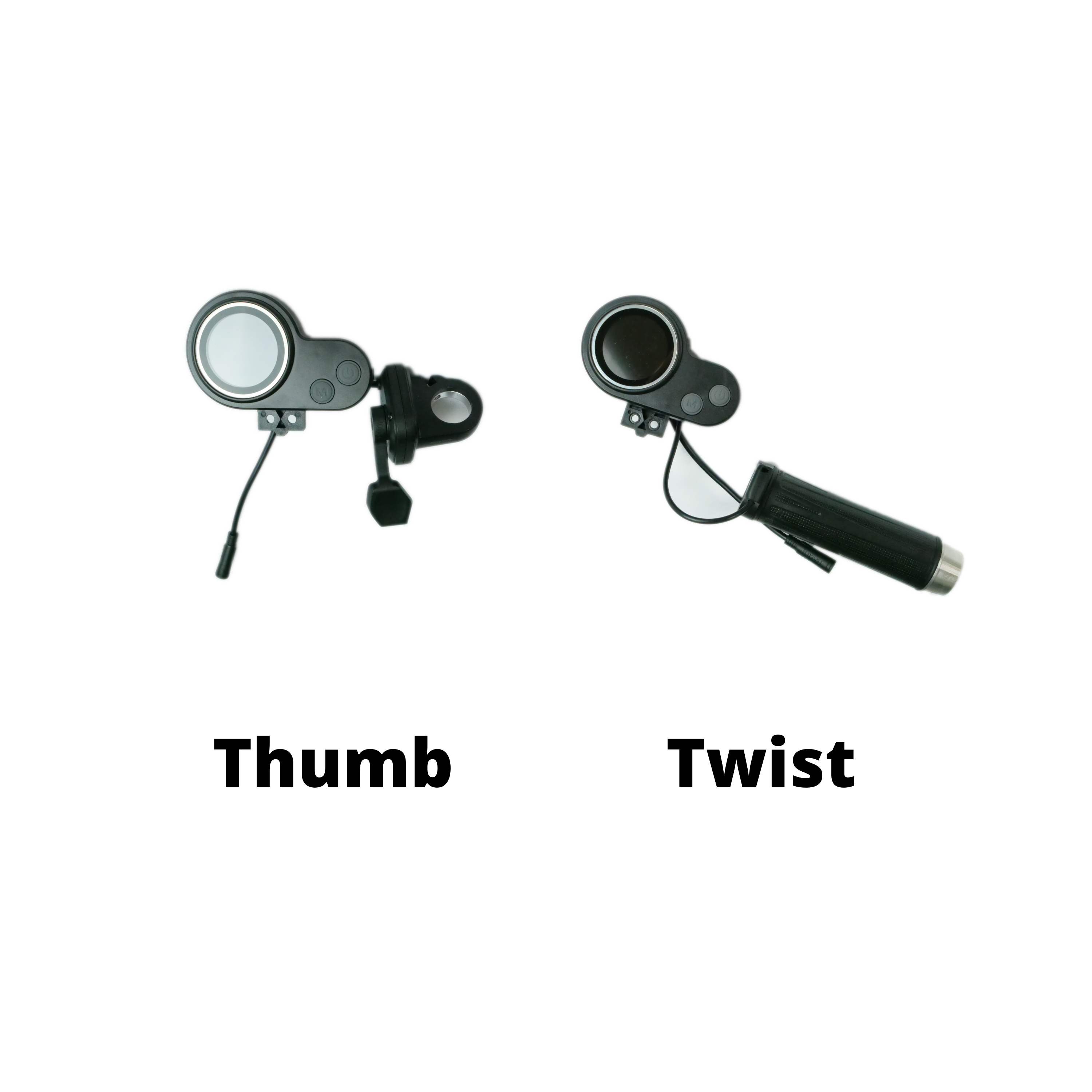 ---
Wide Deck Coverage with True Suspension
---
Large standing deck allows you to travel comfortably, with a sense of safety that most electric scooters do not provide.
When you travel at a high speed, you want to feel grounded on your scooter. Not having a feeling of topping on the sides. With a large deck, you can ride safely.
Tough folding mechanism stem. Most type of common bike locks will fit the EMOVE Cruiser. Tight and durable stem, feel safe going at high speed. You will never hear a Cruiser stem breaking during a ride, and we are not new players in the game.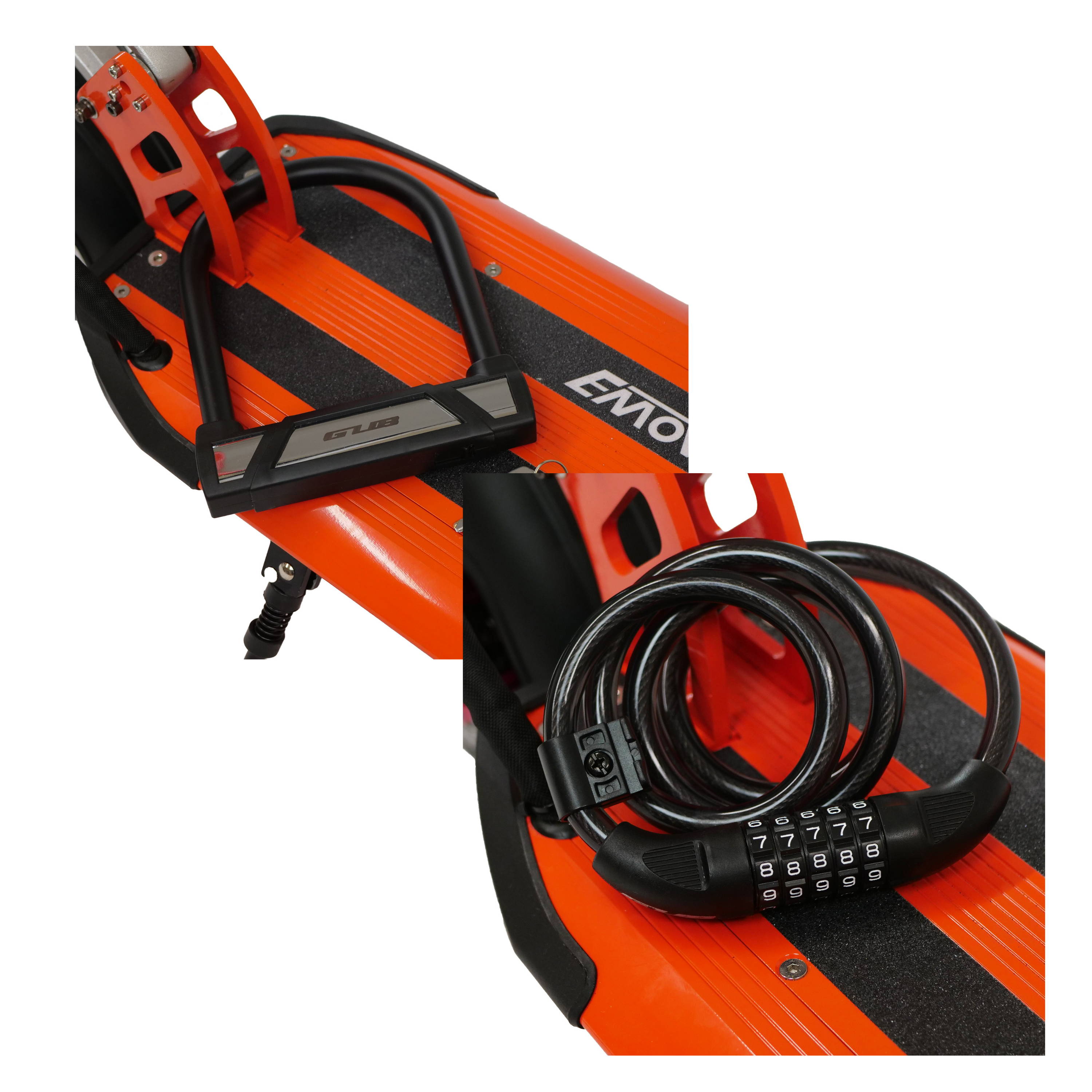 ---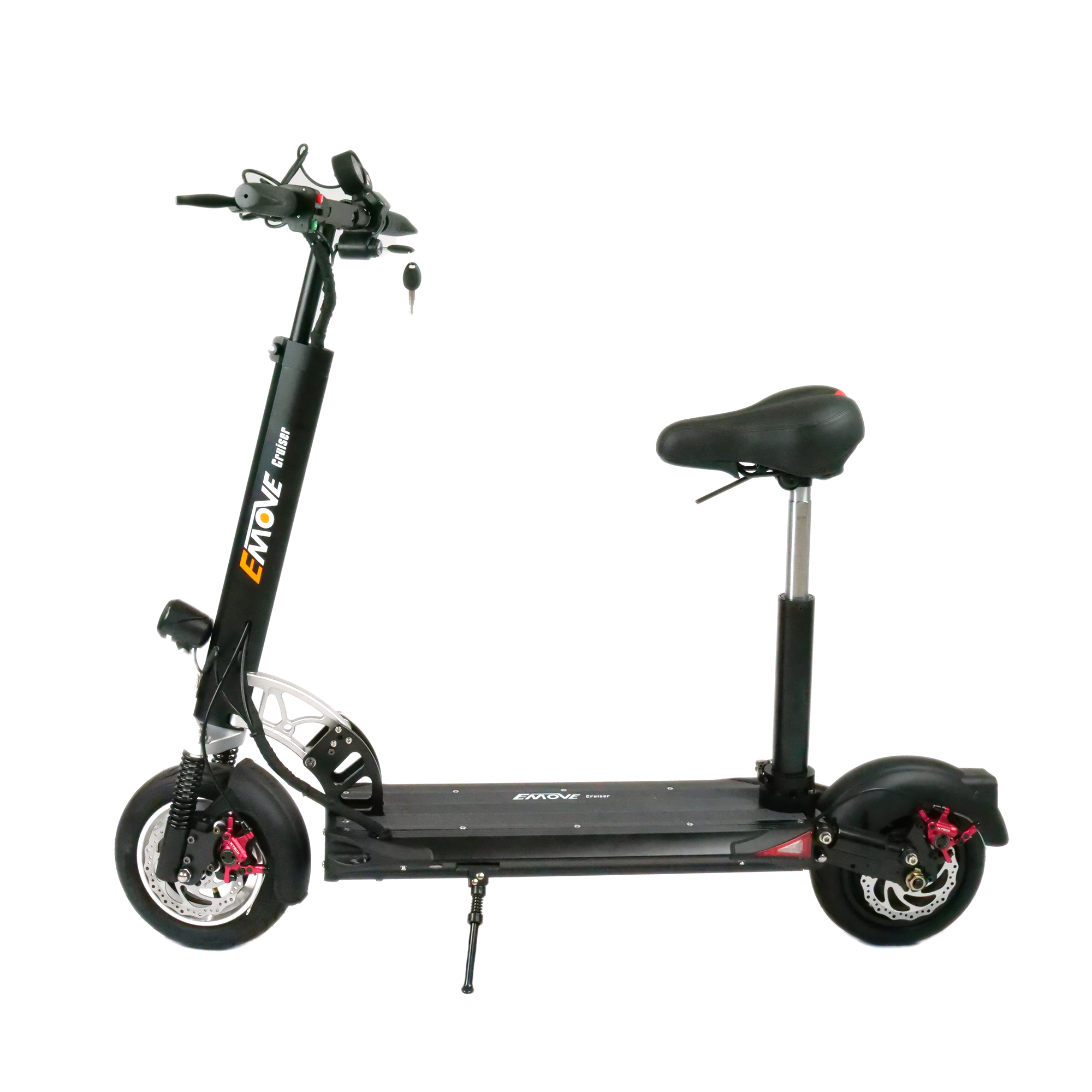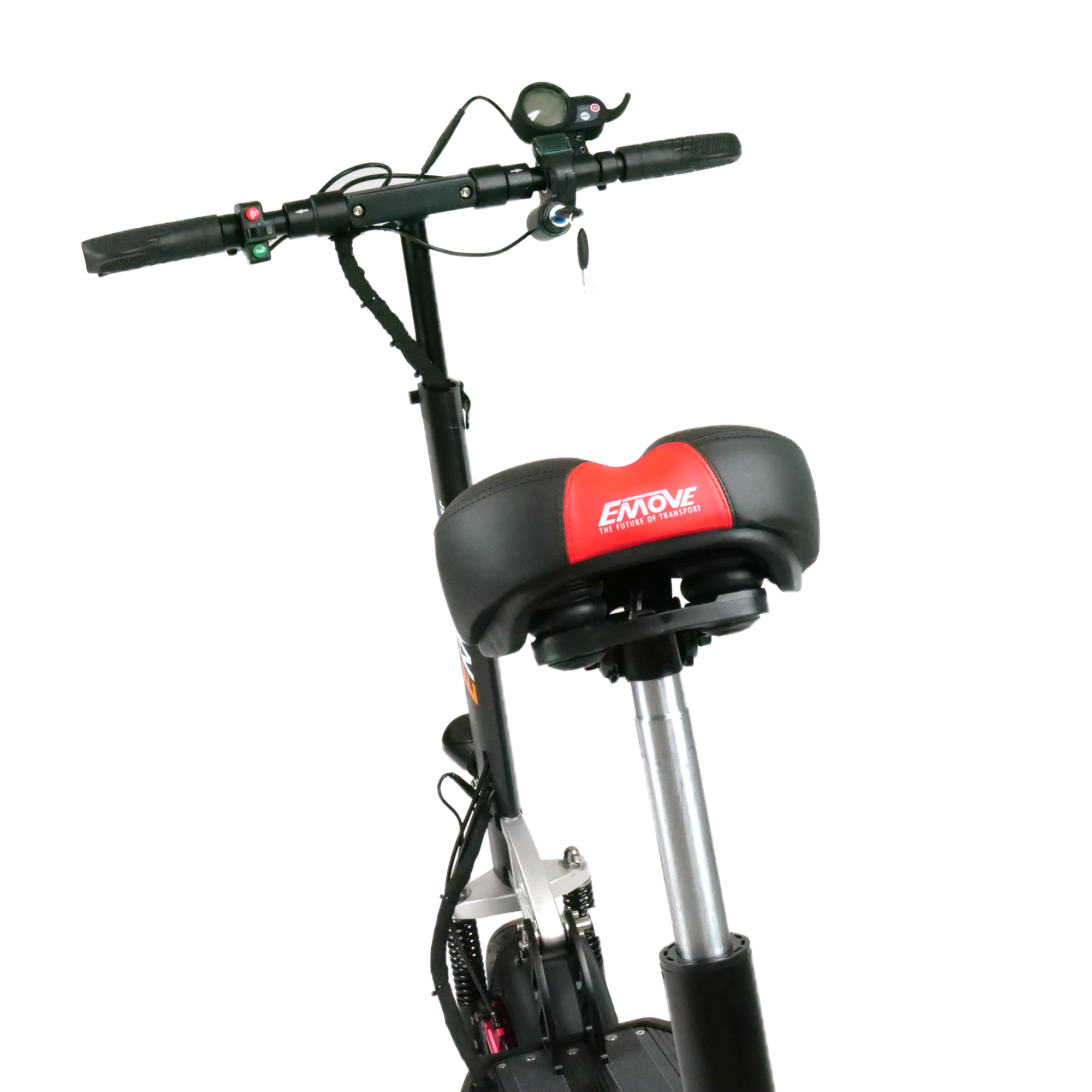 A new riding experience: Having the ability to sit allows
you to immerse yourself in the entire commute.
---
Range Test, Durability Test, The Test Of Time.
There are plenty of options out there, but why go with the Cruiser? The Cruiser is the only scooter
out there that has stood the test of time. Name another scooter that has gone through multiple updates and has thousands of riders you can hear from. If you are looking to invest in a durable scooter to use for the long run, you want to choose something reliable.
From the half fender, the waterproof cables, the hybrid hydraulic brakes, the tubeless tires, LG battery.
When a customer feedback to us, we take it seriously and we take actions. If you own a Cruiser, you are guaranteed that if there is an update in the future, you will be a part of it.

Hear from other EMOVE riders >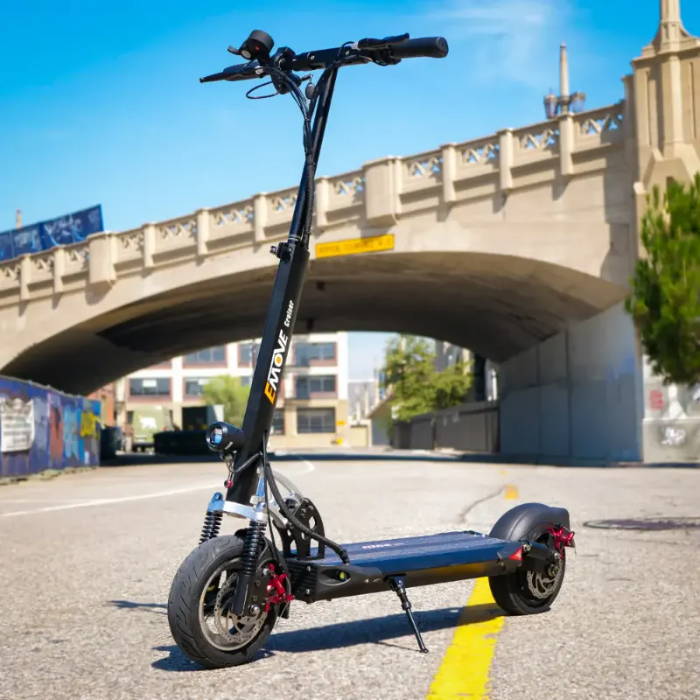 ---
Store your Cruiser easily in an apartment, bring it onto a bus or train. Store it in the back of your car easily.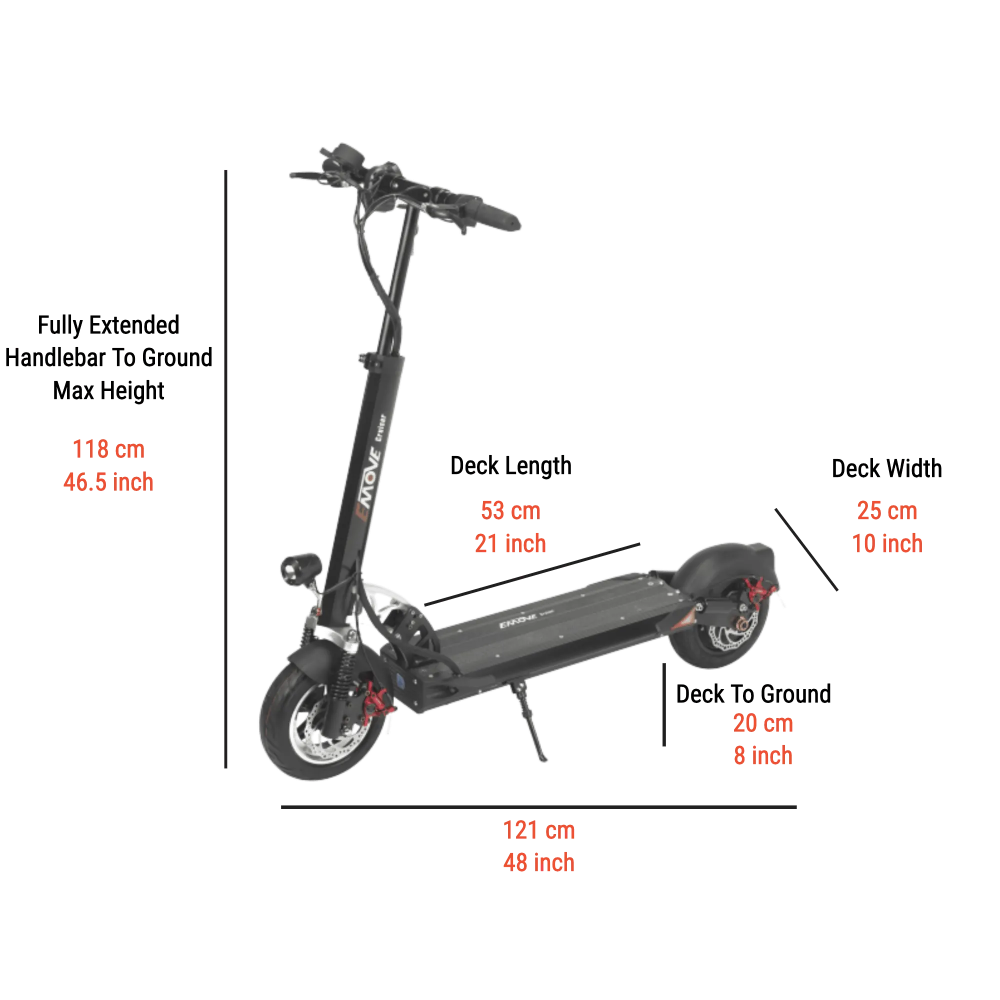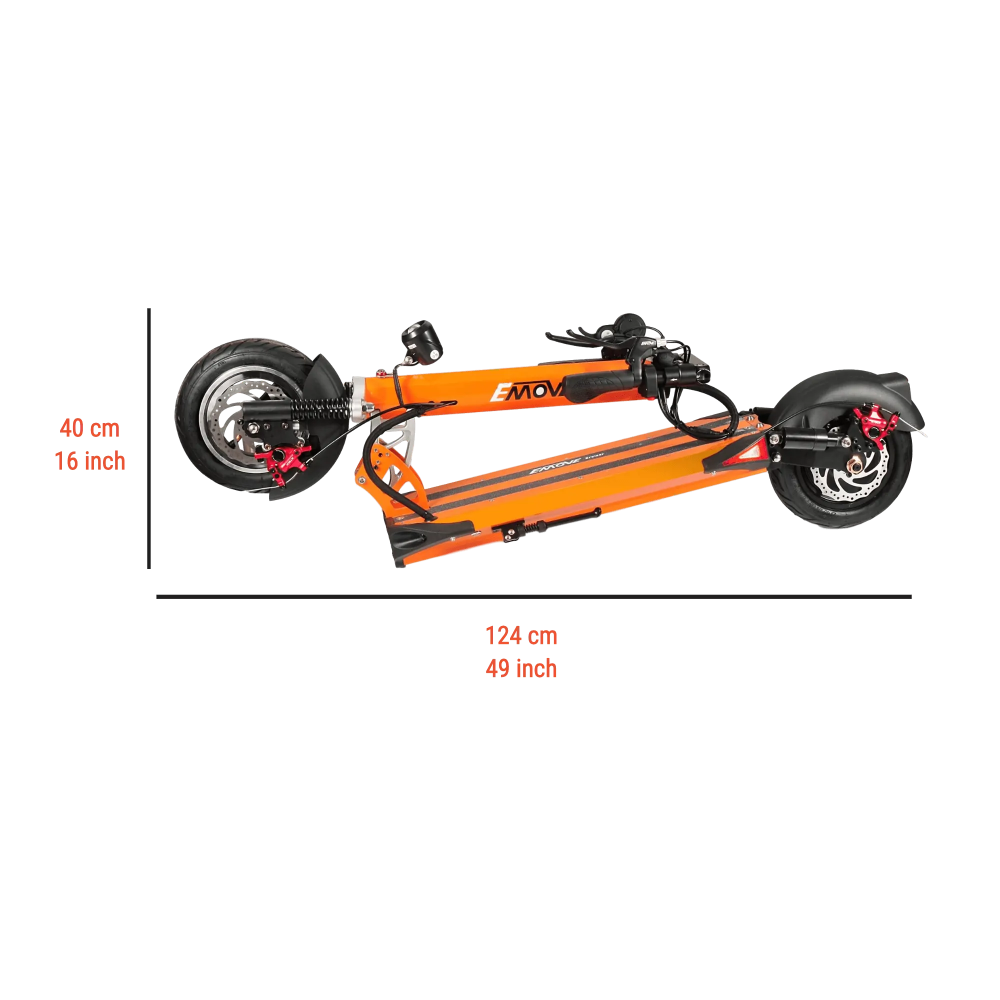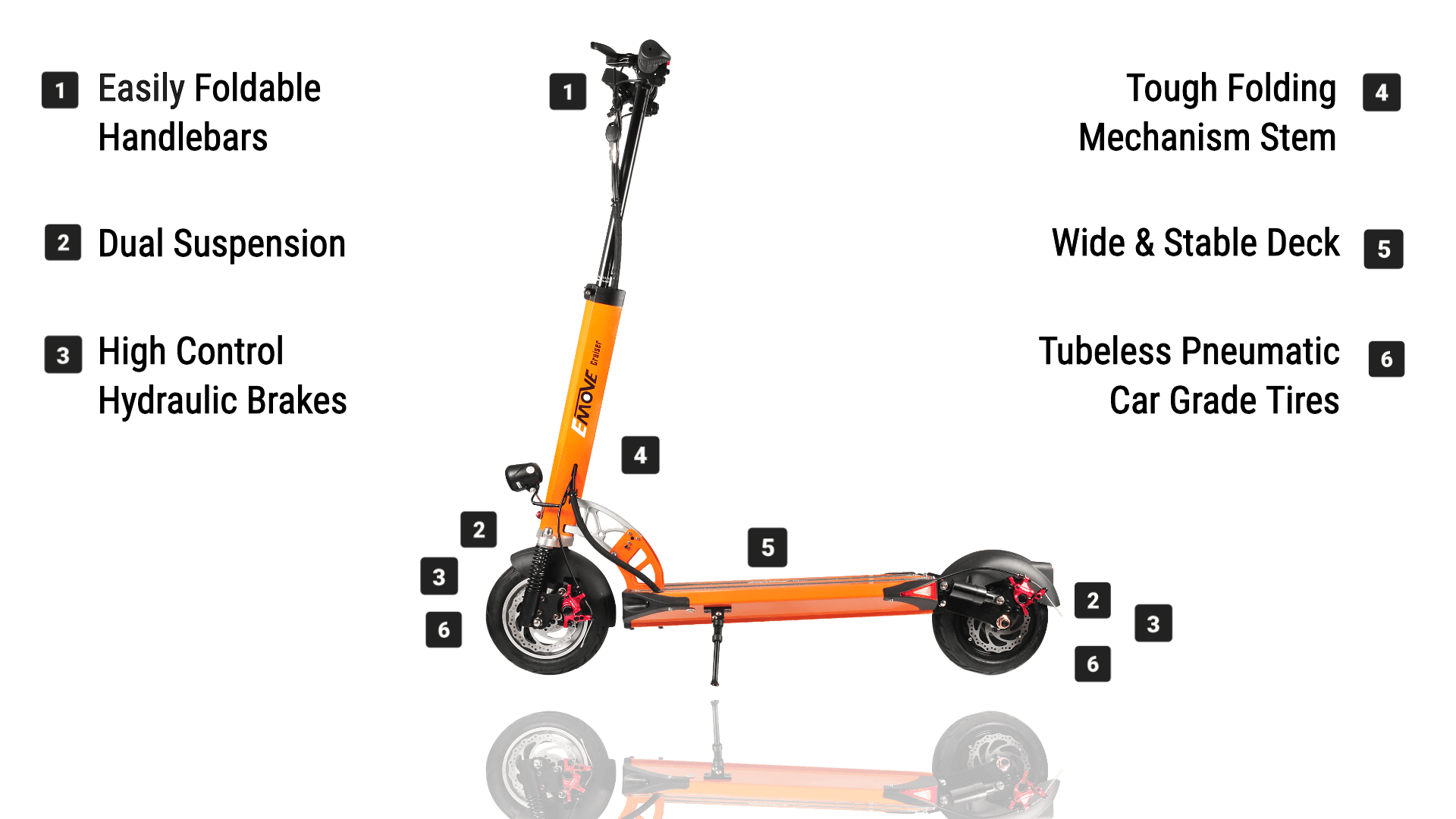 EMOVE Cruiser Product Specifications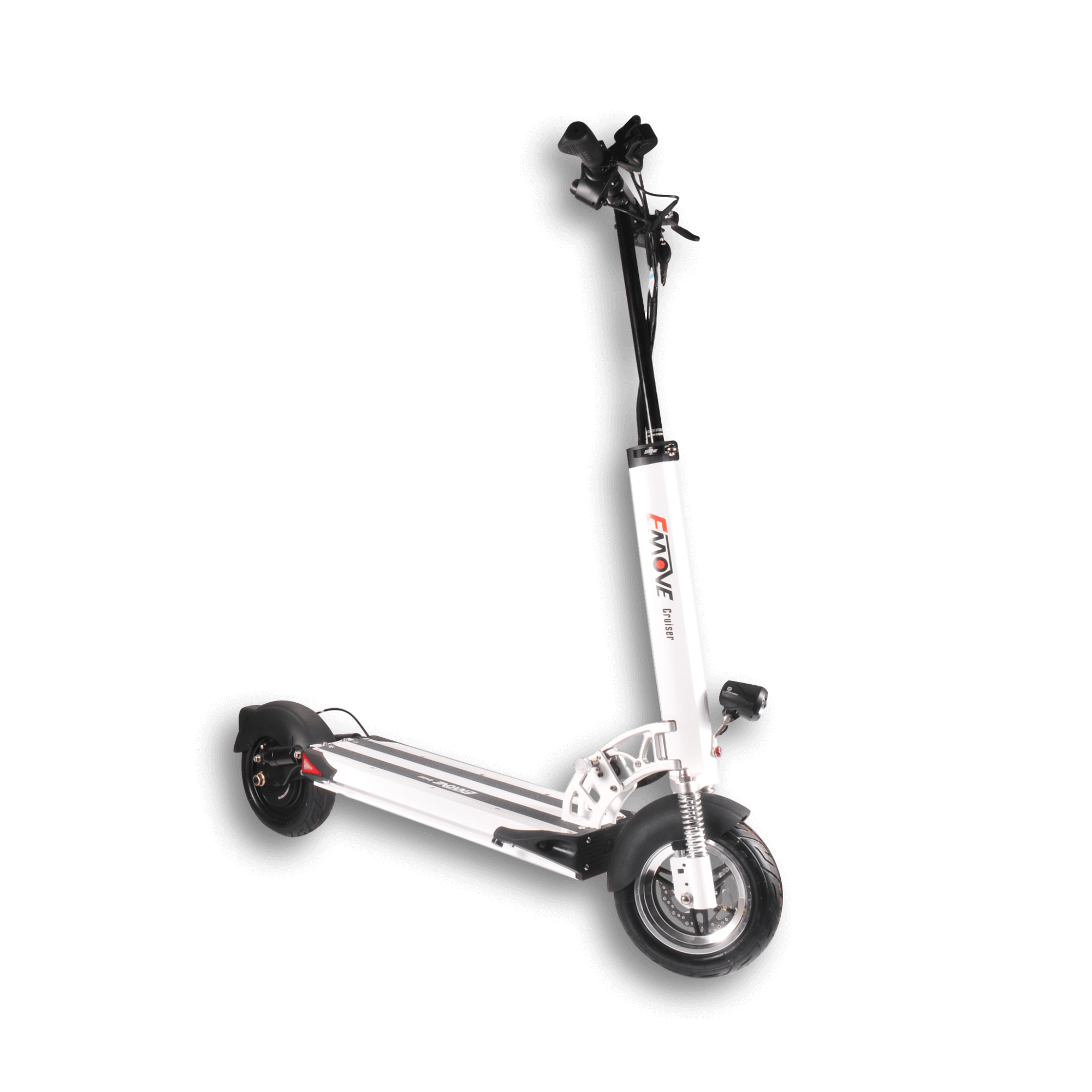 Range
62 miles (~100km) - Tested range.
---
Speed
Speed varies from rider's weight and riding conditions.

Here are a couple of links you might find useful regarding the speed:

---
Climbing Ability
20 degree - Based on 150-lbs rider
---
Water Resistance Rating
Rated IPX6 under IEC standard 60529
---
Ideal Lowest Temperature
1 Degree Celsius / ~33.8 Fahrenheit
---
NETT weight
52-lbs (23-kg)
---
Maximum Load Capacity
352-lbs (160-kg)
---
Charging Time
9 to 12 hours
---
Folded Dimensions
49 x 10 x 14in / 124 x 25 x 35cm (LxWxH)
---
Unfolded Dimensions
48 x 23 x 46.5in / 121 x 57.5 x 118cm (LxWxH)
---
What is in the package?
1x EMOVE Cruiser (Color of your choice)
1x US-Standard Charging Adaptor
1x User Manual
---
Motor
Brushless DC Motor
Nominal Watt: 600W
Peak Power Output: 1,600W
---
Battery Type
52V 30AH LG Battery with Battery Management System Protection
---
Tire Type
10'' Pneumatic Tubeless Car Grade Tire for Front and Rear
---
Brake Type
Front and Rear XTECH Hybrid Hydraulic Brakes
---
Suspension
Front Dual Suspension and Rear Air Shock Suspension
---
Type Of Lights
Front headlight
Front deck sidelights
Rear brake lights
Turn signal lights
---
Speed Limiter
By default, your EMOVE Cruiser does not has speed limiting wire. Feel free to set it via the P settings.
---
Cruiser Control
Available, from LCD Display.
---
---
---
---
Seat Option
Available as an optional upgrade.
You can get it here.
---
Warranty Coverage
Find out what is covered and what is not here.
---

The Largest After-sales Service Content in The World.
Imagine this, you are located in Chicago and you experience a flat tire on a Sunday. There are no repair stores nearby. You just need instructions on how to replace it.
Rest assured, when you shop with us, you get access to our entire library of after-sales service tutorial at the convenience of your home.
Watch more videos on our youtube channel
Do you ship to other countries other than the United States?

Yes, we ship to almost everywhere in the world.

Feel free to message us through the live chat button on the bottom right of your screen to talk to any of our staffs. You can also email us at support@voromotors.com

Will you increase the price with the recent 25% increase in tariffs?

VORO will eat the increased 25% tariffs by not increasing the price. This is a major factor to take into account when you are comparing prices. We are offering premium products at an affordable price point. Do not confuse premium pricing with premium products, we understand some retailers are putting a high price point to give a perception of premium products.

While the quality and materials used are the best in its class, none of our products is sold at an obscene price point.

Is the advertised range true?

Yes, the range has been tried and tested by our own customers and many other Youtube reviewers. 
The way that our battery is built allows the longevity of the battery. 

Imagine using your phone for an entire week without charging. 

Rider's weight, riding conditions, riding speed are variable factors that will affect the range of a single charge. 

The range should be a major factor for anyone who is looking to get an electric scooter.

Why EMOVE Cruiser over everything else?

The EMOVE Cruiser is the most complete electric scooter ever built. We listened to each feedback and refined the EMOVE Cruiser over time. This model has been tried and tested by our customers, the range has been proven to be the longest in the entire market. 
Imagine using the scooter almost every day and not have to charge the scooter every day. The range should be a big factor in anyone's decision-making process. There are no products built like the EMOVE Cruiser.

We also have a wide range of tutorial videos available online on how to do servicing on your EMOVE Cruiser electric scooters, every single component is modular and can be serviced easily.  Lastly, unlike other companies, we have growing number of service hubs at Florida, New York, Chicago and Washington DC. You don't want to spend so much on an electric scooter and realise there are no one to assist you when you need help. We have a robust support team and is able to assist every EMOVE rider.

Can I know what cc its engine is?

Dear customer,

1600W peak. It is electric.

Can this scooter be used for winter season? Is there a seat available for this item? How long thus it take to be shipped in Canada?

Dear customer,

We have riders using the scooter for winter season. Yes, there is a seat available, here is the link to the seat: https://www.voromotors.com/collections/emove-cruiser-accessories-1/products/emove-cruiser-seat 

It takes about 6 to 9 business days to ship to Canada.

Hope this is helpful!

Just got this scooter and got a Scratch Going Throw a building door. And the color of may scooter is orange. Now my question is what kind of orange is it be I would like to touch it up with the right color orange

Dear customer,

Sorry to hear that.

Paint kit will be released for public purchase soon.

Do stay tuned to our social media pages for updates.



Are these scooters street legal in California

Hi Daniel,

Yes, this is.

Hope this helps.

I just bought this scooter and I gotta say I knew it was good because of all the youtube videos I watched but I didn't think it was going to be MIND BLOWING but I just got one question how often would I have to do maintenance on it like whats the most common thing that I would need to replace and how long do you think it would happen Im just scared that this amazing scooter will ever break on me soon and wont be able to afford to fix because its an enjoyable ride and I would hate that to happen?

Dear customer,

You might need to change the brake pads once in a while. 

Hope this helps.

Hi , my car recently broke down and I need transportation ASAP I just wanted to know if there is a finance option on one of the emotive scooters

Dear customer, 

We work with a 3rd party company like Affirm who offers financing options for the scooters through our website. Simply add a product to your cart, when checking out, you will be presented with the financing option. You can then click pre-qualify with Affirm and they will guide you from there.

Feel free to let me know if you need more assistance.

Does the EMove Cruiser comes with an option for attaching trolley wheels? Thanks for you help!

Dear customer,

Not at the moment.

Hope this helps.

I am so glad i finally found this scooter! I was going to purchase the mercane widewheel pro but something told me to hold on. The specs and eapecially the waterproofing are a total game changer for me. Plus, the orange matches my Specialized mou tain bike and since that purchase, i have come to really love the color (even though my wife and daughter dont but hey, to each their own right). Anyway, is the 2019 the newest model or will a 2020 be coming out soon? Please let me know. Also, I think your scooter is superb in regards to design and practicality.....kudos to the design and enigineering people! Give those nerds some props from me......thanks again

Dear customer,

Thank you for the kind compliment. There will not be a 2020 version at all.

The previous version of EMOVE Cruiser was around for a couple of years before the recent update.

The design and engineering of EMOVE Cruiser is heavily revolved around long term usage. These scooters are not cheap to make and they are built to last. There is really a lot of happy riders on the EMOVE Cruisers and our team do not want to go fix something that is not broken.
So when you buy the Cruisers, you can have a peace of mind that we will not release something that is even "better". 

P.S. we left 1 last orange Cruiser sitting in our Los Angeles office, if you are looking to buy the orange Cruisers you got to be quick! If not, you can always wait for the next batch of Cruisers (We have a new batch every week or so.)

Hope this helps.

How long do I have to wait for free shipping ?

Dear customer,

Shipping duration is between 2 to 4 business days.

Hope this helps.

Would there be any motor upgrade and off-road tires for this scooter?

Dear customer,

There are after-market upgrades for motor upgrades. However, we do not sell them.

Off-road tires not available at the moment.

Hope this helps.

What is the water resistance capability of the eMove Cruiser?

Hi Michael,

Thank you for your question. The wires are all using waterproof cables, the deck is sealed completely and airtight, the EMOVE Cruiser can be ridden confidently compared to all other electric scooters in the market.

Your EMOVE Cruiser is water-resistant, but not water-proof. For example, you may ride your Cruiser under light drizzle or light rain, but we advise against riding under storms or heavy rain.

Water-resistance isn't a permanent condition and may diminish over time. EMOVE Cruiser can't be rechecked or resealed for water resistance. The following may affect the water-resistance of your EMOVE Cruiser and should be avoided:

- Dropping EMOVE Cruiser or subjecting it to other impacts.
- Submerging the EMOVE Cruiser in water
- Exposing EMOVE Cruiser to soap or soapy water, for example, while showering or bathing.
- Exposing EMOVE Cruiser to perfume, solvents, detergent, acids or acidic foods, insect repellent, lotions, sunscreen, oil, or hair dye.
- Exposing EMOVE Cruiser to high-velocity water, for example, while riding in a partially submerged area.
- Using a water-jet to spray the EMOVE Cruiser

Do note that metal objects such as metal screws and nuts may start to rust over time due to exposure of rain, this is normal and can be replaced easily.

Should you get caught under heavy rain, here are some tips to follow to protect your EMOVE Cruiser:
- Avoid riding the submerged areas with more than 3 inches of water level
- Cover/Protect your LCD throttle display

Feel free to let us know if you have any other questions.

I need replacement tired and or inner tubes. Where in Northern California can I find them?

Hi, 

You can order it via our website. 

Here is the link to it: https://www.voromotors.com/collections/spare-parts-for-electric-scooters

We have both outer and innner tubes.

Hope this helps.

Can this be driven in the rain or through light puddles?

Hi Andrea,

Yes, light rain and light puddles is fine. 
There are mudguards at the front to prevent water from splashing, furthermore, the deck is sealed with waterproofing gels, so puddles are fine. 

If you happened to ride through heavy rain, make sure your LCD display throttle is protected.

Hope this helps.

Can I buy fast charger from other companies and use it with EMOVE Cruiser?

Dear customer,

The existing fast chargers are compatible with the Cruiser, however, we do not recommend using them, as they are not tested with critical agencies such as UL Certification. 
UL certificaton is one of the strictest certs for electronics in the world.
Our original EMOVE Cruiser chargers come with UL certification and is safe for use. It is a small trade off to wait a little longer for the larger batter capacity, giving longer range than anyone else. We rather our riders be safe!

1-year warranty. 24/7 customer support
When you spend such a significant amount of money, you want the best support. Although we are not a big company, our team is extremely dedicated to every single rider. Send a message through our 24/7 live chat on the bottom right bubble of our website, someone will always be around to help you. Try it!

Call us at 323-709-7329, Monday to Friday 9am to 6pm PST. You are guaranteed that someone will pick up your phone. If not, someone will call you back.

Email us at support@voromotors.com
We have an entire team that works relentlessly behind the scenes to help you.

Ships from Los Angeles, California
With us, you never have to wait 4 to 6 weeks to get your scooter. We have all colors in stock. Shipping takes between 2 to 5 business days depending on UPS.

Shipping is free for orders within the United States.

We work with Affirm and Katapult to provide financing options to ease your burden. (Applicable within US Only)
Two financing providers for you to choose from, to help you with your purchase. As low as $84/mth for EMOVE Cruiser.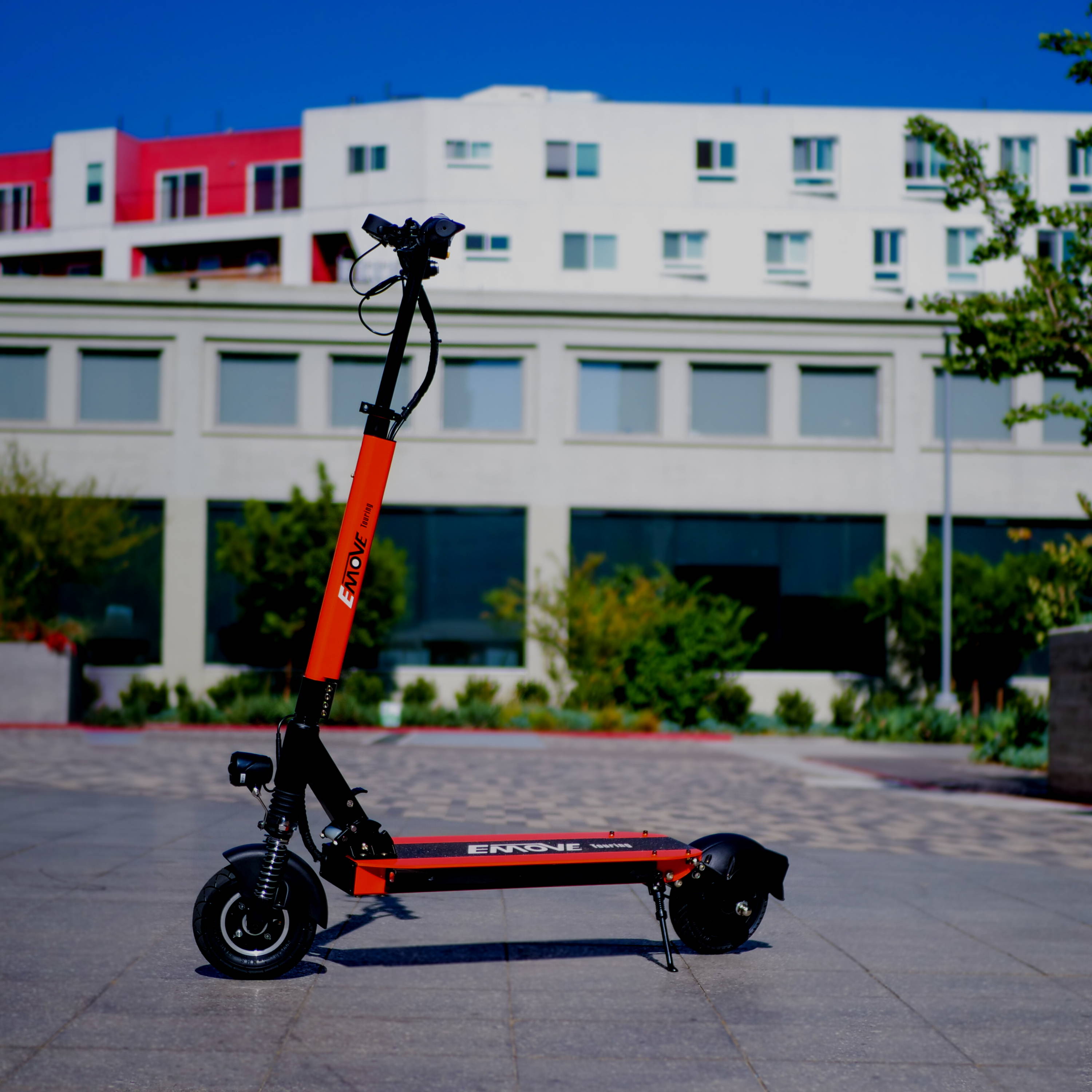 EMOVE For First Responders
Empower your commute even during Covid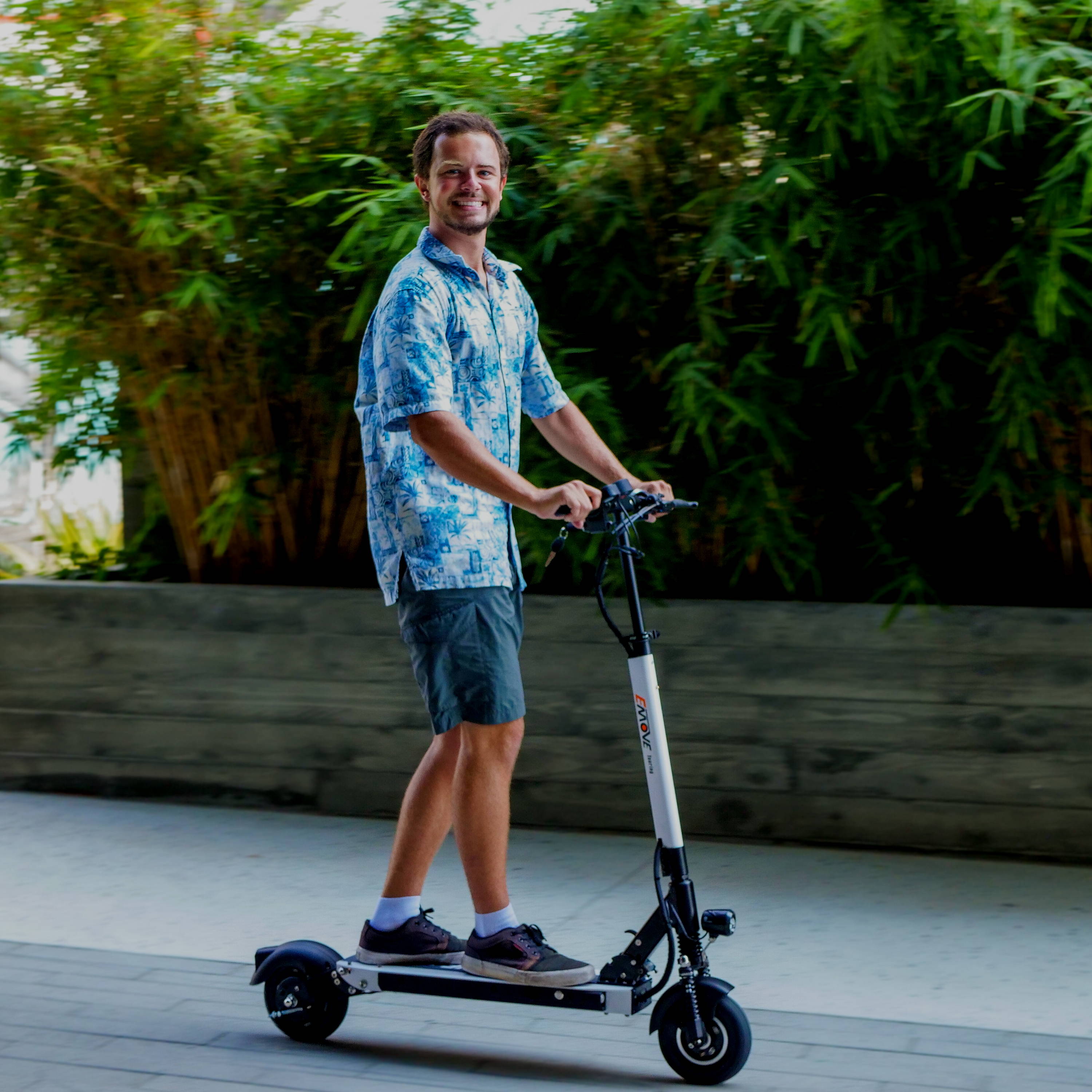 For students that are looking to save on that gas money.