Preorder now & save $500. Ships Out Mid - Late December.
The 2nd Baddest Scooter In The Planet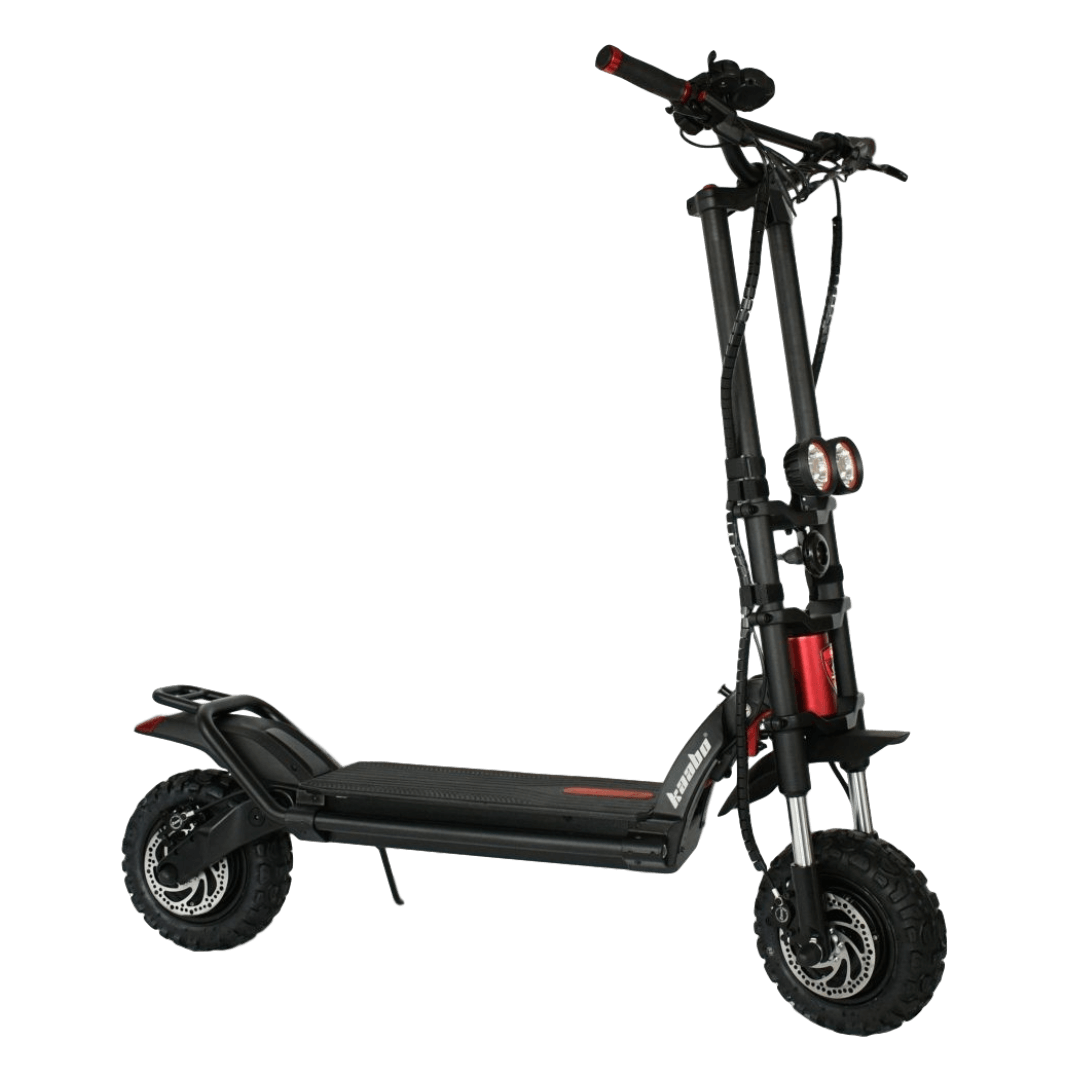 Equipped with dual brushless 1200W motors, combined with two 40A controllers. The Wolf Warrior delivers a peak output of 5400W power and climb up to 30% hill with ease.
Built with motorcycle grade hydraulic front shock absorbers and rear spring brake enabling ride in any terrain.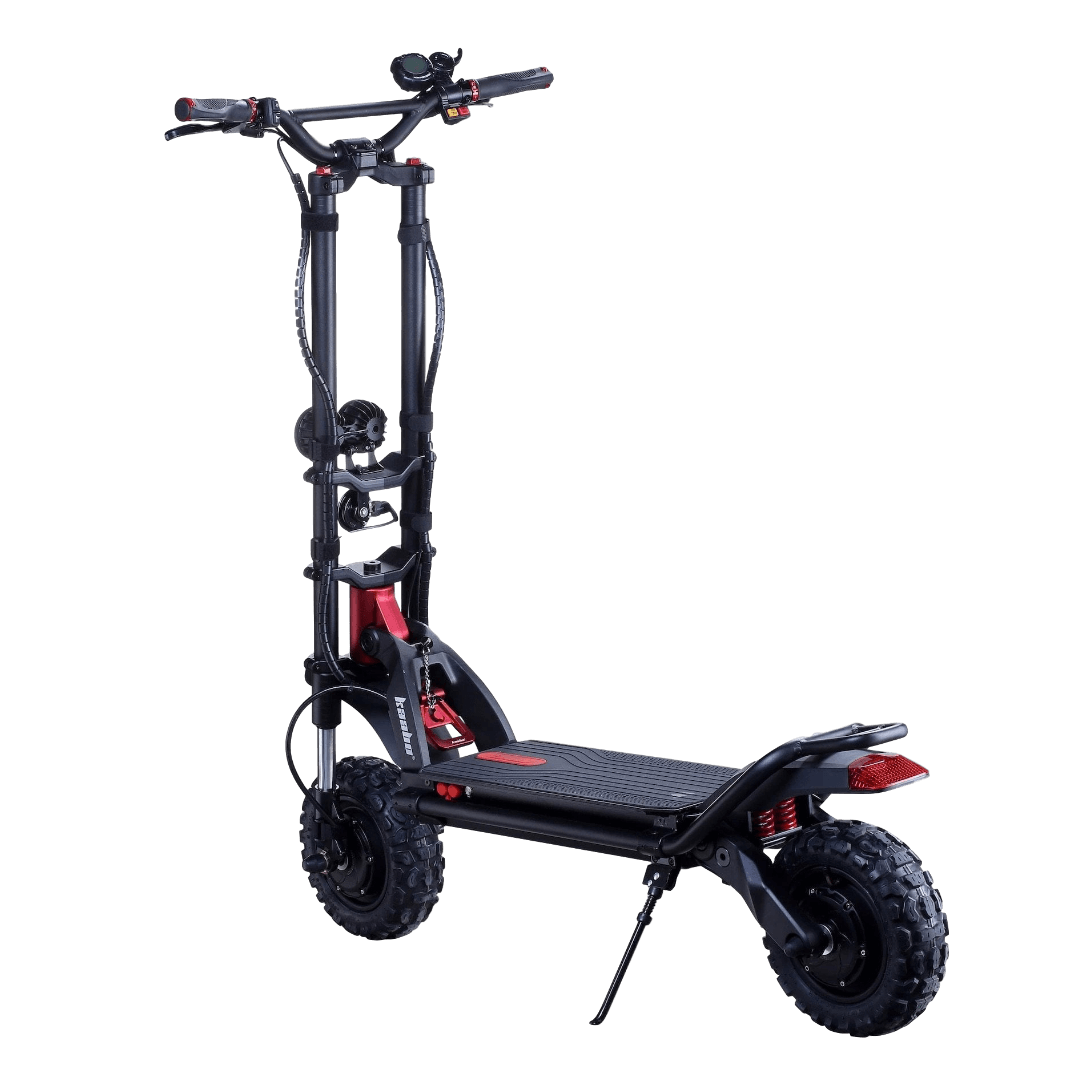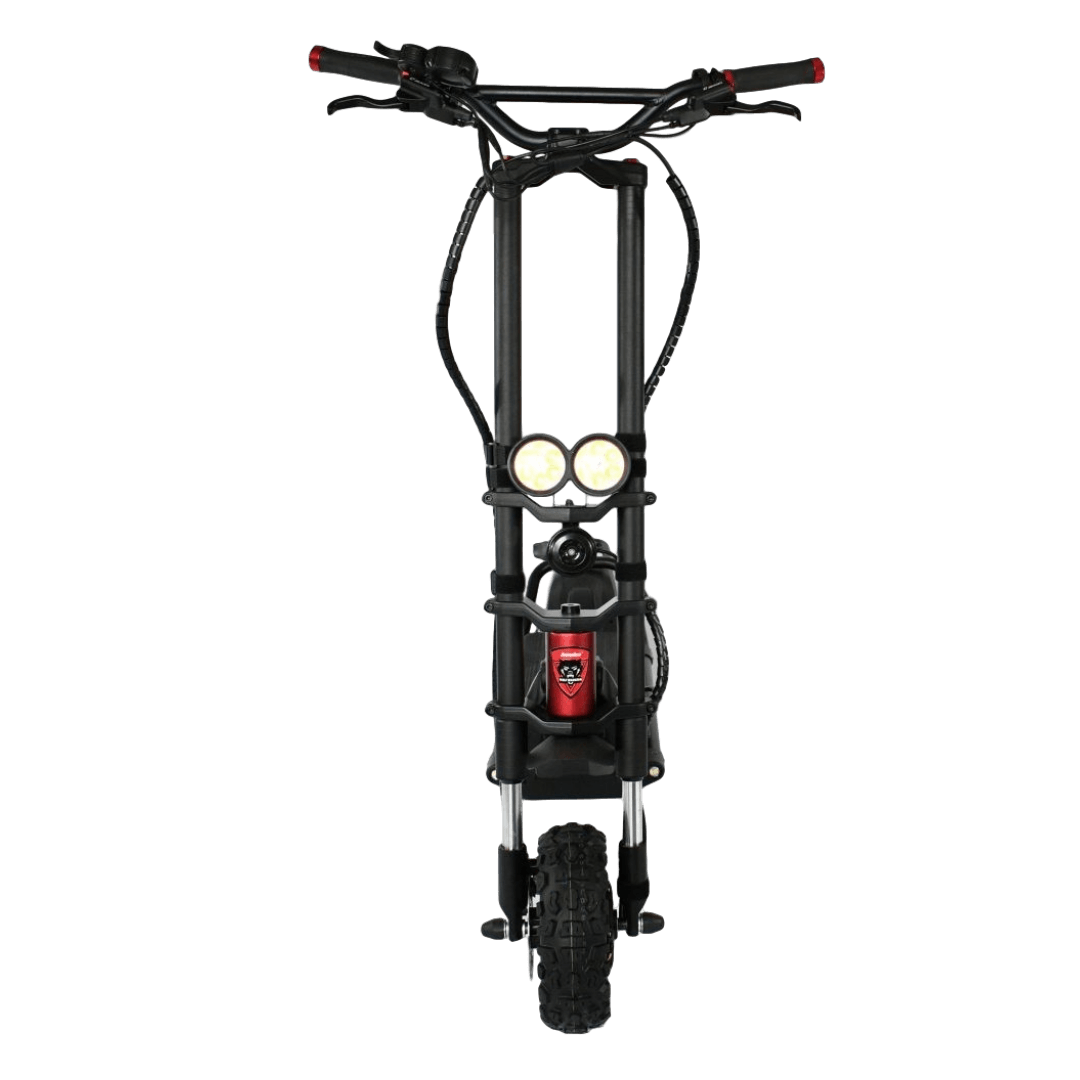 Hills and Off-road With Ease
With this power, climbing up a 30% grade hill (based on an average 165 lbs rider), steep hills up to 30 degrees* will no longer be an issue with such brutal and raw power.
*Numbers are based on average 165 lbs rider, subjected to be affected by actual road conditions, battery levels and other actual riding conditions.
With the ability to travel at around high speed, the wolf warrior is an absolute beast. At top speed, the wolf warrior is able to hit about 40 miles of range and about 70 miles on a single drive (eco mode).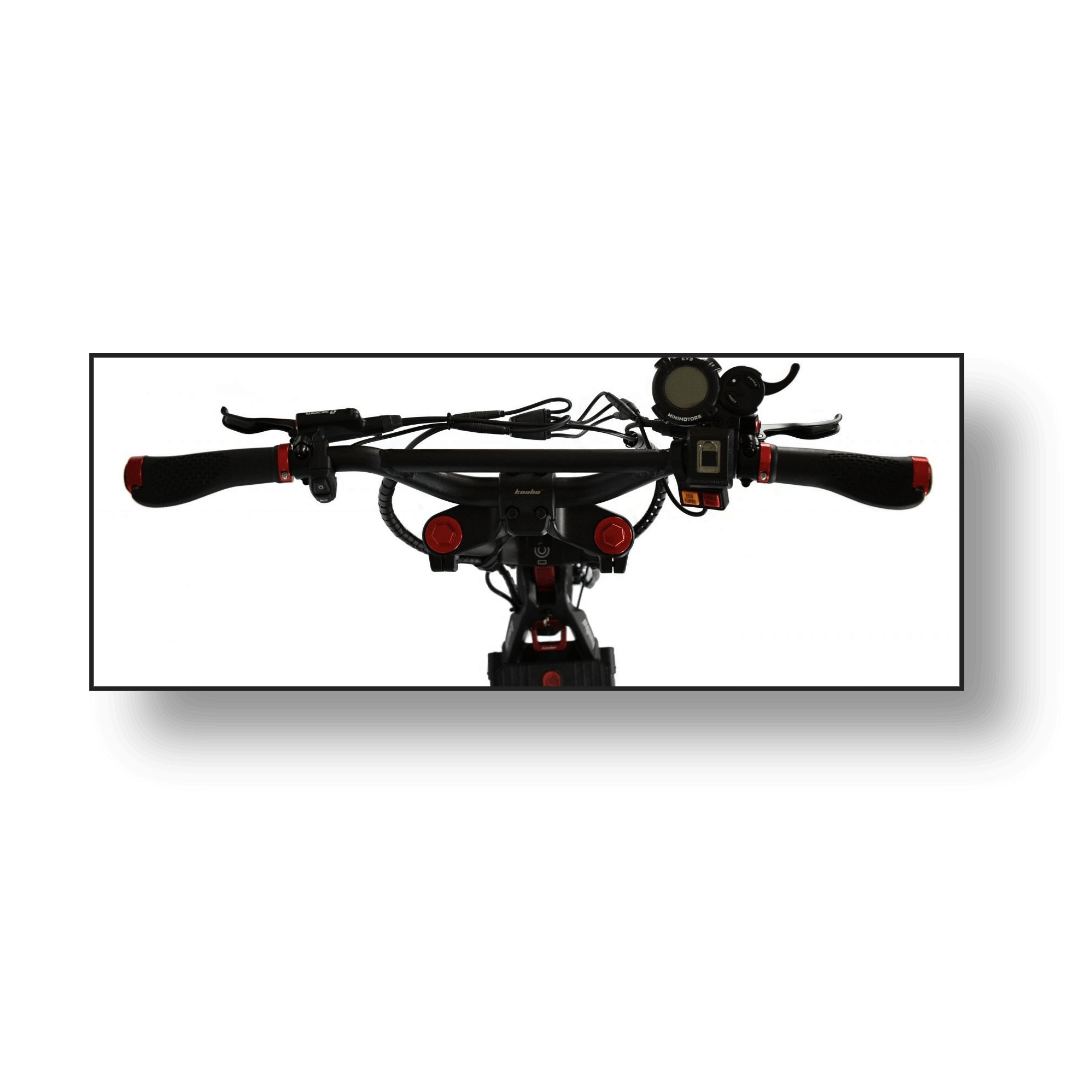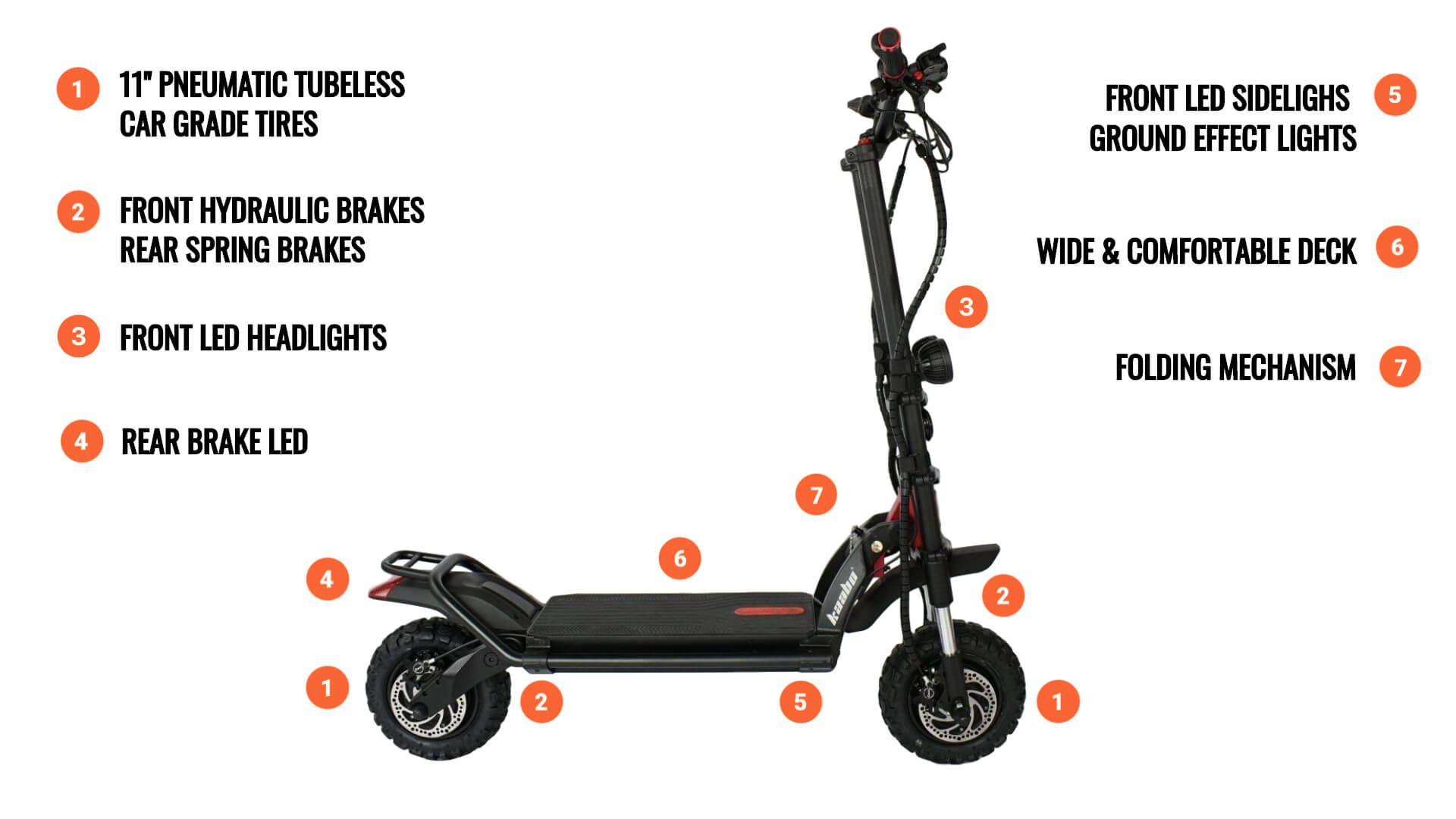 Safety Cannot Be Compromised
The Wolf Warrior is equipped with dual front and rear hydraulic brakes, with well ventilated zoom calipers.
The brake levers themselves are high quality and thick. Brake activation is smooth without the need for additional force.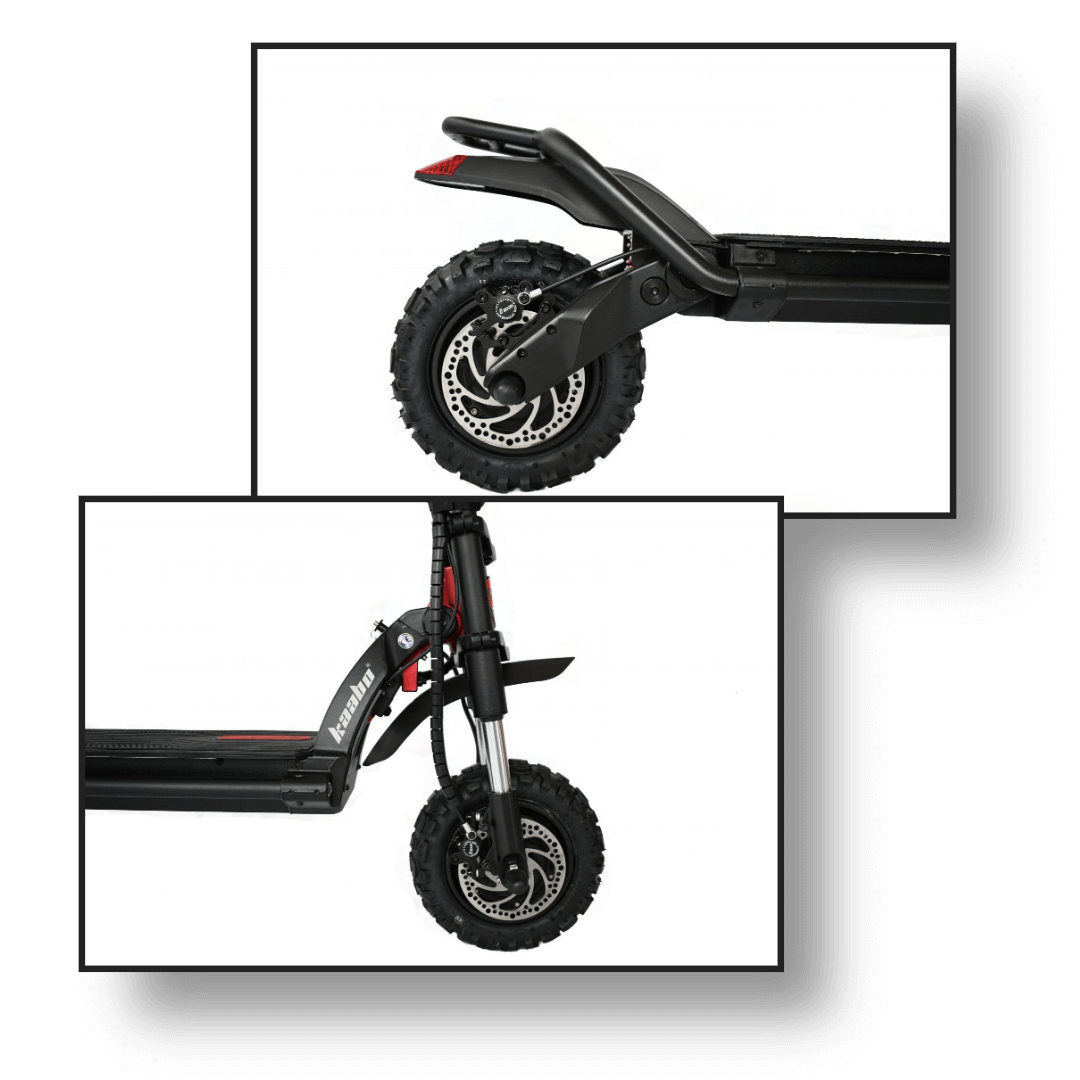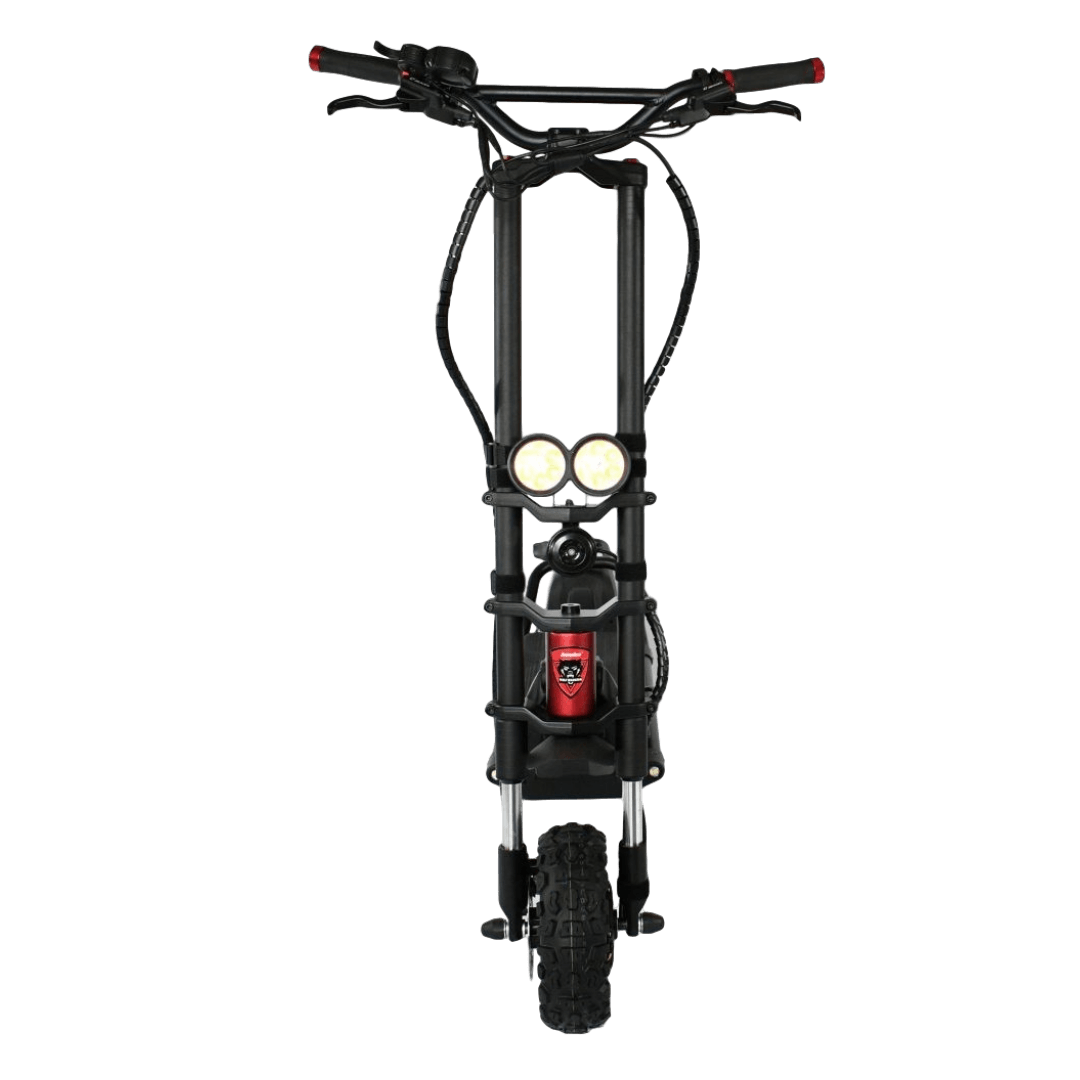 The wolf warrior is equipped and well lit from rear to front. It has a big red LED light located at the rear, ground effect, side lights, and 2 huge forward facing LED headlights which would path your way in the darkness.
The Wolf Warrior has the ability to fold and fit into most car trunks.
With a huge and wide deck covered in rubber mat, the wolf warrior gives necessary comfort when riding it. It also comes with an adjustable handlebar, allowing most riders under the height of 6ft (180cm) to ride comfortably.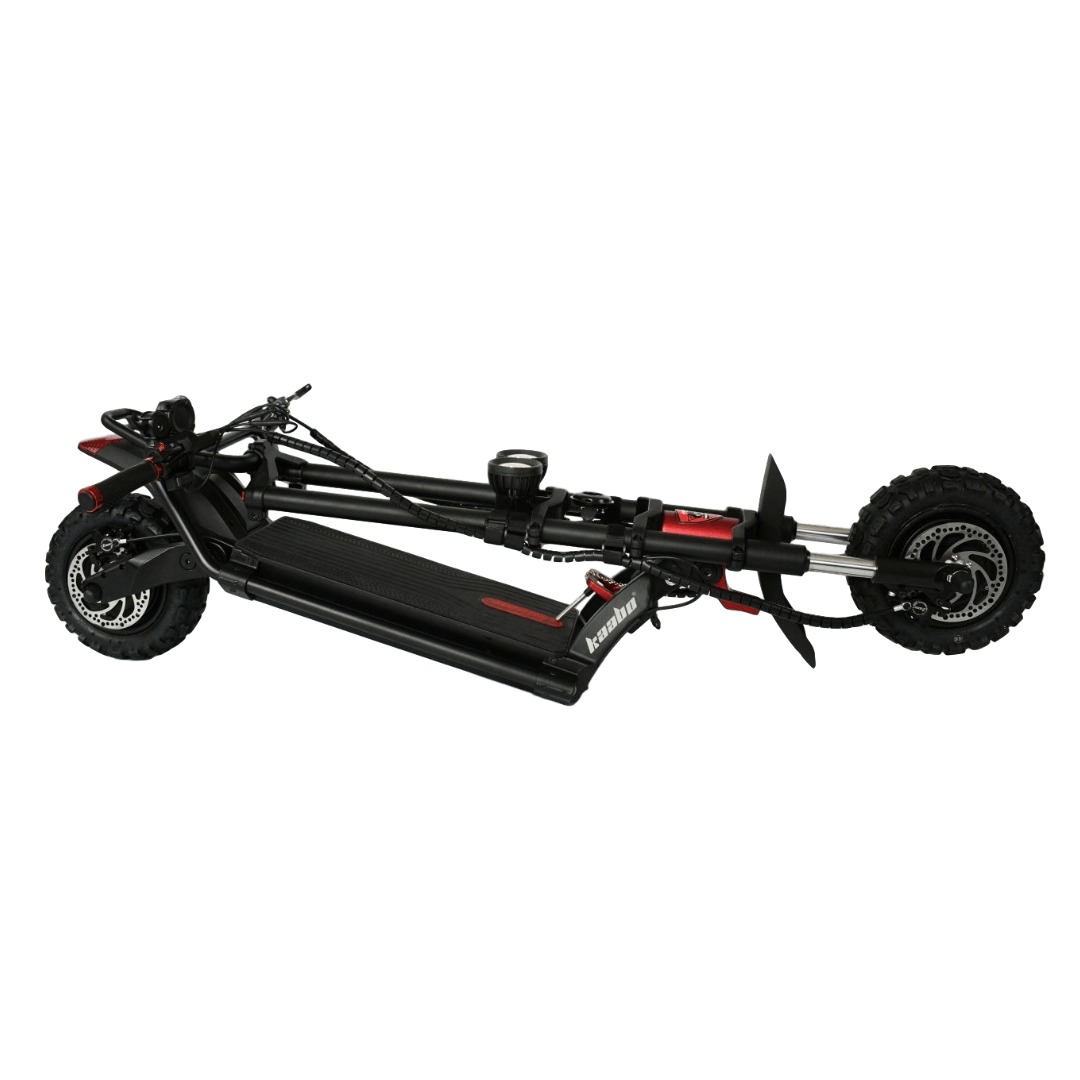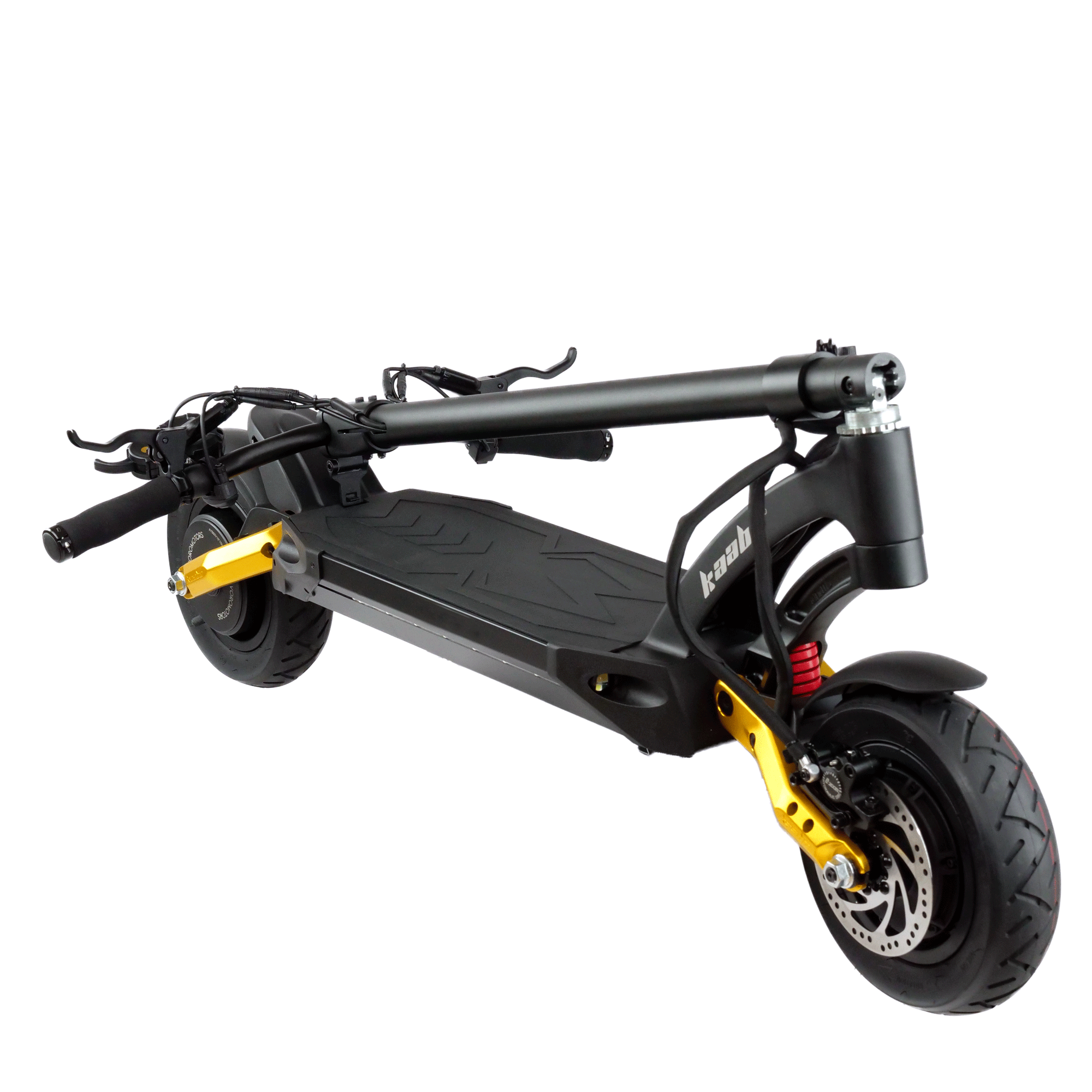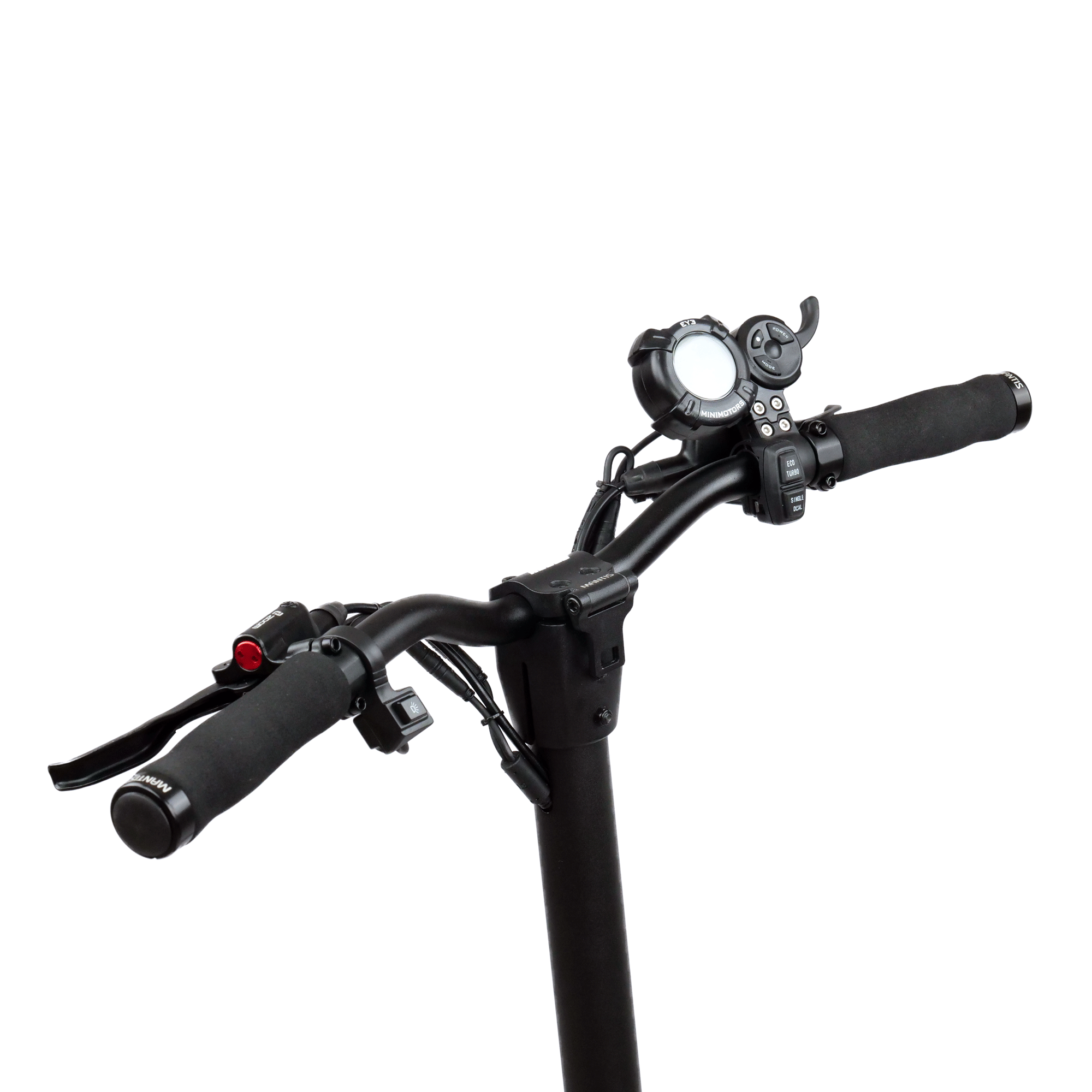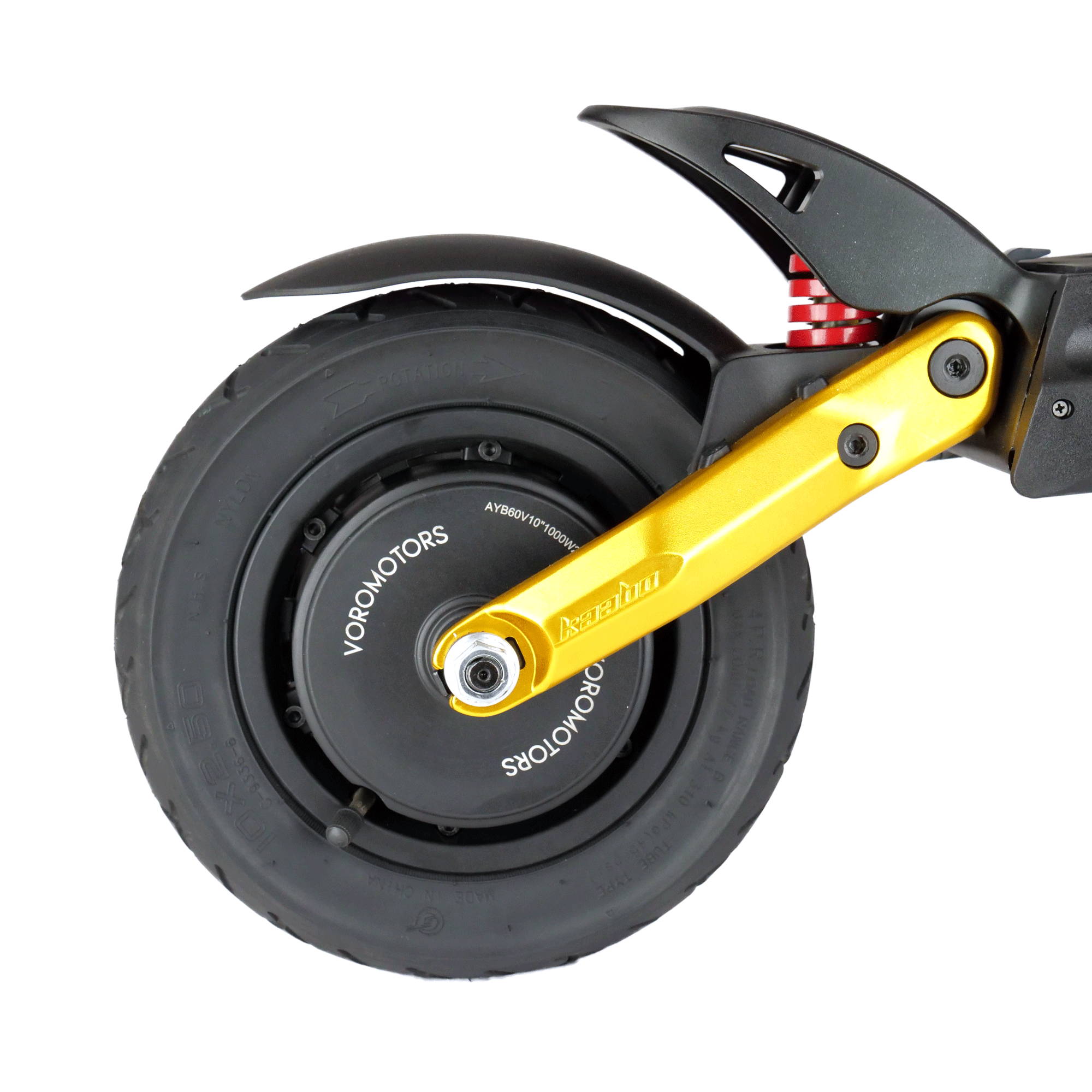 If the Wolf is too powerful for you, we now have the Mantis Pro
With gold finishing touches, and ridiculous savings.
---
---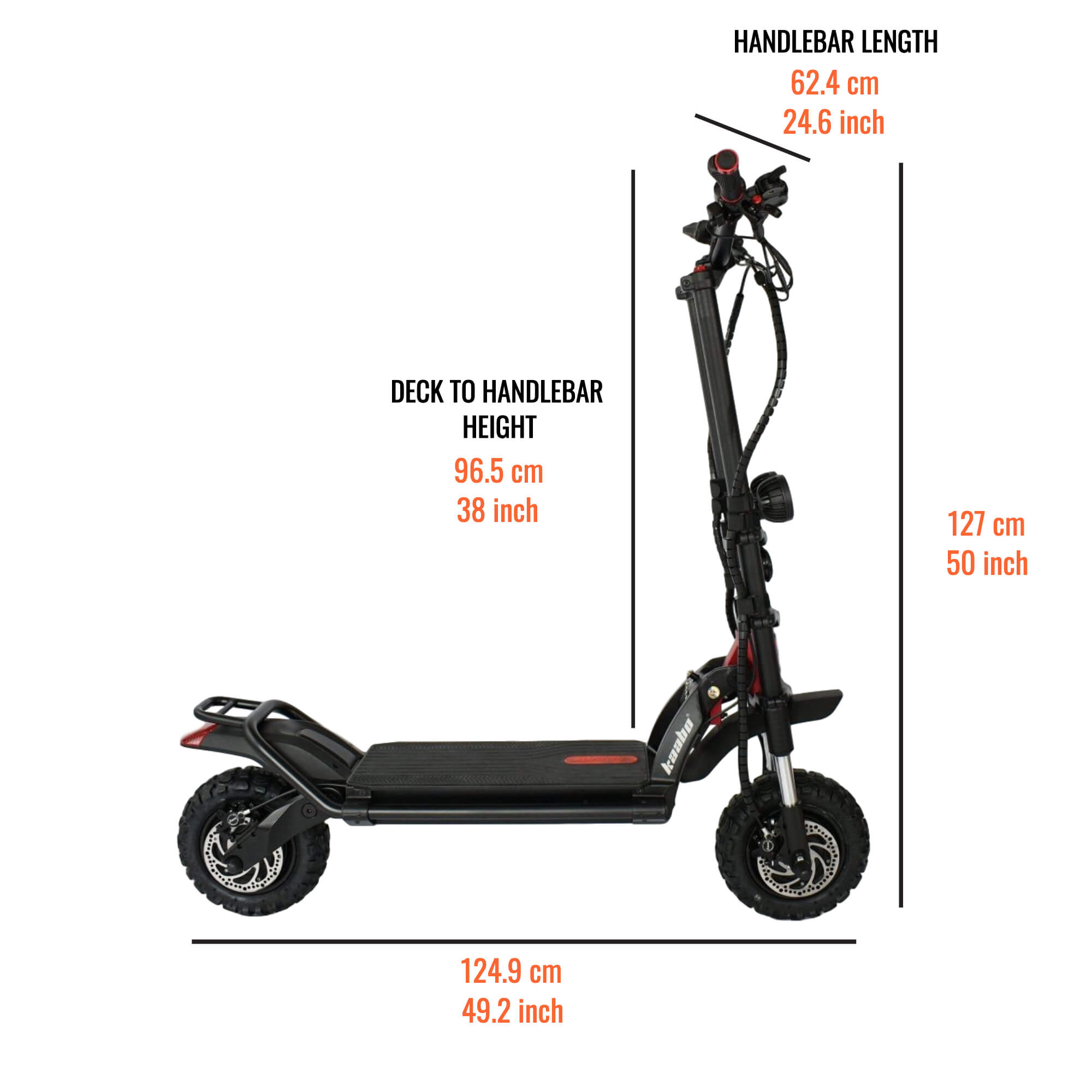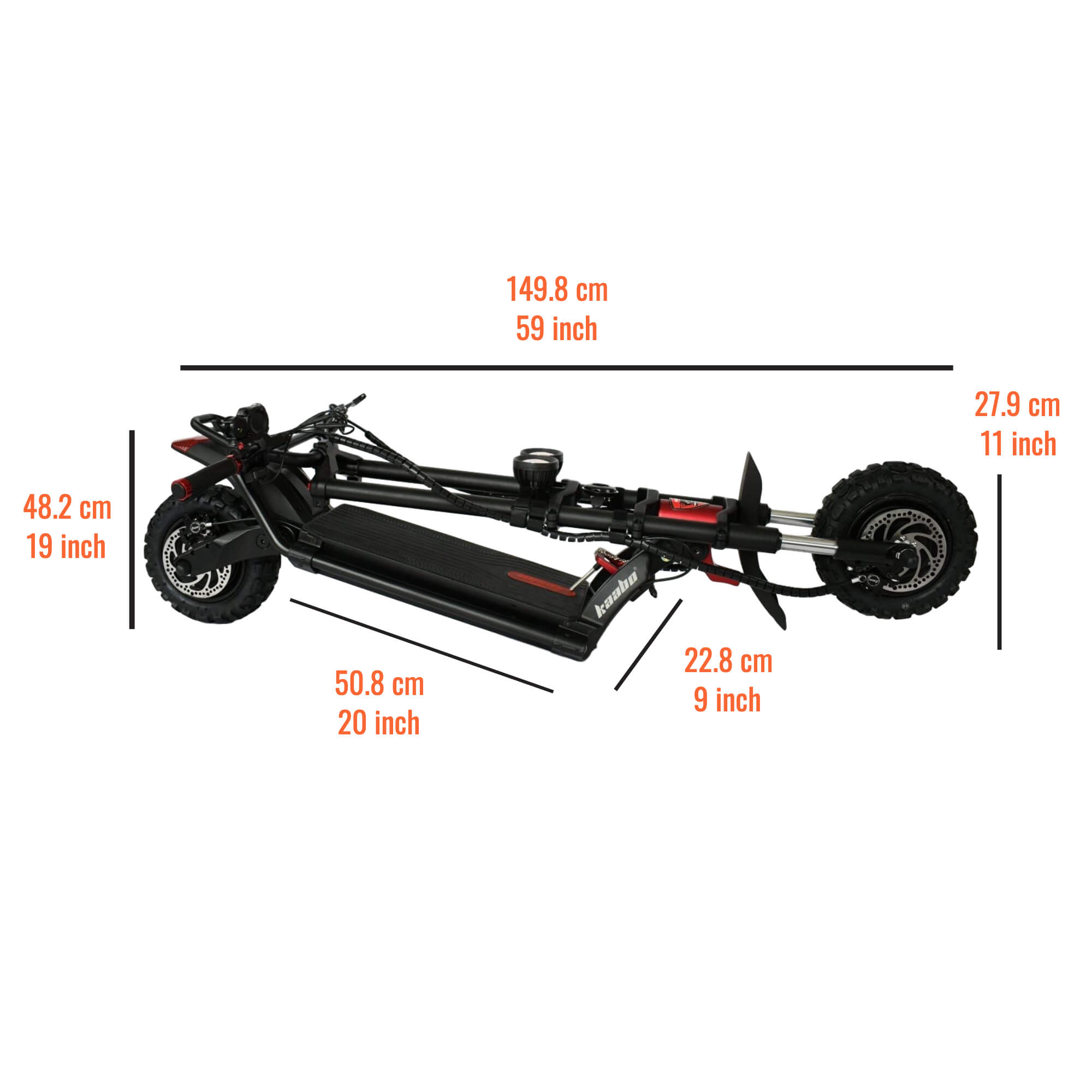 Wolf Warrior Product Specifications
Range
42 miles (~62km) at turbo mode.
70 miles (~112km) with eco mode.
---
Acceleration (0 to 15mph)
1.9 seconds
---
Climbing Ability
Up to 30 degree - Based on 150-lbs rider
---
Water Resistance
IPX4 (Riding under light rain is alright but not advisable)
---
Weight of the scooter
101 lbs (45.8 kg)
---
Maximum Load Capacity
450 lbs (204 kg)
---
Charging Time
14 to 17 hours (Single Charger)
8 to 10 hours (Dual Chargers - Included)
~6 hours (With Fast Charger)
---
Folded Dimensions
59 x 11 x 19 in / 149 x 27.9 x 48cm (LxWxH)
---
Unfolded Dimensions
49.2 x 24.6 x 49.2 in / 124.9 x 62.4 x 124.9cm (LxWxH)
---
What is in the package?
1x Wolf Warrior with EYE3 controller
2 x US-Standard Charging Adaptor
1x User Manual
---
Motor
2x 1200W base / 5400W peak
Nominal Watt: 1200W
Peak Power Output: 5400W
---
Battery Type
LG Li-ion 60V 35Ah Battery with Battery Management System Protection

2100 watt-hour
---
Tire Type
11'' Pneumatic Tubeless Street Tire for Front and Rear (Choice of Road OR Off-Road)
---
Brake Type
Front and Rear Zoom Full Hydraulic Brakes


Electronic anti-lock brake system (eABS)
---
Suspension
Front hydraulic / Rear springs suspension
---
Type Of Lights
Front LED headlights
Front LED sidelights
Rear brake LED lights
Ground Effect Lights
---
Cruise Control
Available from the EY3 LCD Display.
---
LCD Display
EY3 LCD Display and minimotors controller
---
Controller Type
Dual 40A Controllers
---
Portability
Folded: 58-inches (length) by 11-inches (width) by 19-inches (height)
Unfolded: 48-inches (length)
---
User Manual
Available for download soon.
---
P Settings Guide
View full guide here.
---
Warranty Coverage
Find out what is covered and what is not here.
---

1-year warranty. 24/7 customer support
When you spend such a significant amount of money, you want the best support. Although we are not a big company, our team is extremely dedicated to every single rider. Send a message through our 24/7 live chat on the bottom right bubble of our website, someone will always be around to help you. Try it!

Call us at 323-709-7329, Monday to Friday 9am to 6pm PST. You are guaranteed that someone will pick up your phone. If not, someone will call you back.

Email us at support@voromotors.com
We have an entire team that works relentlessly behind the scenes to help you.

Quality Inspection before shipment
We check every scooter before shipment. There are zero scooters that leave our facility without a thorough inspection.
We have an entire team dedicated to just quality inspection, with their full time roles is to open up the boxes to check the scooters.
You can be sure that your Wolf Warrior is of great quality when it gets to you.

We work with Affirm and Katapult to provide financing options to ease your burden. (Applicable within US Only)
Two financing providers for you to choose from, to help you with your purchase. As low as $163/mth for Wolf Warrior Electric Scooter
What is the hill climbing potential and top speed with a 260lb rider?

Dear customer,

Somewhere around 25 to 30% would be a good estimate.

Hope this is helpful.

Do you have affiliation with shops in NYC for any repairs when needed?

Hi Mike,

We have 2 service centers in NYC for repairs when needed.

Hope this is helpful.

Do you folks know if Canadian orders are getting hit with big duties at the border? This is a good price, I'd like to order but the savings might be a wash if there are duties. Thanks for your time!

Dear customer,

We are covering the customs duties for shipments to Canada. However, we only ask our Canadian customers to cover the shipping fees to Canada.

Hope this is helpful!