Get a Free Child Seat ($29 Value) + Free Fiido Front Bag ($34 Value) - Total: Free $63 value when you order a Fiido today! While stock last.
Applicable only for online orders & Hawaii orders.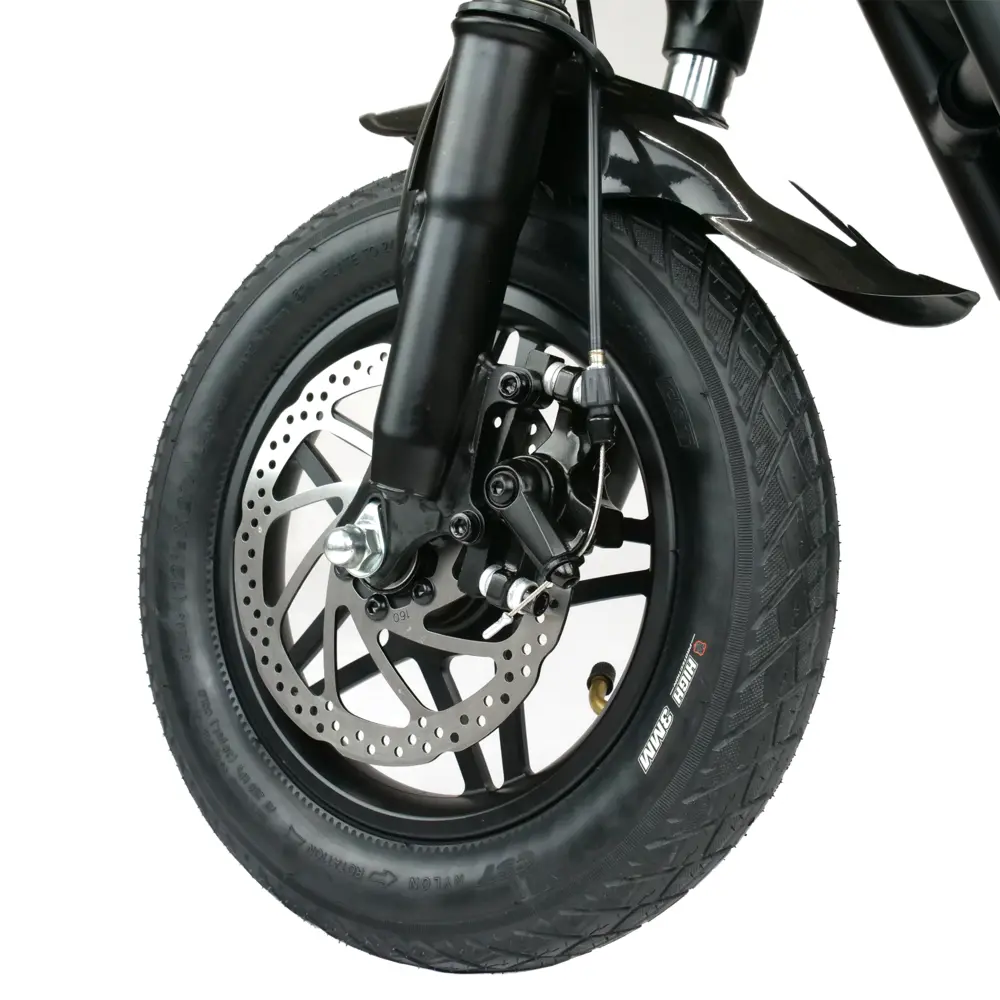 Control Your Speed
With front and rear disc brakes, take control of your speed effortlessly.
A Friendly Look For All Ages
From students, to the delivery person, to bringing your kids to school, shopping for groceries.
The FIIDO is perfect for all ages.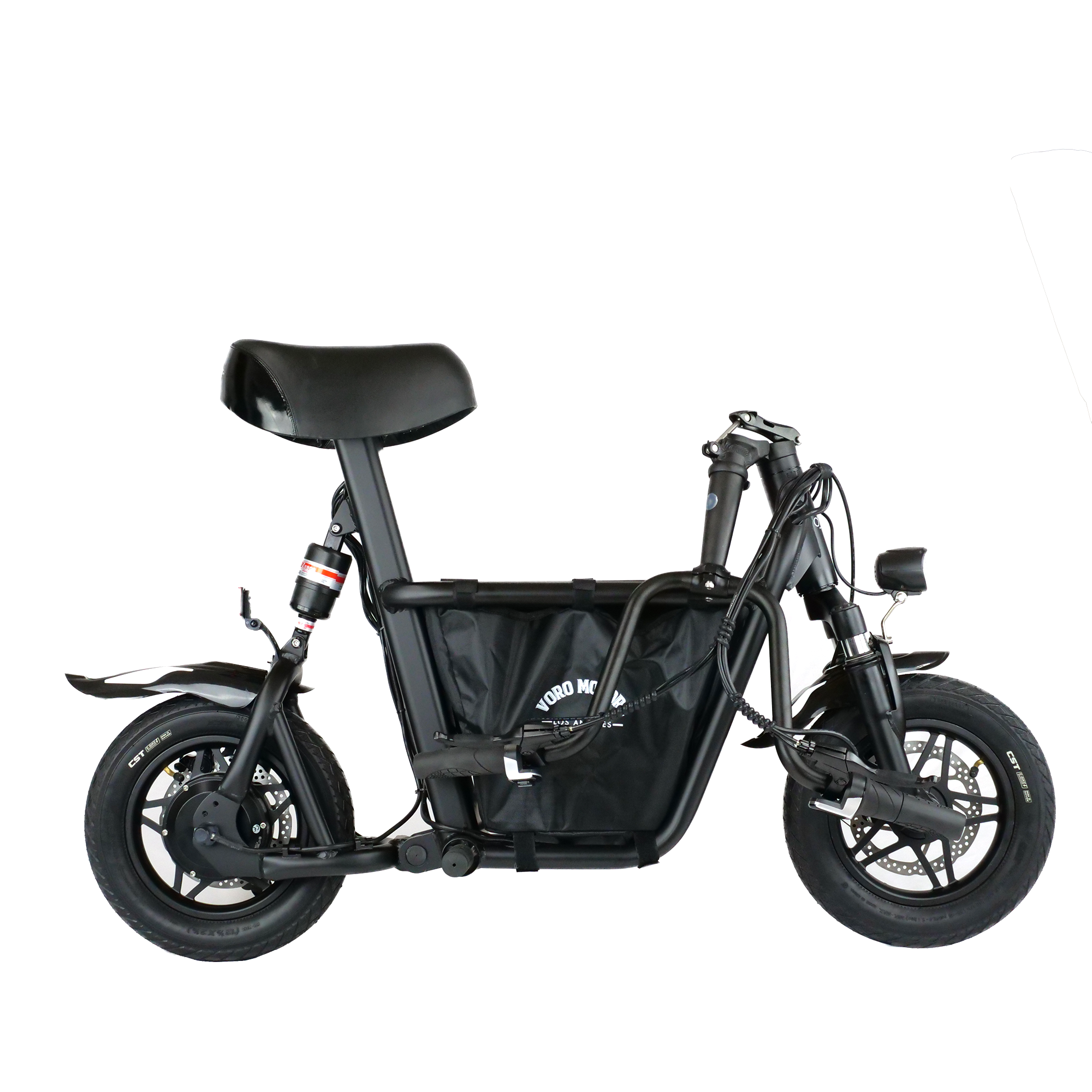 No Space. No Problem.
Fold your FIIDO down and store it at the back of your car. Or keep it at home easily. The FIIDO scooter can be your daily commuter.
Security Built In.
Use the set of keys to unlock your FIIDO before you can gain access to its features.
Leave the scooter outside of Starbucks while you go in to get a cup of coffee. Only you can
access the FIIDO.
All new EMOVE, Kaabo, Dualtron, and Inmotion electric scooters purchased through VORO and its dealers come with a standard one (1) year limited warranty. All other VORO products including certified refurbished models come with a 6 month limited warranty policy. For more information, please visit our Warranty Policy Page.
All orders are processed and shipped out within 1-2 business days from the purchase date. This is where we prepare, pack, and conduct our standard quality checks before dispatching your order. For more information, please visit our Shipping Policy Page.
Opened merchandise may be returned within 30 business days of delivery, and must have less than 10 miles of usage recorded by the device. A 20% restocking fee will be applied for all opened merchandise upon successful return. For more information, please visit our Returns and Exchange Policy Page.
We partner with Affirm, Katapult, ShopPay, and Klarna for financing. You can set up payment plans to purchase one big-ticket item or multiple things, like a new electric scooter, helmet, and other necessities. For more information, please visit our Financing Page.
Yes! We understand that for a high value purchase like this, you would want to see and feel the scooter. So, we decided to take it a step further and even create a chance for you to experience riding it before you make a decision. To schedule a test ride visit our Test Ride Page.

Our scooters each have individual IP water-resistance ratings. However, none of our scooters are waterproof and wet conditions should be avoided whenever possible.
No, the scooters do not come with a VIN. However, the scooter does have a serial number located on the bottom or side of the deck.
Yes, each scooter will come with a charger. We recommend giving the scooter a full charge before your first ride!
Yes, our scooters come equipped with either Samsung or LG lithium ion batteries.
Size Guide
Comprehensive Breakdown and Review
Excellent, and well-built scooter!
Wish I'd known about this scooter sooner. Have had my Q1s for less than 2 weeks at this point, and because temps are still quite cold here in NYC, I've gotten the chance to only ride in the hallway of the floor I live on, but clearly this is an awesomely constructed ride. The craftsmanship, design, geometry, etc. are on the money. I'm by no means a speed demon or adrenaline junky, so the quoted max speed and range are both fine by me – just looking for a bit of freedom I suppose, some wind in my face here and there. Sadly the last e-scooter I owned – which was by a different brand – was overly clunky, had a seat that wouldn't stop swiveling, and was waaay too heavy to be considered portable for someone without a car. I love that I can actually lift / carry this one and potentially bring it on the train with me to get to different parks and spaces around the city. The brushed black aluminum color is striking. The compact size is adorable as well, and fitting (both literally and figuratively) since, at 5'4, I'm kind of a shortie. Also, something I had no idea about is that the charger actually has a built-in safety mechanism whereby it gives off a beep (and the indicator light turns green) once the battery is fully juiced AND, get this – protects against both overcharging and overheating! I mean, how… thoughtful / lifesaving / wise. These other scooter manufacturers should seriously take note. The integrated alarm and bike lock you receive are simply icing on the cake. Anywho, I'm anxious for the warmer weather to come, as I will most def be taking this out for some spins. Kudos to Voro Motors and everybody who helped bring the idea of this scooter to fruition. Nice job.
Fiido q1s
If you're looking for a small cruiser to get around, this is the seated scooter to buy. Top speed of 17mph and you'll get above 15 miles of travel on a fully charged battery. So much fun to ride!!!
As described
The package had been opened but only for pre-check,I had to wait three month straight from the manufacture but Voro shipped me the item in a week.I recommend .
Super Fun Toy !!
It's not about how fast it is. On a full charge she can go 15-16mph no problem. Torque enough to pop wheelies. Enough stopping power to pop endos and stopies all day. Great for short commutes !
Solid Like a Rock!
Love the low center of gravity and stability while riding this machine. Great platform to add go fast goodies😎‼️